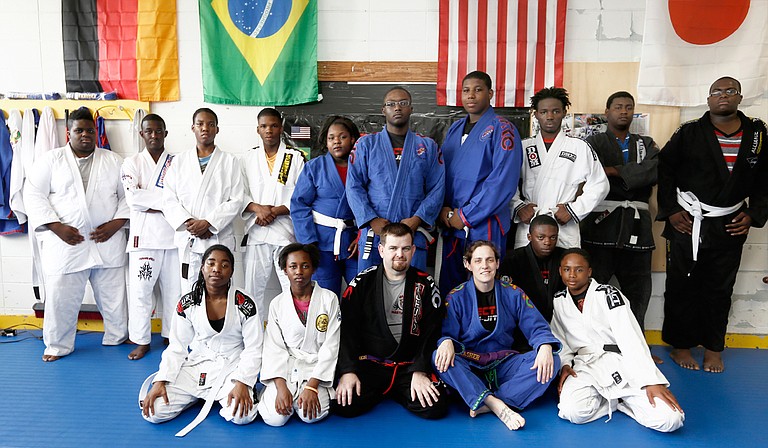 Beth Thrasher, a practitioner of a martial art known as jiu-jitsu, calls over one of her students, a young man named Nelson Buckley, who is considerably taller and more heavily built than she is. After a traditional bow, Buckley places her in various disadvantageous positions that she always manages to escape.
The instructor lies sideways on the ground. Buckley grapples her and pins her down from beside and above her. With a quick movement, she gets her legs underneath him, unbalances him, and throws him off with a kick and roll.
Next, she allows Buckley to place her in one of his dominant positions: grabbing her around the neck from behind in a kneeling position. After only a few seconds of struggle, she rolls him around and throws the larger boy off, then pins him underneath her and straddles him from above. At this point, Buckley wraps his legs around her to keep her off, a standard guarding method in jiu-jitsu. Beth deftly grips and slips around the his legs and ends up sitting on top of him. She could go as far as wrapping her legs around his head if she wants to, she says.
At the end of the demonstration, the two rise and slap hands. Then, they bow to each other again as a sign of mutual respect.
A key to jiu-jitsu is patience. "Jiu-jitsu can let you be in total control against a larger attacker," Beth says. "All you have to do is stay calm, preserve energy and defend while you let them tire themselves out. Prioritize your own safety first, and when the moment comes that you can turn the situation around, you can do something offensive like going for a hold or incapacitation."
"Technique always wins," Buckley adds. "She just slung me around. I was trying to use technique on technique, but her technique was better."
600 Square Feet of Truth
Lizabeth "Beth" Thrasher and her husband, Chris Thrasher, are the operators of Wingfield High School's Vector Jiu-Jitsu program. The couple refers to their domain behind the school's auditorium as "The 600 Square Feet of Truth." Stepping onto the training area's blue mats—only after they've taken their shoes off—brings students face-to-face with the negative self-perceptions they may have brought with them. Vector's roster includes students of all ages and sizes, but no matter who is paired with whom, the combatant who best uses technique will always come out on top.
"In jiu-jitsu, you're going to find out quickly if you've learned your techniques properly or not," Beth says. "If you have, you can submit (score a win against) your opponent, and if not, you will be submitted and forced to tap out. And you will end up forced to tap out countless times while you're training. That is an ego-killer for a lot of people who just can't handle the losing."
Vector is a 501(c)(3) nonprofit dedicated to helping at-risk youth who would not otherwise be able to afford martial-arts training. Beth, a math teacher at Wingfield since 2011, proposed the program to Jackson Public Schools board and then the JPS Athletic Board to provide an exciting after-school activity that would teach students to defend themselves while instilling the values of hard work and accountability.
"The whole point behind the program is to give kids a carrot out in front of them to make them want to come to school and want to achieve everything they can in life," Beth says. "We give them the motivation of learning a martial art and provide a family that'll hold them to a higher standard."
One of Vector's success stories is Nikari McKee, whom the Thrashers consider the poster boy for the Vector program. When he began jiu-jitsu training in January 2013, McKee was a depressed 18-year-old high-school sophomore with no interest in graduating.
"When Nikari first joined Vector, he would only show up every now and then, and not come back for a while," Chris says.
"One day, we were holding a tournament at the school, and Nikari signed up the day of. I warned him that he hadn't trained and would get beaten but said he could go ahead. Sure enough, he ... got manhandled, and from then on he was here every day. It woke him up and motivated him."
McKee's experience woke him up in his schoolwork as well. Rather than sleep in class as he once had, he started paying attention, moving to the front of Beth's math classroom, for example. The next year, the only thing that slowed his training on the mats was the amount of time he dedicated to catching up in school.
"I was failing all my classes when I first came to Vector, but the Thrashers encouraged me to come to school and worked with me the whole year," McKee says. "I went from being held back in 10th grade to being able to skip 11th with all the help and encouragement they gave me."
McKee is now the first male high-school graduate in his family's history. He has enrolled in Hinds Community College in Jackson and is working toward becoming a mentor for Vector Jiu-Jitsu. He hopes to help the Thrashers expand to other locations.
"With just Nikari and his story alone, I could quit tomorrow and feel like I've accomplished something," Chris says. "Helping even that one student better himself makes it all worth it."
Vector's motto is "Know Yourself, Better Yourself, and Help Others." The Thrashers believe that one of the keys to getting students to help themselves and others to excel—in martial arts and in school—is to instill honesty in regard to one's capabilities, limits and effort.
A Life-Changing Art
Beth and Chris Thrasher knew that jiu-jitsu could be a powerful positive force in helping at-risk students improve because practicing the art helped both to pull away from difficult times while giving them drive and a sense of purpose.
Chris, 39, was born in Fulton, Miss., and attended Itawamba Agricultural High School. He went to Itawamba Community College from 1993 to 1995, where he majored in music with a minor in physics. He then went on to the University of Mississippi, where he graduated with a bachelor's degree in music in 1998.
He drifted through a number of jobs after college, including a sales position at what is now Gray-Daniels Ford in Brandon in 1998, a job with a mortgage company in 2002, and he opened his own mortgage company, Best Mortgage, in 2004, which closed in 2008.
His first exposure to jiu-jitsu came when he watched Royce Gracie fight in the second Ultimate Fighting Championship in 1993. "It wasn't until 2004 that the spark from then helped start the fire I have for jiu-jitsu now," he says. "I saw one day that a studio called Southern Judo and Jiu-Jitsu, which became Gracie South while I was there, had opened in Jackson, and I decided to try it, starting under Randall Powell."
In 2007, Chris started helping teach classes at Gracie South, and it was through those classes that he met his wife in 2008.
Born in Rochester, N.Y., Beth attended Mount Morris High School, which only had 37 students at the time. She went on to the Florida Institute of Technology in 1999 and graduated with a bachelor's degree in chemistry in 2004.
Beth was involved in ROTC, cross-country running, rowing and numerous other physical activities in college. Then, in October 2001, she broke her pelvis and severely damaged the muscles and tibia and fibula bones in her right leg in a car accident. She required six months of physical therapy to be able to walk again. The accident left her with a fused ankle, which made her unable to run or serve in the Army. Determined to stay active despite her disability, Beth continued to seek out physical outlets.
She moved to Buffalo, N.Y., to attend the University of Buffalo Medical School in 2005; however, the school's lack of sports teams and her inactivity led to depression. She was sleeping too much and skipping classes. It was during this time that Beth saw a reality show about jiu-jitsu on television called "The Ultimate Fighter" in 2006, which led to her seek out a jiu-jitsu studio in Buffalo. She started practicing at the Western New York MMA studio, and though she dropped out of medical school in 2007, Beth continued practicing jiu-jitsu.
During Thanksgiving 2007, Beth came to Jackson to visit her sister, Julene Stewart. Wanting to use her education to help people, Beth soon decided to leave New York and look for a teaching position in Mississippi. She settled in north Jackson in April 2008 and signed up at Gracie South, where Chris was teaching. Chris and Beth started dating within a month, and they married in Tallulah, La., on Dec. 22, 2008. The Thrashers held a grand wedding service for their families a few days later on New Year's Eve. Today, the Thrashers have two children, 5-year-old Clayton and 4-year-old Sophia, who also like to practice jiu-jitsu with their parents.
Size Doesn't Matter
Many older students trying jiu-jitsu for the first time quickly learn that size and strength aren't going to make a difference.
"In the beginning, common sense may tell you that the biggest, strongest guy is going to dominate; however, in jiu-jitsu you're going to find out quickly that it's all about if you've learned and are using your techniques properly or not," Chris says.
"I've seen time and again situations such as a while back, when a former collegiate football lineman—over 6 feet tall and 275 pounds—came (to Gracie) because he wanted to learn grappling to do (mixed martial arts) fighting. He walked onto the mats, grabbed a 145-pound kid from Belaruse, and ended up getting thrown up and down the room. He walked off the mat, and I've never seen him again. He couldn't deal with the truth: that his muscles and size weren't going to help him."
One reason size means little in jiu-jitsu is that practitioners do not strike their opponents. Instead, the art centers on grappling and applying the laws of physics to gain the advantage. Proper application of leverage, momentum, friction and weight transmission are key, as is an understanding of a combatant's center of gravity, plus balance and manipulation of the anatomy's vital points.
A well-practiced jiu-jitsu artist uses an opponent's weight and momentum to move him or her instead of brute force, making it an ideal defensive art regardless of a person's size. "Jiu-jitsu is like physical chess, trying to think several moves ahead of your opponent," Chris says. "It teaches stress management and organizing your thoughts in a potentially dangerous situation.
Chris says you have to use every advantage of space, angles and balance to get control of the situation. "You can be in control even if you're on the bottom, if you're doing it right," he says.
A key part of jiu-jitsu is being honest with yourself about the need to continue training. "Only those who are willing to acknowledge the need to improve will continue to train on the mats. That's why we tell our students not to see an opponent in a match as an enemy, but as a mirror that shows where you are in your training and what you need to improve on," Chris says.
"We want them to understand that you don't need to compare yourself to or be better than someone else. You only have to be a better you."
Accountability Required
The Thrashers don't consider Vector to be only a martial-arts program, even as their students learn jiu-jitsu techniques. The couple's goal is to help participants better themselves in all areas using the disciplines learned through jiu-jitsu.
Vector is a physics term describing a force applied in a specific direction. The arrow in Vector's logo reflects the Thrashers' goal of guiding students in their daily lives, getting them to put their youthful energy toward improving on the mats and in school.
The Thrashers also emphasize accountability. They task Vector members to be aware of what's going on in the lives of other members and encourage their students to support any of their peers who need help. All the while, the Thrashers also ensure that Vector students remain focused and steadily improve. A requirement for taking part in the program is that students maintain or improve their grades and behavior in school while always being honest about how they are doing and how they can improve.
"If a student is falling behind in class or they fail a test, is it because it's their teacher's fault? Or is the truth that they could have tried harder, done better, studied their material the same way they study their jiu-jitsu techniques? We ask them to look inside themselves and ask what went wrong and how they can improve," Beth says.
"Training on the mats and holding each student accountable for themselves and their peers helps them resist the urge to blame something else and focus on things they can fix."
Pulling Up, Turning Around
Beth decided to teach school in Mississippi after researching where teachers were most needed. She initially taught math at Whitten Middle School, and in 2011, she transferred to Wingfield. Beth's primary goal at Vector is to reach out to challenged and struggling students who may be faced with difficult personal situations. She wants to help them turn their lives around.
Cameron Lindsey, 16, is one such student. Lindsey transferred to Wingfield in March after spending his first year of high school at Capital City Alternative School. Lindsey ended up in Capital for fighting and for smoking marijuana in the bathroom when he was in Peeples Middle School.
At Wingfield, Lindsey was in one of Beth's math classes. She approached him after she learned he was interested in martial arts.
"I had been wanting to try martial arts for years, ever since I first saw martial arts movies like Bruce Lee's when I was 7," Lindsey says.
"But my mom didn't have the money to enroll me in that kind of activity."
One of the reasons for Vector's status as a nonprofit is to serve students like Lindsey who want to try martial arts but can't because of their financial situation. Vector doesn't charge its students, so lack of money will never be a barrier to anyone wishing to learn.
When Beth approached Lindsey, he was failing several subjects in school. She saw the opportunity to motivate and help him improve his grades so he could stay in the Vector program.
"I wanted to be involved, and Mrs. Thrasher helped me pull up from making a 50 in math (to a 70)," Lindsey says. "If I'm stuck on a problem, she helps me take notes and understand the material. I wanted to stay with Vector when I found it, and Mrs. Thrasher helped me do it."
Lindsey has also turned his personal life around, and he's stayed out of trouble with the help of fellow students in the program.
"The friends I've made in Vector are goofy, but they change, too," Lindsey says. "They're not like they were when they were in middle school with me. They've grown, become more mature and have more discipline with Vector."
Not only did Lindsey become part of the Vector family; he got his actual family involved with the program as well. His mother, Wingfield graduate Terese Lindsey, carpools for Vector and provides whatever help she can. After seeing how much Vector helped her son, she brought Lindsey's cousins, 5-year-old Ashton Clay and 12-year-old Anniyah Hurst, to join the program as well.
"The Thrashers have helped my life do a complete (180)," Lindsey says. "I pay attention to our motto: Know Yourself, Better Yourself and Help Others. That's a motto to respect. It feels like a prayer for life, in a way."
Jiu-Jitsu Basics
Jiu-jitsu techniques use mechanical advantage instead of physical strength. The martial art operates on the premise that a larger and physically stronger person's combat advantage lies primarily in his or her superior reach and more powerful strikes. Because grappling on the ground reduces the usefulness of those factors, jiu-jitsu emphasizes getting an opponent to the ground, and then using submission holds, joint-locks and chokeholds to pin him or her to the mat.
Once combatants are on the ground, jiu-jitsu's objective is to maneuver your opponent into a position where you can apply a submission hold, which is the equivalent of checkmate—an instant win in a competitive match. In a real fight, being in a submission hold could lead to injuries such as dislocated joints or unconsciousness. A jiu-jitsu match ends if one combatant gets his or her opponent into a submission from which escape is unrealistic, forcing the opponent to tap out. In the event that neither combatant manages to submit the other, combatants have other ways of gaining points and winning matches.
Defending in a jiu-jitsu match is done through the guard position, in which combatant, with his back to the ground, attempts to get his legs around the other combatant to control his movements. Guarding allows the bottom combatant to use joint locks and chokeholds to keep the opponent away or, alternately, move him or her into a position from which the defender can "mount" the opponent.
Mounting is either sitting on the opponent's torso or back in a way that restricts the bottom combatant's movements. In a real fight, being mounted would leave the person on the bottom open to punches or other attacks. The goal of the top combatant is to get around the defender's legs, known as passing their guard, and move into a mounting position or, of course, submit the opponent.
Combatants score points by bringing their opponent to the ground, passing an opponent's guard and moving into a mounting position. If neither opponent submits the other, the combatant with the most points at the end of five minutes wins the match.
CORRECTION: This story has been updated to reflect a correction. Following the publication of this story, Beth Thrasher contacted the Jackson Free Press and said she misidentified the student described in the opening section. The student in the demonstration was Nelson Buckley, not Devin Williams. We apologize for the error.