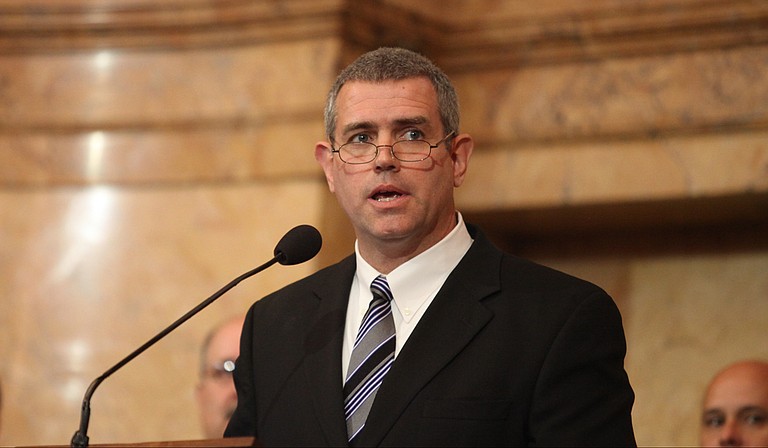 JACKSON, Miss. (AP) — The Mississippi Supreme Court hears arguments Tuesday about how two school-funding initiatives will be presented to voters in November.
The central question is about the ballot title—a description with 20 or fewer words.
More than 100,000 people signed petitions to put Initiative 42 on the ballot. Its ballot title says 42 would require "an adequate and efficient system of free public schools." People could sue if education funding falls short.
The Republican-controlled Legislature put Initiative 42-A on the ballot as an alternative. The original ballot title for 42-A, written by Democratic Attorney General Jim Hood, said lawmakers must fund "effective free public schools."
A circuit judge rewrote the title of 42-A to say the Legislature should fund effective schools, but to specify that people could not ask a judge to order legislators to follow a funding law.
The ruling in early April by Hinds County Circuit Judge Winston Kidd came after Adrian Shipman, an Oxford parent who supports the citizen-led initiative, filed a lawsuit to challenge the original ballot title of the legislative alternative. Shipman said the two titles originally were too similar, and that could confuse voters.
The legal battle over the wording of the education funding initiatives is important because the outcome could help determine whether voters accept one of the proposed constitutional amendments or reject them both. School funding is also a topic of debate this year as Republican Gov. Phil Bryant, Republican Lt. Gov. Tate Reeves and most of the 174 state lawmakers seek new four-year terms.
The Mississippi Adequate Education Program is a budget formula designed to give schools enough money to meet midlevel academic standards. Legislators have fully funded the formula only two years since it was put into law in 1997.
Attorneys for Reeves and House Speaker Philip Gunn, R-Clinton, said in written arguments that a Hinds County circuit judge had no authority to rewrite the title for 42-A. The attorneys, Michael Wallace and Charles Cowan, said state law does not give a circuit judge the power to rewrite the ballot title for an alternative initiative submitted by legislators
The state attorney general's office and attorneys for Shipman said in written arguments that a circuit judge has the authority to rewrite a ballot title but that there's no legal right for anyone, including legislators, to appeal a circuit judge's new version of that title.
The opposing sides were expected to make similar points during oral arguments Tuesday. It was not immediately clear how long justices would take to rule in the dispute.