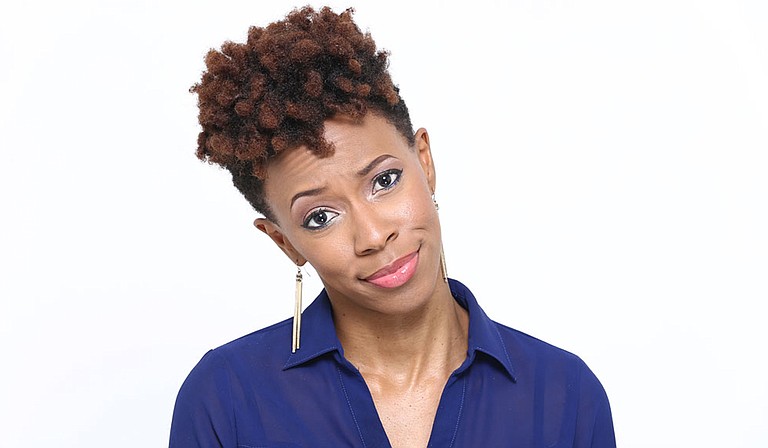 Cherita Brent belongs in the spotlight, and she isn't short on avenues to get there. Listeners might recognize her voice from her day job at Mississippi Public Broadcasting, where she co-hosts radio shows including "Everyday Tech" and "In Legal Terms." Many others will know the Jackson native from her current gig as the drummer for Dexter Allen, as well as tenures with musicians such as Grady Champion and Akami Graham.
For more than two years, though, Brent's been taking the stage in an entirely different way: as stand-up comedian Rita B. Now, she's taking one giant step forward in her comedy career with her first hour-long special, "Rita B. Is the New Black," which records live Saturday, June 20, at the Alamo Theater.
"You know, all my life, I've been what some considered a class clown," Brent says. "I've always been the comedic relief in my social settings, so I said that I was going to give (comedy) a shot because I always thought about doing it. I was just too afraid. Being a musician, I'm on the drums and get to be behind whoever is up front singing. I get to be in the background. But in order to be a comedian, that's a different level of pressure."
Brent's first real introduction to live stand-up occurred in early 2013 on a night out at Suite 106, a Wilmington Street lounge that's now closed. Jacksonian Kenneth Coger was holding his monthly Power of the Mic Comedy Show.
"The entire time I was sitting there, I had butterflies in my stomach, and when I have butterflies in my stomach, it's an indication that I need to be doing that thing," Brent says. "I think about when you're at church and the preacher is saying, 'Hey, if you need healing, if you need whatever, come to the altar.' You get butterflies because you know it's time to go."
Brent began doing stand-up at those monthly shows and sought out other comedy events to hone her skills. In December 2013, she won the Power of the Mic's Novice Comedienne of the Year award.
Since then, Brent has taken her show around the region to cities such as Hattiesburg, Grenada and New Orleans, but her biggest fans still are in Jackson, where Brent says she has received an overwhelming amount of support locally.
"I've had lots of people reach out to me, people that I didn't even know were watching. When I'm out, people recognize me in Jackson, in the grocery store or whatever," she says. "I feel like a little Jackson celebrity, which is weird because that means I always have to look decent. I can't go around looking ragged anymore because someone's going to be like, 'Hey, I remember you from that comedy show!'"
Of course, not everyone at a Rita B. show will be an instant fan. She's noticed that audiences in Jackson, which mostly offers music-driven entertainment, don't always know how to enjoy themselves in the unique setting of stand-up.
"That is, to me, one thing that I think could be improved in Jackson and will be once people embrace the comedy scene more," she says. "I don't know. Maybe people are just more used to being ... reserved at events, but when you go to a comedy show, that's the time to let it all out. There's nothing more uncomfortable than looking at a table that hasn't cracked a smile. Either they're uptight or you suck, and you just have to figure out which one of those it is."
It'll take more than a good crowd to make her one-hour special a success, though. Ticket sales are already going well, but Brent says going from her usual 15 or 30 minutes of stage time to a full hour will be a challenge, not because of content but because of the difficulty in finding a flow and seguing between jokes. It requires focus and a good memory, she says, but it's also important not to doggedly stick to the script.
"I'm an observational comic," she says. "While I know what I'm going to talk about, there are still things happening around me that I think would be good to incorporate, even though the show is Saturday."
Brent says she thinks "Rita B. Is the New Black" will inspire other Jackson comedians to record their own specials. Others have even approached her to call "shotgun" to be the next to release a full-length comedy special. But for now, Brent is in widely uncharted territory for local funny-people.
"This show will kind of separate me as a comedian because it'll give me merchandise. It'll give me a product to sell," she says. "It'll let people know that I'm serious about what I do."
The "Rita B. Is the New Black" Comedy Special is from 8 to 11 p.m., Saturday, June 20, at the Alamo Theater (333 N. Farish St.). Doors open at 7 p.m. Tickets are $10 in advance at eventbrite.com, $15 at the door, or $20 for VIP tickets, which includes a guaranteed copy of the DVD to be delivered at a later date.