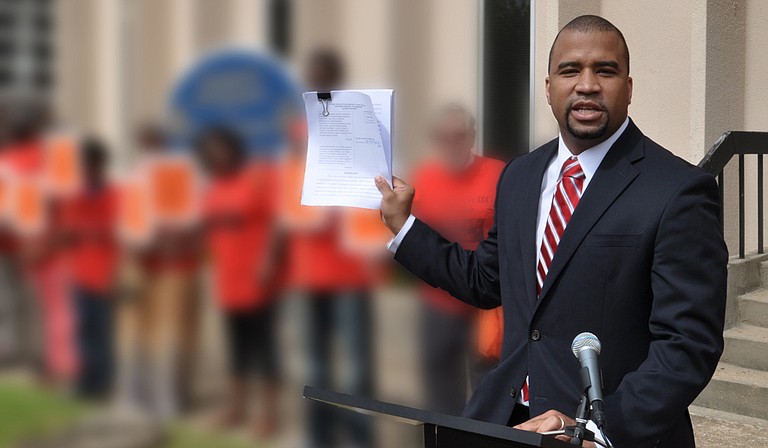 The U.S. Justice Department said Friday it has reached a settlement with the city of Meridian over policies that had allowed students to be detained without probable cause or legal representation—policies that mainly affect black and disabled children.
The government brought suit in October 2012 against Meridian and Lauderdale County, alleging there was a "school-to-prison pipeline" in east Mississippi that locked up students for minor infractions such as flatulence or vulgar language.
The state of Mississippi is a party to the Meridian settlement, which must be approved by the U.S. District Court in Jackson.
Jody Owens, managing attorney for the Southern Poverty Law Center's Mississippi office, was pleased with the settlement.
 "Today marks a significant milestone toward ensuring that children in Mississippi, especially children of color, are protected from unnecessary encounters with law enforcement in school," he said in a news release. "We commend the Department of Justice and state and local officials in Mississippi for establishing a plan that will help all children have an equal opportunity to pursue their education."
Vanita Gupta, deputy assistant attorney general for civil rights for the DOJ, said in a news release that the settlement addresses the complaint against the city of Meridian only. The allegations against Lauderdale County and the Lauderdale County Youth Court have not been resolved and remain in litigation.
The Meridian Public School District was not named as a defendant in the lawsuit. In 2013, a federal judge approved a deal between the district and the Justice Department, known as a consent decree. The agreement calls for the district to fully comply with several measures to end discriminatory punishment by the end of the 2016-2017 school year.
The government alleged Meridian police arrested students without determining whether there was probable cause when a school wanted to press charges, and the students were routinely jailed.
Once arrested, the students ended up on probation, sometimes without proper legal representation, according to the complaint. If the students are on probation, future school problems could be considered a violation that requires them to serve the suspension incarcerated in the juvenile detention center, the lawsuit said.
The Justice Department said that means students can be incarcerated for "dress code infractions such as wearing the wrong color socks or undershirt, or for having shirts untucked; tardies; flatulence in class; using vulgar language; yelling at teachers; and going to the bathroom or leaving the classroom without permission."
In court filings, the defendants denied most of the allegations.
Gupta said the new settlement prohibits Meridian police from arresting youth for behavior that is appropriately addressed as a school-discipline issue, and requires documented probable cause determinations for any youth arrested for criminal offenses.
The agreement also requires police to uphold constitutional protections following a youth's arrest, mandating Miranda warnings as soon as a youth reasonably believes he or she is not free to leave and prohibiting officers from interviewing detained youth unless a guardian or attorney is present.
Gupta said the settlement also addressed unconstitutional youth probation practices by the Mississippi Division of Youth Services.
She said state probation officers will take steps to protect a youth's privilege against self-incrimination, including providing youths with age-appropriate explanations of their rights and the probationary process.
The agreement also includes requirements for the contracts that establish the restrictions and rules that youth on probation must comply with. These contracts must be written in terms that are easily understandable to youths and that prevent arbitrary and discriminatory enforcement, and include a clear explanation of the youth's rights.
In addition, the agreement prohibits probation officers from recommending incarcerating youths for violations of their probation contracts that would not otherwise amount to detainable offenses, unless and until all other reasonable alternatives to incarceration have been exhausted.
Gupta said the agreement outlines "important steps toward ensuring that school disciplinary issues are not inappropriately criminalized."
"Going forward, the Department of Justice expects to work with Meridian and the state of Mississippi to ensure that children's constitutional rights are protected in police and probation practices," she said.
Arielle Dreher contributed additional reporting to this story.