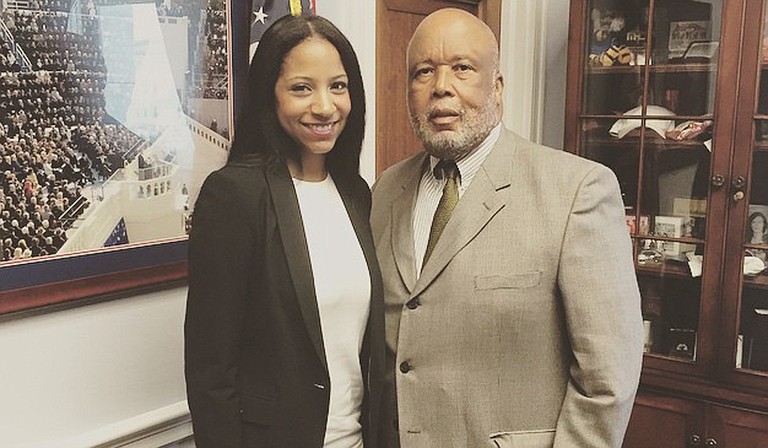 Jackson native LeMia Jenkins recently returned home from Washington, D.C., and joined the research team at Jackson State University as its new director of federal relations.
Jenkins, 27, is a graduate of Tougaloo College, where she received her bachelor's degree in public relations in 2010. From there, she went on to earn her master's degree in public health at George Washington University in D.C. in 2012. She also studied healthcare promotion and delivery at the Hebrew University in Jerusalem, Israel in December 2011.
Jenkins has worked as press secretary for Congresswoman Marcia Fudge in 2012 and Congressman Bennie Thompson from 2010 to 2011 and 2013 to 2015, where she served as spokesperson and media liaison on political affairs. She has also assisted in developing policies with education and health-care companies, as well as aiding the state of Mississippi on getting it to adopt the Affordable Healthcare Act in 2010. Jenkins' background experience is extensive and has prepared her for her new duties at JSU.
"I've always been politically active and engaged in public affairs and given back to the community," Jenkins told the Jackson Free Press. "So, I think I have a pretty good handle on my new position here."
As the director of federal relations, Jenkins is responsible for developing and coordinating a strategic plan for strengthening JSU's identity and reputation in scientific and scholarly research, as well as other issues to further the university's research priorities. Jenkins says she is excited to be back in Jackson and to be a part of the community. She is ready to advocate for JSU, as she believes historically black colleges are underrepresented in Washington. Jenkins says she is looking forward to continuing the efforts of an institution that she says has blazed the trail for the city of Jackson.
"I am thrilled to be back in the community here, and I look forward to working with Dr. Carolyn Meyers and Dr. Loretta Moore to advocate for the University in Washington and continuing to promote their innovative, robust and transformative legislative agenda," Jenkins said.