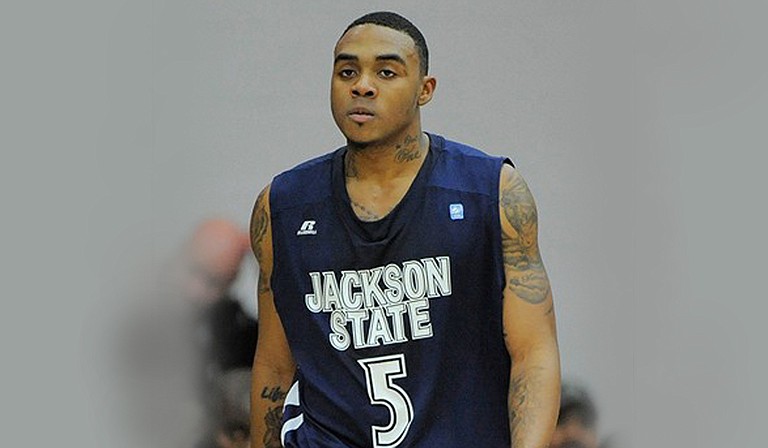 Dundrecous Nelson hopes 85 percent is enough right now. After an ankle injury that ended his college career, he is currently 85 percent back to his old self and knows he is a work in progress. The 23-year-old hopes teams see his potential when he finally gets back 100 percent healthy.
"The injury I had, I tore up a lot of stuff; I tore up a couple of spots in my ankle. I was getting therapy on my own until I just now found someone to help me do the right training to get my ankle better. At first, I was doing everything on my own," Nelson said to the Jackson Free Press.
The former Murrah High School star has gone down a long road to get to the River City Summer League that starts this Friday in Vicksburg. He has been through heartbreak, made poor decisions and had setbacks to get to this point.
While still in high school, Nelson was in a car accident that claimed the life of his teammate and best friend LeChristopher "Chris" Ulmer. The two-time Dandy Dozen guard fractured his skull in the accident.
In 2010, Nelson signed with the University of Mississippi to play college basketball. After his accident, he said other teams pulled their offers, but the Rebels were the one school to stay with him, and that's why he chose to stay with the school.
He lasted a season and half before he was dismissed from the team for failing drug tests and being arrested for possession of drug paraphernalia after a win against Southern Methodist University in non-conference play.
Nelson was the leading scorer on the Rebels basketball team when he was dismissed. The 6-foot-1-inch guard was averaging 11.6 points per game with 20 steals before being dismissed with teammate Jamal Jones.
"I had failed a couple of drug tests. I got arrested and left the next day ... I found out I had been dismissed after doing a Google search on myself and then after that, they had a meeting with me." Nelson said.
Nelson talked about past experiences with law enforcement while at Ole Miss.
"They came to my house a couple of times, but every time they came, they didn't find anything. So that made them even madder. I don't really know what the case was, but I felt like I was being messed with. I wasn't bothering nobody. I wasn't going crazy or doing anything; I was just minding my own business," he said.
The Murrah star talked about the differences between Marshall Henderson and himself.
"... They just took their hardest punishment out on me, to make an example out of me; I really don't know. At the time, they had two different athletic directors. When Marshall was there, they had different athletic director, and all he got was rehab," Nelson said about his dismissal from the team. Pete Boone was athletic director when Nelson was at Ole Miss, current AD Ross Bjork was hired shortly after he was dismissed.
After coming home, Nelson spent the next season at Jackson State University. He said anger and depression kept him from answering his phone after his dismissal, and he missed several calls from other high-level programs. That left him with few options, which was why he chose to go to JSU.
"That is the one thing I wish I could change. I wish I could go to another big school instead of come home. I wish I had picked up the phone," Nelson said.
He didn't return for his senior season.
"One thing people don't know (is that) I wasn't on scholarship at Jackson State. I really didn't want to play for Jackson State anymore after the season with Coach Brent coming in, and they were going to be rebuilding. I really didn't want to play for a rebuilding team for my last year," Nelson said.
The Jackson native spent his final year of college basketball playing for National Association of Intercollegiate Athletics school Louisiana State University in Shreveport. It was near the end of the season when he injured his ankle, ending his college career and putting the rest of his playing career in limbo.
"I finished my college career there. We won the regular season championship and went to the tournament, but I got hurt towards the end of the season. ... It has been a real roller coaster," Nelson says of his college career.
Since his injury, Nelson has been trying to get healthy again. It has taken over a year just to get this far in his rehab.
"After (the injury), I was done. I tried to get overseas somewhere and try to play basketball. I was just trying to get a job somewhere. The injury slowed down my career pretty bad. I still go to rehab for it. ... A lot of teams were scared to take a chance on me with the ankle injury," Nelson said.
His first chance to show he can still play comes in the form of the River City Summer League. Nelson can hardly contain his excitement for being back on the court again.
"It is about making a career for me." Nelson said.
Nelson said he hopes his career path takes him to the highest levels of basketball, namely the NBA.
"I got more love for the game being away from it. Seeing guys in the league (NBA) I played against and watching them in the league makes more hungry. I want to go harder to get where I need to be. I think I can play in the NBA. ... That is my dream. I've played against some guys (currently in the league) in the league and have done well against most of them. I've been playing against Derrick Rose, Brandon Knight, Shane Larkin and OJ Mayo since they were playing (Amateur Athletic Union) ball. It motivates me since I played against them. I'm not trying to be arrogant, but I think I'm as good as they are and can play with them." Nelson said.
During this journey, Nelson says he has learned some things. He is currently a senior at Jackson State working on his bachelor's degree in sports management.
"I have matured more and learned to watch my surrounding and the people to be around and not to be around. I take things more serious and try to do the best I can do at everything," Nelson said.