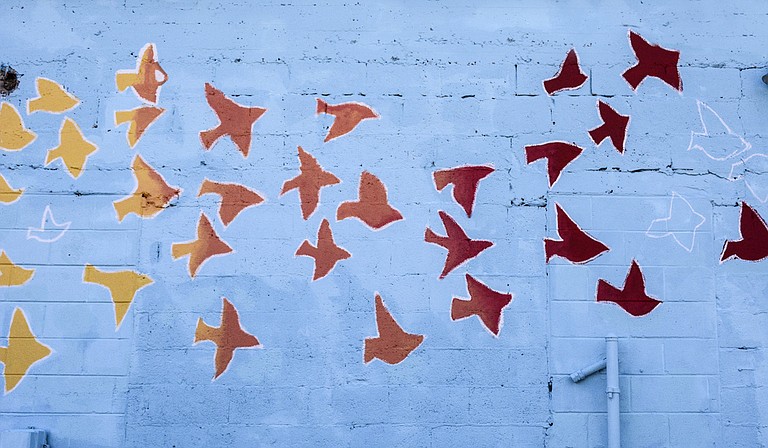 Wednesday, March 18, 2015
A flock of rainbow-colored birds suddenly appears on the left side of the street when you round the bend on East Amite Street, heading toward the intersection of West Capitol Street. Caught in mid-flight, the flock dips beneath the block-printed "Opportunity Center," then rises and flies off into a background of pale blue sky. A simple but effective mixture of signage and art, the mural painting identifies the building and represents the spirit of the place—a day center where homeless people can shower, wash their clothes, receive mail and access the Internet.
Artist Margaret Sullivan said the mural's creation was a gratifying and affirming experience. At 24, Sullivan doesn't have a formal, visual arts background. She took art classes at Power APAC in middle school and several drawing classes in college, but her bachelor's degree from Millsaps is in English and creative writing.
When the chance arose, her layperson's skill and volunteer spirit led to the creation of the street-side mural at Stewpot's Opportunity Center.
"I was redoing the specials chalkboard in the bar at Sal and Mookie's, where I used to work, and a volunteer in charge of getting the mural project off the ground saw what I did on the chalkboard and asked me to do the mural," she says. "I said, 'Of course!'"
Sullivan had a free hand in the design. The actual painting of the mural was "an incredible experience" for the novice. Beginning on the first day that she arrived at the building to prime the wall with white paint, something happened that she didn't expect.
"I had a friend who'd volunteered to help me cover the rusty, maroon-red paint," Sullivan says. "Immediately, so many of the men at the center wanted to help. In fact, several pointed out that I was not very good at painting. I admit, I'm not that great with a roller. They just jumped in and started knocking it out."
Working for two to three hours on Saturday and Sunday, it took Sullivan about a month and a half to paint the mural. Dividing the cost of supplies with the Opportunity Center, she estimates the cost at $250 to $300.
"I'd been a bit apprehensive. (I) didn't really know what I was doing," Sullivan says.
"There was one younger man who was very eager to help. He'd studied graphic design. He helped a lot. Everyone had input. There were quite a few people who really had an eye for it. It was great to get their feedback."
When asked if she would be interested in doing more murals, Sullivan's enthusiasm and motivation are clear.
"Part of the reason I was really excited to get this opportunity to do the mural is because last year was tough," Sullivan says.
"I've been discouraged sometimes about the state of Mississippi the country (and) the world. I've found myself becoming really agitated because I don't know what I can do. This was an opportunity to for me to contribute. It was important to me and made me feel like I did something."
Like the Old Masters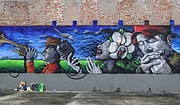 Artist Jason Jenkins has created a full-spectrum tribute to Mississippi music and iconography in the form of a 10.5-foot by 142-foot mural on the north wall of Martin's Restaurant & Lounge just past the corner of State and Pearl streets. A guitarist, a horn player, a singer and harmonica player emerge from a broad panorama spanning the width of the building. It includes a sunset, sunrise and afternoon with trailing clouds.
From beginning to end, with a seven-month hiatus in between, it took Jenkins about six months to complete the mural.
Now 35, Jenkins has been drawing and painting since he was a kid. He has a degree in graphic design from the University of Southern Mississippi, but working on a computer didn't prepare him for this undertaking.
"I've painted murals before," Jenkins says. "They were 8 by 10 or 20 feet long—Mural 101. With this mural, I had a choice to either project the images in small amounts or to grid it off like the Old Masters. I always refer back to them."
As with Renaissance muralists such as Leonardo da Vinci and Michelangelo, Jenkins' mural was funded privately. Martin's owner, Joseph Stodghill, commissioned the work and chose its musical theme. 
 Jenkins began with two designs, but Stodghill decided on an amalgamation of both.
Two of Jenkins' small-scale murals—a bar scene and a surreal portrait of bluesman Robert Johnson—flank the entrance to Martin's. He's talking with Stodghill about doing another inside. Jenkins is inspired by cities such as Richmond, Va., where mural programs are in full swing, and he would like to see more murals in Jackson.
"The more murals that go up, the more enlivened a community becomes," Jenkins says, gesturing toward the wall.
"Instead of seeing dilapidated building and crumbling brick, people get to see something like this."
A Mind for Business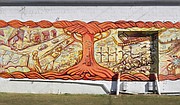 Scott Allen is an artist with a mind for business. Like the name of his company, A+ Signs and Creative, he's not limited to one or the other. With a bachelor's degree in graphic design from University of Southern Mississippi, Allen's custom signs are all over Jackson and the southeast. True to form, Allen keeps the art in his occupation.
"We do large-format commercial signs, custom signs—every type of sign," Allen says.
"I try to do more hand-painted stuff because I like it. It's kind of a lost art form."
Allen's largest and most recognizable mural is at 126 Keener St. in midtown. Funded by a National Endowment for the Arts Our Town Grant, Allen worked with midtown residents to come up with the design.
"It took a long time to plan the mural," Allen says of the project. "We held a lot of community meetings so people could give us input about what they wanted to see in their neighborhood. It worked out really well. They got to have a sense of ownership."
The roots of a large tree frame the mural, which entwines different sights of the neighborhood: the bungalow houses and industrial buildings, the rail yard and trains, the workers and children, a woman kneeling in a vegetable garden.
"The midtown mural was my translation of what the people in the neighborhood wanted," Allen says. "It was one of the most challenging things I've ever done because everyone had a different opinion. I went back and forth with proofs for people to see and comment on. Their feedback was really helpful; it made the painting better."
Allen did a Facebook promotion to see if he could get people involved in his most recent mural. Painted on the back of William Wallace Salon in Fondren, the whimsical mural depicts a family of cyclists riding past traffic, while flower petals stream from the mother's bike basket.
His was the first of a series of murals planned by F.A.W.N., which stands for Fondren Art Walls Now.
"Public art or street art transcends the necessity for an art degree. Anybody can do it, and it's for everybody," Allen says.
More Art, Please
Painter and graphic artist Justin Ransburg added murals to his resume in 2014. As a boy growing up in Jackson, he found inspiration in comic books, Manga and an older sibling. When he was 9 years old, his brother, Maurice Williams, who was studying graphic design at the time, compelled him to discover his own artistic aptitude.
"My older brother was the person who pushed me to pursue it," Ransburg says. "One day, I asked him to draw something for me, and he just looked at me and said: 'No. You go do it yourself.'
"The experience showed me that I could draw. It was something I didn't realize I could do."
Ransburg continued to draw while he was in middle and high school. He began painting in college at Texas Southern University, where he earned a bachelor's degree in fine arts in 2012.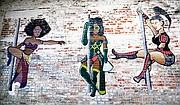 Comics and Manga came back into play when Ransburg designed and created his first mural at Taboo Dance and Fitness. He painted the owners as pole-dancing superheroes on one of the business' interior brick walls with bold, standout colors bordered with comic art's familiar 
black outlines.
Della B's Cafe in the Jackson Medical Mall is home to Ransburg's second mural commission. Painted on a sage green wall, the feisty bumblebee woman wears a chef's hat, wields a rolling pin and has a stinger and antennae. The tongue-in-cheek design also serves as a business logo.
Ransburg currently oversees a student mural project at Lanier High School, which Parents for Public Schools' Ask for More Art program funds. He's working with 9th-grade students to design and paint a 4-feet by 8-feet mural in their designated hall. Consistent with the project's theme, "Our Community, Our Sense of Place," Ransburg set out to create a collaborative spirit. He began by soliciting the students' ideas.
"I did an informal survey, (asking) what is a community? What can you do to serve it? What makes a community better or worse?" he says. "Then I asked them to each do a sketch of their ideas about community."
Ransburg merged the individual sketches into one large outline that the students are painting and filling in, and as the mural progresses, he provides guidance. His role is facilitating the mural's creation and supporting the students to create their own artwork.
"The first day I came to their class, when the teacher announced they'd been selected for the program, their eyes just lit up," he says. "They asked me if I was sure they could paint the mural. I assured them they could."
Though still a work in progress, the team will complete the mural by the end of the school year, and it will be part of a program showcase in June. The design, Ransburg says, is "fine art, inspired by street art."
To see a gallery of Jackson murals, visit jfp.ms/murals.