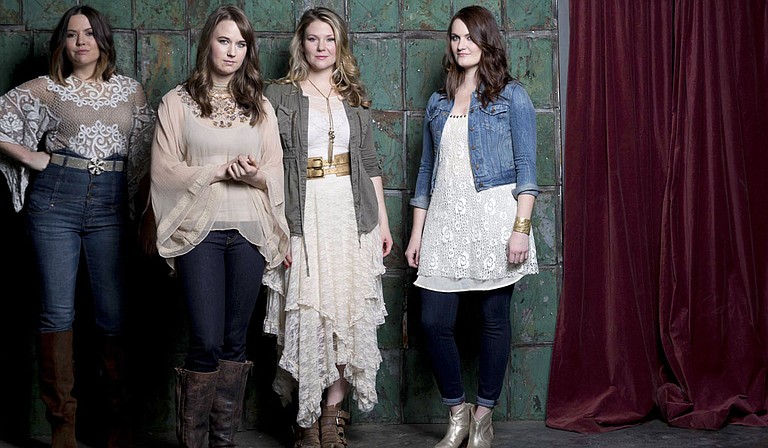 Wednesday, March 25, 2015
Since Nashville-based folk band Della Mae started writing and performing original music in 2009, the quintet has become a woman-powered force to be reckoned with. Della Mae's acoustic instruments, familiar riffs, themes and harmonization set out to honor bluegrass traditions while expanding and energizing the form. The band performs Saturday, March 28, at Duling Hall.
Two-time Grand National Fiddle Championship winner Kimber Ludiker started the group in 2009, drawing from the multi-genre melting pot of the band's hometown, Boston. Ludiker's experience as a back-up musician and her first-hand knowledge of the difficulties of being a woman in the industry inspired her to make a change.
"If a female musician wants to be hired by a band and go on the road, there's just no getting around the fact that it's a bit more difficult for a woman," vocalist Celia Woodsmith says. "So, Kimber decided to start her own band."
Before joining Della Mae in 2011, Woodsmith and Ludiker played together in a rock 'n' roll band. Shortly after, Ludiker connected with band members Jenni Lyn Gardner (mandolin) and Courtney Hartman (guitar and banjo) through friends and fellow musicians. Zoe Guigueno (bass) joined the band in February of this year.
"It was kind of a joke at the beginning," Woodsmith says.
"Kimber said she wanted to start a band of women who wear power suits and stiletto heels and play bluegrass faster than any man could possibly play."
As the band evolved, the musicians switched from playing "incredibly fast bluegrass" to developing their edgy, hard-driving sound. With funds from a Kickstarter campaign, the group recorded and released its first album, "I Built This Heart," in 2011. The band released the follow-up album, "This World Oft Can Be," on Rounder Records in 2013, earning critical acclaim and a Grammy nomination for best bluegrass album in 2014. Della Mae's new, self-titled third album, which the band crowd-funded through PledgeMusic, hits stores May 12.
Playing festivals, clubs and concerts, Della Mae's rigorous touring schedule has taken the band all over the country and the world. Joining the U.S. State Department's American Music Abroad program in 2012, Della Mae began performing and teaching workshops in a number of countries. In 2014, the group visited 15 countries, including Pakistan, Uzbekistan, Turkmenistan, Kazakhstan, Kyrgyzstan and Tajikistan.
"Traveling to different countries, going to a place like Turkmenistan, which most Americans, including myself, couldn't pinpoint on a map, to teach bluegrass or roots music to young women has been an amazing experience," Woodsmith says. "We met young women who are incredibly intelligent, powerful and beautiful. Talking with them about what it's like to be a young Pakistani or Saudi woman was an incredible opportunity and education."
Putting politics and differences aside to teach and inspire was an important part of their work as music ambassadors. Woodsmith describes the experience as "defining" for each of Della Mae's members as people and musicians.
"When you focus on the music, you realize how fluid your interactions become with one another," she says.
"Being face to face with people, playing a tune, the whole world can shift. You realize how human we all are."
Della Mae performs at 9 p.m. Saturday, March 28, at Duling Hall (622 Duling Ave., 601-292-7121). Tickets are $5 in advance or $10 at the door. For more information, visit dellamae.com.