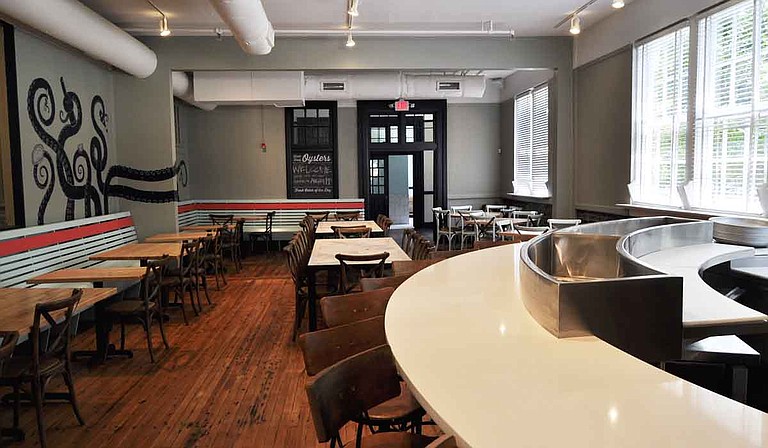 Chef Jesse Houston, owner of Saltine Oyster Bar (622 Duling Ave. Suite 201), will celebrate American Craft Beer Week May 11-17 with seven days of beer-centric events featuring limited-release draft brews and pairing events. Houston worked with some of his favorite local and regional craft brewers to put together the week's selections. All these events will have one keg of a special draft available for one night only.
On Monday, May 11, Saltine will kick off the week with Sam Adams Potbelly Porter, a smoked coffee porter and The Sphinx, a Belgian sour blonde.
Tuesday, May 12, will be Tin Roof Brewing Co. Pint Night, featuring the limited release of Smoke Shack Smoked Brown Ale and Barrel-Aged Smiling Ivan Russian Imperial Stout on draft. Representatives from Tin Roof will be at Saltine giving away free items, including T-shirts, stickers and pint glasses.
On Wednesday, May 13, Saltine will offer diners a special sneak peek of Southern Prohibition Brewing Co.'s Soul Glo Saison.
On Thursday, May 14, Saltine will host a pairing event that matches four beers with four cheeses for $15. This event is presented in conjunction with Whole Foods Market (4500 Interstate 55 N., 601-608-0405), whose resident cheese monger, John Stanfill, will give a seminar on beer and cheese pairings before the event.
On Friday, May 15, Saltine will debut NOLA Brewing Company's Rumplestoutskin, a rum barrel-aged stout, and NOLA Belma Dry-hopped Hurricane Saison. NOLA representatives will be on hand with some swag of their own.
On Saturday, May 16, Saltine will release its collaboration with Lucky Town, the Saltine Stout, an Imperial stout brewed with saltine crackers and Gulf oysters.
The week ends Sunday, May 17, with the Mark's Lemonade and Shandy Stand and Seafood Boil at noon on the patio, featuring shandy, a beer and lemonade combo made in house with fresh-squeezed citrus. Diners can pair their shandy with a pile of seafood, corn, potatoes and sausage.
For more information, call Saltine at 601-982-2899.
Taylor Reed's Taco Shop at Babalu
Babalu Tacos & Tapas (622 Duling Avenue) will host a one-day, in-store fundraiser called Taylor Reed's Taco Shop on Wednesday, May 6, from 11 a.m. to 10 p.m. The event will support 2-year-old Taylor Reed Morganti in his battle with Pachygyria, an extremely rare malformation of the brain, which causes seizures and developmental delay, among other issues. Costs for appropriately aiding Morganti in his development, along with his medical expenses, add up quickly.
For every taco sold on Wednesday, Babalu will donate $1 to Morganti and his family to help cover these expenses.
Morganti recently spent the afternoon as a "guest chef" at Babalu, creating his own signature taco alongside Babalu executive chef Austin Lee and his culinary team. "Taylor Reed's Taco," made with chicken, smoked corn pico de gallo, romaine lettuce, comeback sauce and cotija cheese, wrapped in Babalu's signature handmade blue-corn tortilla, will be the taco of the day on Babalu's menu for the event. Morganti and his family will also greet guests and help out in the kitchen for a period of time during lunch and dinner services.
This event marks the second annual taco-themed pop-up event at Babalu to ease the financial burden of a family with a child in need. Last year's fundraiser was held April 16 and featured 4-year-old "guest chef" Charlie Berry. Community and staff contributions allowed the restaurant to donate $3,000 to the Berry family for help with medical expenses related to Charlie's fight against Duchenne muscular dystrophy.
In an effort to raise even more money this year, Babalu created a crowd-funding page on YouCaring.com and encourages those wishing to donate who cannot attend the event personally to visit the site. Babalu will also take donations at the door on Wednesday. As of one day before the event, the campaign has raised $1,145 and received more than 1,100 shares on Facebook.
For more information, call Babalu at 601-366-5757 or find the restaurant on Facebook.
Mayor Yarber Promotes National Travel and Tourism Week
The City of Jackson is looking to cash in on its tourism industry, hoping to promote the capital as a tourist destination and raise cash to pay for city services and infrastructure fixes.
This morning, Mayor Tony Yarber issued a proclamation for National Travel and Tourism Week and highlighted a series of events that began with a downtown Cinco De Mayo festival last weekend and wraps up with the Stray at Home event in Smith Park on Saturday, May 9.
Since taking office, Yarber has said he wants to promote entertainment in Jackson, beyond pegging the city's nightlife aspirations on the long-sought redevelopment of the Farish Street district, which has slowed amid various court disputes in recent years, and could remain tied up in legal fights for some time.
Brad Franklin, a marketing specialist for the City's Department of Human and Cultural Services, said Jackson's diversity and neighborhoods give it a competitive advantage over its suburban neighbors.
"You really can't change people's perceptions until you show them. Our goal is to show that entertainment takes place all over the city. ... It's not just Farish Street, and not just particularly downtown, but everywhere. Not just Fondren (and) not just Belhaven, but in west Jackson, south Jackson and other parts of north Jackson," Franklin told the Jackson Free Press today.
Taking inspiration from the success of Fondren's First Thursday (formerly known as Fondren After Five), Franklin said the City is considering organizing a similar event in south Jackson to launch what he calls a season of festivals, beginning with St. Patrick's Day and concluding with the Jackson Rhythm and Blues Festival in August.
"We want something going on every month," Franklin said.
Mississippi's First Trampoline Park Coming to Flowood
HighHeaven Trampoline Park, Mississippi's first indoor trampoline park, is set to open at 2280 Lakeland Drive in Flowood late this summer. The building is the former location of The Park. HighHeaven is a property of CircusTrix, the world's largest developer of indoor trampoline parks.
HighHeaven will have 12,000 square feet of trampolines, including an open trampoline field, a trampoline dodgeball stadium, slacklines, dunk basketball hoops and Olympic foam pits. The facility will also house a Ninja Warrior Aerial Obstacle Course.
The facility will be available for birthday parties, corporate events, dodgeball tournaments, trampoline aerobics classes and other events. HighHeaven will also host ClubHeaven on weekends, a late-night event featuring laser lighting and live DJ music.
For information, follow HighHeaven on Instagram or on Facebook.
Jackson City Thrift Supports Local Veterans
Last November, a Jackson location for City Thrift opened at 5465 Interstate 55 N. Suite C, inside a building that formerly housed a Big Lots.
City Thrift is part of a group of thrift stores that are part of Brook Valley Management, along with Texas Thrift and Music City Thrift, headquartered in Birmingham, Ala. The stores are for-profit operations that purchase merchandise from nonprofit organizations, including clothes, shoes, furniture, electronics, books, jewelry, household items and decor.
The stores partner with local charities, civic organizations, religious organizations and municipalities to provide fundraising opportunities and to prevent useable items from ending up in an incinerator or landfill. The stores donate any unsold items to developing nations. In this business model, nonprofits collect items on behalf of the thrift company and receive payment for the service.
City Thrift is partnered with the AMVETS National Service Foundation, a national nonprofit that serves American veterans. AMVETS provides support to veterans through service programs, as well as providing community and youth-oriented programs designed to promote unity and patriotism. It counsels and represents veterans and their dependents before the Veterans Administration without charge.
Those wishing to donate can arrange for AMVETS to pick up their items at home. Call 1-855-550-8387 or fill out a schedule form online to arrange a pickup.
For more information on City Thrift, call 601-991-9892.