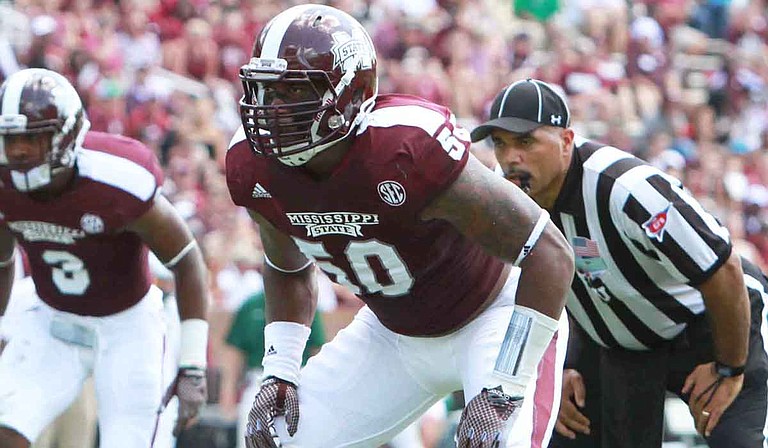 Here are the top five Mississippi storylines to follow from the 2015 NFL draft.
Mississippi State University Stands Out: Mississippi State set school records with its draft output. In the second round, the Washington Redskins selected defensive end Preston Smith, and the Houston Texans selected linebacker Bernardrick McKinney. Tight end Malcolm Johnson (Cleveland Browns), running back Josh Robinson (Indianapolis Colts) and linebacker Matt Wells (New England Patriots) went in the sixth round. The five selections were the most picked through six rounds in the school's history and tied for the most overall. It's the latest indication of a higher level of success in Starkville.
Golson Gamble Pays Off: In 2011, Pascagoula High School senior Senquez Golson turned down $1.1 million as an eighth-round pick for the Boston Red Sox to instead play football for the University of Mississippi. Smart move. After Golson led the SEC with 10 interceptions as a First Team All-American this past season, the Pittsburgh Steelers picked Golson in the second round of the NFL Draft. The Steelers have a proud history of ball-hawking defensive backs. Golson fits right in and stands to make millions in the country's most popular sport.
Prewitt Goes Undrafted: The biggest surprise for Mississippi was the name we didn't hear: University of Mississippi safety Cody Prewitt. The Bay Springs native was an All-American in his junior year, but his production declined as a senior, and he faced questions about his coverage ability in the NFL. The fact that Prewitt reportedly didn't meet with any teams for a pre-draft visit only raised questions about his stock. Still, for a safety who proved to be one of the SEC's best players, his snub was a head-scratcher.
Patriots-Mississippi Pipeline: Defending Super Bowl champions New England Patriots hope to add Matt Wells of State to their cast of contributors with Mississippi ties. Wells joins fellow former Bulldogs Chris White and Deontae Skinner in a linebacker corps, which freakish University of Southern Mississippi alum Jamie Collins leads.
Hinds Community College product Malcolm Butler is the Super Bowl hero of the secondary. Running backs LeGarrette Blount (East Mississippi Community College) and Brandon Bolden (UM) have played roles in multiple playoff runs. Long-time kicker Stephen Gostkowski starred in football, soccer and baseball at Madison Central High School. Think it's a coincidence the workman-like Patriots feature so many Mississippi players? Think again.
2016 Spotlight: This year's draft paled in comparison to the likely spotlight on Mississippi in 2016. Three Ole Miss players—defensive tackle Robert Nkemdiche, left tackle Laremy Tunsil and wide receiver LaQuon Treadwell—are projected as first-round picks. Mississippi State quarterback and Heisman candidate Dak Prescott's NFL stock is sure to be one of the hot topics of the entire weekend.
Jon Wiener is the host and producer of "Home Cookin'" on ESPN 105.9 FM The Zone. He has a bachelor's degree in English and master's degree in broadcast journalism. Follow him at @ESPNHomeCookin.