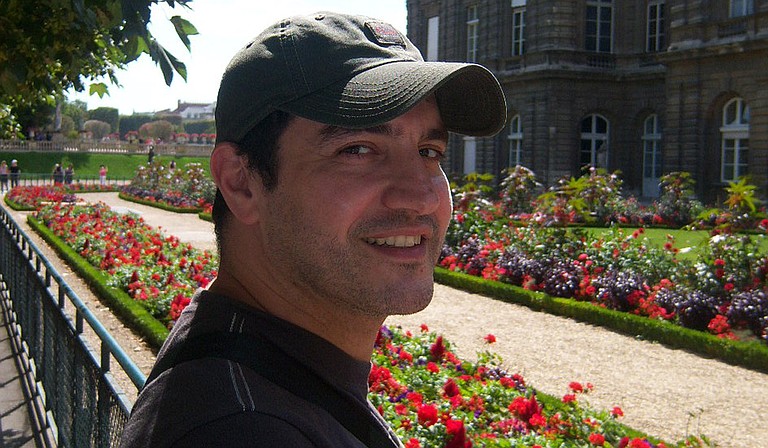 When you walk into Zoubir Tabout Antiques & Interieurs, you are not only greeted by an array of items from another era, such as paintings, hats and furniture; the shop bulldog, Dagobert, also greets you. Tabout himself welcomes customers with a warm smile and a perfect French accent.
Tabout, 38, was born and grew up in Paris. He studied foreign language at the Sorbonne in Paris and moved to New Orleans 18 years ago to work for Lucullus, a shop that specializes in culinary antiques, art and objects.
Moving from France to New Orleans initially gave Tabout a bit of culture shock.
"My first impression of the city was that it was filthy, and that it smelled," he says with a laugh. "But the longer I stayed, the more it grew on me. When you see these run-down looking houses in New Orleans, you step inside, and they are beautiful. The charm is on the inside."
Tabout made connections with people in Jackson through Lucullus. After Hurricane Katrina in 2005, he stayed in New Orleans for another three or four years.
"I was shocked by the way things were handled," he says. "I had friends here, so I decided to move here and give it a try." That was almost six years ago.
"(Jackson) has its own personality. I think, because of its history, there may be some lingering bad karma, and it holds it back."
Tabout has another reason to be a part of Jackson. "I really wanted to be selfish and work for myself," he says. "When I was in New Orleans, I always had to dress up and fit the part. Lucullus had a reputation to uphold. Here, I can be more relaxed."
That leisurely attitude doesn't extend to Tabout's keen eye for the merchandise he offers in his store. "It's very important to me that I ... stand behind the things I sell," he says. "In antiques, it's very easy for people to be fooled by a fake product because there are so many out there. This is a very serious business, and you can usually tell when people haven't studied."
Tabout takes time to return to France every year.
"It's changing there," he says. "You can definitely tell the American influence. There's more fast-food restaurants, and teenagers want to be like the Americans."
One of the major differences between America and France is transportation.
"Americans love their cars," he says. "We drive everywhere. It would be nice if we could have a train that can take people anywhere. It doesn't make sense that the United States can have the resources it does and not do what ... Europe and even Japan (have done)."
Nevertheless, Tabout is quick to point out that he loves his life here in Mississippi. "France is where I'm from, but America is my home," he says.