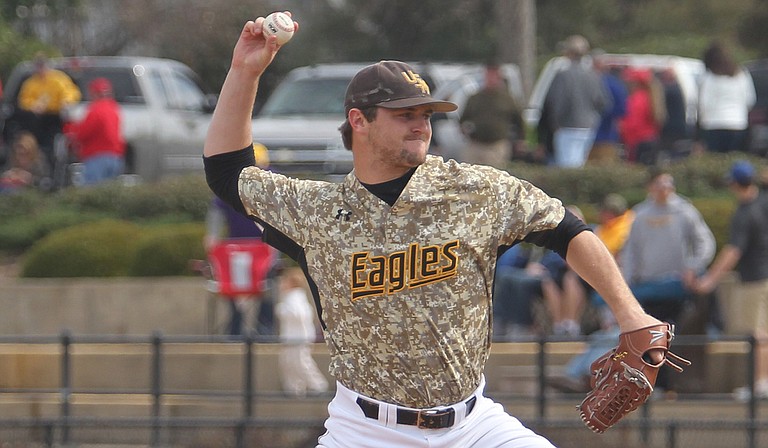 Before the beginning of this year's college baseball season, few people would have considered University of Southern Mississippi pitcher James McMahon a possible candidate for the Ferriss Trophy, which the Mississippi Sports Hall of Fame awards each year to the state's best baseball player. In his first three years at USM, McMahon had a nondescript career.
He arrived at Southern Miss in 2011 as a hometown star. He was the starting quarterback for Oak Grove High School and a pitcher on the Warriors baseball team, where he went 5-1 in 10 starts with 62 strikeouts in 38.1 innings of work with a 2.56 earned run average.
The team redshirted McMahon in his first year at the university. He spent that season hitting the books and made the Dean's List and Conference USA Commissioner's Honor Roll for the Year.
In 2012, McMahon's redshirt freshman season, he started to see action on the diamond. He played as middle relief that season, with 17 appearances. He posted a 2-1 record with a 5.11 ERA with 23 strikeouts in 37 innings. He also recorded three saves.
The school named McMahon to the Commissioner's Honor Roll and the President's List for the fall semester.
McMahon rarely played during his redshirt sophomore season. The 6'1" pitcher only had seven appearances, pitching just 6.1 innings with seven strikeouts on the season with one save. He also made the Dean's List in the fall semester and Athletic Director's Honor Roll for the spring semester.
He didn't see much more work in his redshirt junior season, either. The former Oak Grove star made 13 appearances with a 1-0 record and a 6.97 ERA, and he earned academic honors for both the fall and spring semesters once more.
This season, the Golden Eagles converted McMahon into a starting pitcher, and he blossomed in the role. He became a dominant starter that the team could count on each and every game. McMahon went 11-1 in 14 starts with a 1.72 ERA while allowing 18 runs (16 earned runs) in 88.2 innings of work. He gave up just 61 hits with 21 walks and fanned 55 batters.
McMahon had two long scoreless-innings streaks during the season. The first one lasted just shy of 24 innings, and the second lasted nearly 19 innings. He also pitched two complete game shutouts and three complete games. Both were team highs.
In C-USA play, McMahon went 8-1 and made nine quality starts out of his 14. C-USA named him Pitcher of the Week twice, and the National Collegiate Baseball Writers Association named him National Pitcher of the Week after he blanked Mississippi State University in a short outing on a limited pitch count. He had shut out nationally ranked Rice University the previous weekend.
McMahon graduated with a degree in construction engineering technology in December with a 3.50 grade point average. He was also one of 12 C-USA players to make the All-Academic Team.
A sensational senior season earned McMahon the Ferriss Trophy over Wes Rea of Mississippi State, Melvin Rodriguez of Jackson State University, Keith Shumaker of Millsaps College and Scott Weathersby of the University of Mississippi. McMahon is the second Southern Miss player to win the Ferriss Trophy, joining Tyler Koeling, who won the award in 2011.