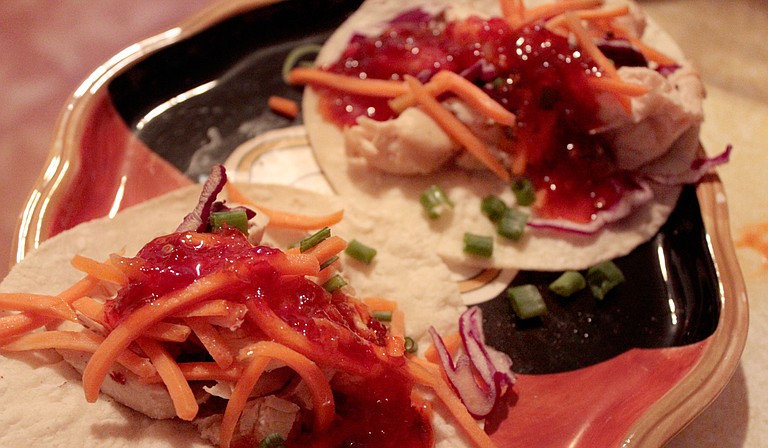 I'm really good at wasting food. I go to the grocery store and drop a fairly decent sum of money on healthy groceries, and then, somehow, I find a reason not to eat any of it. I go out to eat, or I wait so long to cook that it goes bad.
But about a month ago, I had a revelation.
One day, I had a really bad craving for wings. It happens about once a week, and for the brief period of time that Sonic Drive-In had boneless wings, I'd go and get those—definitely not the most healthy habit, but they were cheap, and I just really needed them. I think what I find most appealing about the dish is its diversity. Each flavor transports you to a different place, whether it be Korea (my personal favorite) or the Deep South or just a bar with really good wings.
As I was thinking about what to do about my dilemma, I remembered the time I made peanut butter-and-jelly wings. They were good. And I thought to myself, why not just cook a huge batch of regular wings and toss them in a different sauce each time I eat them? I know exactly what's going into my food, frankly, homemade tastes better, and it's not that boring.
You just buy a pack of chicken wings from the store (I do frozen ones), toss them in seasoned flour and bake them. Toss them in a sauce, and there you go. You can even put celery on the side like you'd get them at a bar or restaurant. That, to me, is one of the most satisfying parts of the meal.
This idea can actually translate to a lot of things. The last time I did this, I decided that, instead of wings, I'd do Asian tacos. They're simple, portable and have endless possibilities. I bought some chicken tenders, tossed them in rice-wine vinegar, soy sauce, and some seasonings, placed them on a greased pan and cooked them in the oven for about 20 minutes. I also bought some chopped red cabbage and carrots, and then sliced some green onions to make a simple slaw.
For the tacos, I just chopped up the chicken, tossed it in a Korean barbecue sauce or Asian chili sauce, or even Sriracha when I was feeling really adventurous, put the chicken in a small corn tortilla, added the slaw and voila—an easy weeknight meal that took me years to discover.
Weeknight Wings
24 chicken wings, frozen
1 cup all-purpose flour
1/2 teaspoon paprika
1/2 teaspoon salt
2 teaspoons pepper
1 teaspoon cayenne pepper
Non-stick cooking spray
1 cup buffalo, barbecue or other sauce
Directions
Line a large baking pan with foil and coat it with non-stick cooking spray. Combine the flour, paprika, salt, pepper and cayenne pepper in a large bowl and mix. Toss the wings in it and place about 12-24 on the pan, ensuring that none are touching. Refrigerate the wings uncovered for 30 minutes. About halfway through refrigeration, preheat the oven to 375 degrees. After 30 minutes, put the pan in the oven and cook for 45 to 55 minutes. About halfway through cooking time, take the wings out of the oven, and, using a pair of tongs, flip them over so the other side can cook. The wings are done when the juices run clear.
Once they finish, let them cool on a wire rack. Then, toss them in your sauce and eat.
It's actually fairly easy to make your own sauces. At its most basic level, a buffalo sauce is just hot sauce and butter, and barbecue sauces, even Asian ones, are fairly easy to make.
Easy Tacos
Chicken
12 raw chicken tenders
1 tablespoon rice wine vinegar
2 tablespoons low-sodium soy sauce
2 teaspoons ginger
1 tablespoon garlic powder
1 tablespoon onion powder
1 teaspoon salt
1 teaspoon pepper
Non-stick cooking spray
Asian Slaw
2 cups red cabbage, chopped
2 cups carrots, shredded
1 cup green onions, chopped
Tacos
1 corn tortilla
1/4 cup slaw
1 chicken tender
1/4 cup sweet Korean barbecue, Thai peanut or other oriental sauce
Directions
Preheat the oven to 375 degrees. Line a large baking pan with foil and grease it with non-stick cooking spray.
Toss the chicken in the vinegar, soy sauce and seasonings. Place the chicken tenders on the pan, ensuring none are touching. My pan holds about 12-14.
Cook them for about 20 minutes, or until the meat in the middle is white.
While the chicken is cooking, chop the green onions, cabbage and carrots (I usually buy my cabbage and carrots already chopped) and toss them in a large bowl.
Once the chicken is done cooking, let it cool for about 10-15 minutes.
To make the taco, chop a chicken tender and place it in a small bowl with 1/4 cup slaw. Toss the mixture in a sauce of your choice and then place into a corn tortilla.