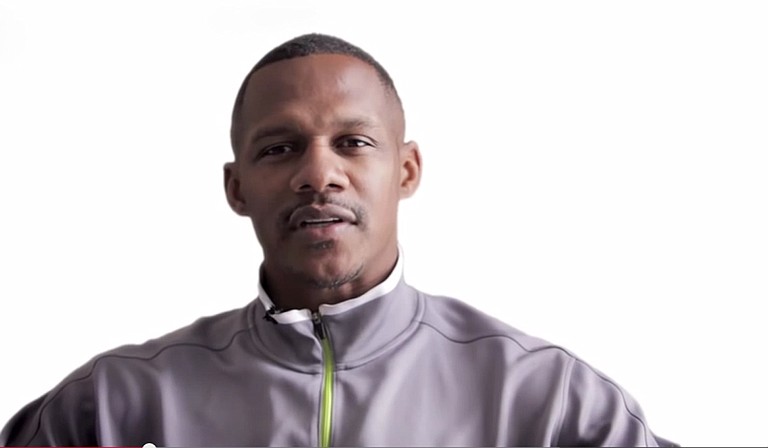 Former New Orleans Saints wide receiver Joe Horn has always been one of the more outspoken players in the league. He unleashed some of his thoughts on a variety of topics in a recent interview with thefootballgirl.com.
Horn spoke about his business ventures, his journey to the NFL and his love for the city of New Orleans and the Saints' fans. His comments on current NFL commissioner Roger Goodell, who he called "the devil," pushed the article to viral status.
In the same interview, Horn defended New England Patriots quarterback Tom Brady in the ongoing deflated-football scandal. He also said that Patriots head coach Bill Belichick should be suspended for a full year over the same scandal.
"Here's what I don't like. I don't like what Roger Goodell is doing. He has so much power that he can almost shut people down," Horn told the interviewer. "I just don't like him. And I don't like that on draft day these kids don't know that they're hugging the devil. I hate to see kids that are lost and then happy but they really don't know that the man they're hugging will rip their throat apart. If he has an opportunity to take money from them, or there's a situation where they're guilty before they go to court, he'll rip them apart. And there's nothing no one can do about it. If the owners are happy with Roger Goodell, the fans, the media, no one can take his job from him. I hate it."
Horn, a native of Fayetteville, N.C., took an unusual path to NFL stardom. The former fifth-round draft pick of the Kansas City Chiefs played two years at Itawamba Community College but couldn't continue his after failing to qualify academically.
While working for a Bojangles Chicken restaurant, Horn spent his last few dollars at a Blockbuster to rent a videotape that featured Jerry Rice. Horn used the tape to work on his skills, videoed his own work and sent tapes to teams in the U.S. and Canada.
Horn heard from one team, the Memphis Mad Dogs of the Canadian Football League. He played one season for the Mad Dogs, making 71 catches for 1,415 yards and scoring five touchdowns.
After that first season with Memphis, all the U.S. CFL teams folded, which left Horn free to pursue a career in the NFL. Kansas City used the 135th pick of the fifth round in the 1996 NFL Draft to take him.
The Chiefs mainly used Horn as a special-teams player his first three seasons. In his fourth season, he began to show what kind of NFL receiver he might blossom into down the road.
Horn caught 35 passes for 586 yards and six touchdowns in his final season with Kansas City. After that, Horn signed with the New Orleans Saints as an unrestricted free agent in 2000.
New Orleans was the place Horn showcased all his skills. He delivered one of his best seasons as a professional football player in his first year with the Saints, grabbing 94 passes for 1,342 yards and eight touchdowns. He followed that up the next season with 83 catches for 1,265 yards and nine touchdowns. His play in New Orleans earned him four Pro Bowl berths (2000, 2001, 2002, 2004), with the 2004 season being his best in the NFL. Horn finished that season with 1,399 yards on 94 catches with 11 touchdowns.
One of his most memorable moments came in a 2003 game against the New York Giants. After scoring his second touchdown, he went to the goal post and pulled out a cell phone out of his padding. The stunt earned him a $30,000 fine from the commissioner at the time, Paul Tagliabue. The Saints beat the Giants 45-7 in that game, and Horn finished with 133 receiving yards on nine catches with four touchdowns.
When Hurricane Katrina hit Mississippi and Louisiana, Horn was one of the more public faces of the franchise. The receiver spent time with fans from all over after the evacuation of New Orleans and did what he could financially for the city's people.
Age and injuries began to catch up with him, as he only played in 10 games in his final season with the Saints in 2006 and caught only 37 passes for 679 yards and four touchdowns.
Horn was part of a Saints team that reached the NFC Championship Game for the first time in team history, though New Orleans fell 39-15 to the Chicago Bears in that championship game.
The team released Horn, and he played his final season with the Atlanta Falcons in 2007. In his limited role, Horn posted just 27 catches for 243 yards and one touchdown.
Horn officially retired as a Saint in June 2010 and was inducted into the New Orleans Saints Hall of Fame in the same year. He finished his career with 8,744 receiving yards, 603 receptions and 58 touchdowns.
Horn still ranks third in Saints history with 523 receptions and second in receiving yards with 7,622 yards and in touchdowns with 50 while playing for New Orleans from 2000 to 2006.
After retiring, Horn created and is selling his own barbecue sauce, Bayou 87. In 2014, he became a wide receiver coach at Northeast Mississippi Community College.