Wednesday, November 18, 2015
A chef will battle a former trainee in a culinary showdown, and folk-art apprentices and masters' works will be on display side by side at the Mississippi Museum of Art's November Museum After Hours.
MMA will partner with the Mississippi Arts Commission for this month's event, "Folk Art: Master and Apprentice." The featured artists for the evening are 2014 recipients of Mississippi Arts Commission's Folk Arts Apprenticeship Program grants.
The grant program helps sustain the practice of traditional art forms found in Mississippi by supporting the transmission of a master artist's skills, including entrepreneurial ones, to a promising novice.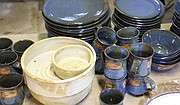 Master potter Brian Nettles has been a ceramicist for 20 years. In addition to teaching the craft, Nettles works with young people who are interested in learning the day-to-day business of running a ceramics studio, including business-plan development and advertising so the artists can continue on their own.
His apprentice for the show, Joe Geil, was a recent college graduate with a bachelor's degree in ceramics from Montana State University when he began working at Nettles Pottery in Pass Christian, Miss. During his 12-month apprenticeship, Geil helped in the studio, making pots and learning how to design and build a wood-burning kiln.
"I've designed and built over 50 kilns for myself and other people," Nettles says. "Joe had helped build kilns before—he knew how to pile the bricks—(but) he wanted to build his own. I gave him the freedom to come up with the design. I oversaw the project. When he made pots, he fired them in his own kiln."
Since completing his apprenticeship with Nettles, Geil has moved to Virginia to oversee operations at a ceramics foundation.
"Traditional art speaks to identity; it articulates who you are, where you're from and where you're going," says Folk Arts Apprenticeship Program Director Jennifer Jameson. "It's a way for people to access and have a better understanding of their culture. "
In the past, the Arts Commission has exhibited the work of the master and apprentice grant recipients in their on-site gallery. The Museum After Hours exhibition at the art museum will be an upgrade.
"We wanted to find a bigger stage and platform to support the good work these artists are doing," Jameson says. "This is the fruit of our efforts to create a better showcase."
In addition to Nettles and Geil, the featured artists for the evening include quilters Rhonda Blasingame (master) and Angelean Jones (apprentice) from Jackson; and two pairs of Djembe drummers, Jerry Jenkins (master) and Raha Maxwell (apprentice) from Jackson and Ridgeland, and Newman "Baba Asante" Nalls (master) and Lisa Dunn (apprentice) from Jackson.
The "Master and Apprentice" theme will continue with a cook-off for this month's 'sipp Sourced. MMA Executive Chef and Culinary Curator Nick Wallace and his former trainee, chef Enrika Williams, will compete for the "Grease Trap" Trophy.
In the Art Garden, the High Note Jam concert and Screen on Green seasons will come to a close with music by Paperclip Scientists, followed with a screening of "Back to the Future II." The High Note Jam concerts and Screen on the Green will be plugged back into Museum After Hours in the spring.
The Mississippi School of the Arts will host a "Connect Event," with information for potential students and parents, at 6:30 p.m., in the museum's Yates Community Room. "Third Thursday happens the same time every month, but it's never the same thing twice," says Julian Rankin, MMA's marketing director. "We're excited about ... 'Folk Art: Master and Apprentice' because it will highlight the authenticity of Mississippi's cultural creation and artistic tradition."
Museum After Hours is at the Mississippi Museum of Art (380 S. Lamar St., 601-960-1515) Thursday, Nov. 19, from 5:30 to 10 p.m. For more information, visit msmuseumart.org.