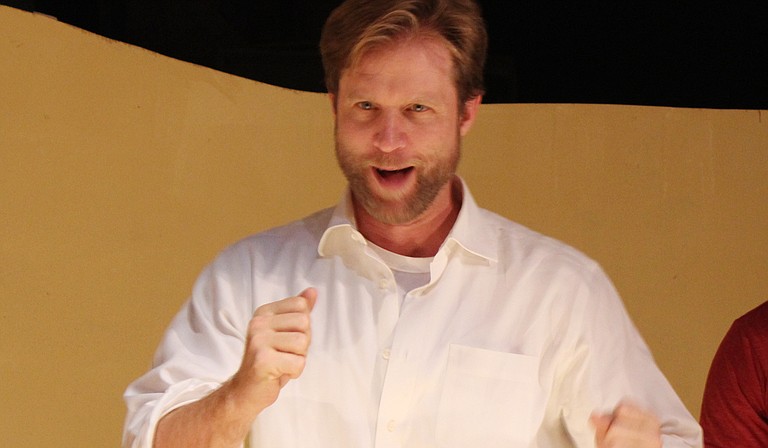 As the assistant professor and chair of the theater department at Millsaps College, Peter Friedrich is working to bring change that goes beyond the college to the national theater culture. The latest attempt at that goal takes the form of William Shakespeare's classic "The Tempest," which runs Friday, Oct. 2, through Sunday, Oct. 4.
With its proximity to the 10th anniversary of Hurricane Katrina, Friedrich says he saw the play as an opportunity to serve a cause greater than simply putting on a show. All the proceeds from each night of the production go to Bay Waveland Habitat for Humanity.
Friedrich says: "I think the real story is that, while a lot of people got a lot of assistance, there were people—I guess the words you hear are, 'They fell through the cracks'—who just weren't hooked up to the right networks, either professionally or socially, to get to that pipeline of aid. The short version of that is to say that privileged people got to those funds first."
That cause also goes hand in hand with another of his objectives—bringing true community to the theater. Friedrich says Jackson has plenty of tremendous theater offerings with companies such as New Stage Theatre, but across the country, people suggest that theater is no longer a relevant art form. For the Chapel Hill, N.C., native, that comes down not to the talent but to the culture.
"Theaters around the country are facing this trouble: How do we get more people going to the theater? You hear that all the time, but by and large, theater as a culture has just gotten very elitist," he says. "If you go and take a photo of the audience at most theaters, there are a lot of people missing. The house might be full, but there are a lot of people missing."
Not so in Shakespeare's time, Friedrich says. The Bard's plays brought together people of all classes and types, and productions like "The Tempest" have that same life and connectivity today when performed with the same level of energy and interaction that was intended.
"That's why his plays are so brilliant, and they speak to everyone," he says. "One minute, he's 'sticking it to the Man,' and the next, he's criticizing the working class. You can tell in the text that he was playing to all communities."
Joseph Haj, the artistic director of The Guthrie Theater in Minneapolis, Minn., and Friedrich's mentor, once said theater is about starting a conversation. One way that Friedrich has helped to do that at Millsaps is by creating a special VIP section for the college's cafeteria workers, groundskeepers and custodial staff who attend "The Tempest," which will include Champagne service from Friedrich, the dean of students, the head of athletics and the head of communications. For weeks, people would knock on his door with excitement, asking if they could bring friends, family or dates, but the conversation didn't end there.
"The greatest part is the conversations going on with students and janitors and with students and cafeteria staff, across the divide where one person is serving food to the other," he says. "They're talking and anticipating."
"The Tempest" will also be the last play performed at Millsaps' Christian Center Theatre before it is renovated and repurposed, which means that the theater department is on the lookout for a new home for its productions. Thankfully, Friedrich already knows the place, though where funding will come from is still undecided. He's spent the last year discussing the possibility of a new theater in midtown with local business owners and residents to make sure that it would be a welcome addition to the community that also meets needs.
"People do make this mistake: When they go into an area where they don't live and want to make some art, they just assume to know what people want," Friedrich says. "Once again, you get into condescension. You can do some stuff, take some photos, but it's all kind of bullsh*t."
Before coming to Millsaps, Friedrich lived in Iraq from 2008 to 2013, helping to create a Shakespearean theater company at the American University of Iraq. There, he worked with both Kurds and Arabs, who have a shared history filled with conflict, to create something that helped both communities. His work with the company earned him the 2014 Contribution to the Field Award from the American Conservatory Theater.
When Friedrich returned to the states, he spent eight months as the scholar-in-residence at the University of North Carolina at Chapel Hill before accepting his position at Millsaps. After he told people that he would be moving to Mississippi, their responses often surprised him.
"When I decided I was going to Iraq, I got a lot of head-shaking and people thinking I was crazy," Friedrich says. "Then, when I got the job in Mississippi, I kind of heard some similar things. Mississippi is a pretty misunderstood place. There are challenges here, but frankly, I see a lot more encouraging signs than some other so-called enlightened parts of the country."
William Shakespeare's "The Tempest" is at 7:30 p.m. on Friday, Oct. 2, through Sunday, Oct. 4, in the Christian Center Theatre at Millsaps College (1701 N. State St., 601-974-1000). Admission is $5. Tickets are only available at the door, and Friedrich encourages people to arrive early. For more information, visit http://www.millsaps.edu/academics/theatre_events_calendar.php.