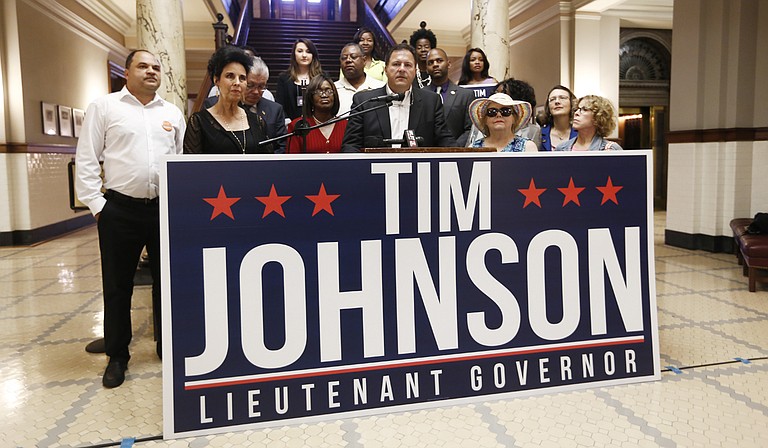 Tim Johnson, the Democratic candidate for lieutenant governor, wants to debate Tate Reeves, the Republican incumbent.
At the Capitol today, Johnson challenged Reeves to a total of four debates before the Nov. 3 general election. Johnson hand-delivered a letter to Reeves' Capitol office this morning, asking Reeves to meet him in one debate in each of the state's four congressional districts.
"The people deserve more than paid advertisements, junk mail and automated phone calls," Johnson's letter states. "They need straight answers to tough questions."
Johnson said a debate would be a way for all four lieutenant-governor candidates to present their different views on issues and see what the people think of them. He has asked Reeves to reply directly to him, after which they would discuss dates and times.
In addition to Reeves and Johnson, Ron Williams, of the Libertarian Party, and Rosa B. Williams, of the Reform Party, also appear on the ballot.
"We all need to be on the stage and let the people see what our ideas are for this state," Johnson told the Jackson Free Press.
Johnson is campaigning on three core issues—fully funding public education, expanding Medicaid and improving infrastructure.
He said he wants to know why Reeves is fighting against Initiative 42, a public school-funding referendum to require lawmakers to follow state law and fully fund the Mississippi Adequate Education Act. [LINK: jfp.ms/MAEP]
Johnson has publicly come out in support of the initiative that would change the Mississippi Constitution, enabling the courts to enforce the public-education funding requirement.
Johnson knows that he has an uphill climb against the well-funded incumbent.
"He's (Reeves) got $5 million in his checking account," Johnson said, referring to the approximately $4.6 million Reeves has raised for re-election campaigns. "I am running for those people that can't write a check for $25,000 or $50,000."
Johnson, a former Republican lawmaker and Elvis Presley impersonator, said he is running a populist campaign. At this year's Neshoba County Fair, Lt. Gov. Reeves made a jab at Johnson's Elvis impersonations, but Johnson hit back on Friday, saying he is proud of his talent.
"I'll tell you what, Tate, I won't even sing a song, but we need to get on the same stage and talk about these issues that are important to this state that I love so much," Johnson said.
See jfp.ms/2015elections for more candidate coverage. Email reporter Arielle Dreher at arielle@jacksonfreepress.com.