Wednesday, October 7, 2015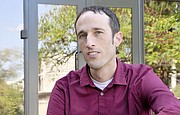 After a weekend spent registering new voters, canvassing for Ballot Initiative 42 to fully fund our schools and visiting a young man I used to work for at the "correctional" facility in Yazoo County, it has become convincingly clear: We care little about our young people in Mississippi. The notion of being seen and not heard has put our young people in a position that leaves them far behind, swimming beneath deep waves meant to contain, not to love.
On the road back from Yazoo, I thought about how I met this young man. It was the omnipresent school-to-prison pipeline. He was constantly getting pushed out of school for relatively minor behaviors. Eventually, he was sent to the local detention center for one of them, and everything spiraled down after that. He finally finished high school with a mostly meaningless "certificate of attendance." Shortly after, he got himself moving in a positive direction and even began coming to organizing meetings to end mass incarceration in Mississippi. His voice was beginning to be heard and find traction. But then he got caught up and now he is in Yazoo, being "corrected."
His story is not unique in Mississippi or America. As a young black man in Mississippi, he went to schools that were falling apart, where his teachers were often under-qualified or incorrectly qualified, under-paid and didn't get the support they needed, where his textbooks were often outdated and where "zero tolerance" disciplinary actions were meted out as if they were going out of style. Back then, his voice got him in trouble. It was clear how the adults and decision-makers that affected his life felt about him: "We don't care."
Every October for the last five years, a group of youth and advocates have been organizing an amazing event called the "Youth Art, Poetry & Justice SLAM." This yearly event deliberately creates a "safe" space for young people to speak out about issues they face in our community. We hear about schools and education; we hear about mass incarceration, teen pregnancy and being LGBTQ in a hetero-normative culture. We also hear about being misunderstood in an adult-centric society, and questioning authority that does not look out for the best interests of young people.
We can all create these spaces for our young people if we care to do so. As adults, we need to let go of our own ideas of how things are supposed to be or "how they were when we were growing up" and realize that if we are not changing our habits, we will continue to fail our young people, isolate them and lose them. The SLAM is one simple opportunity to come, listen and learn from our most valuable voices. Witness the vision and listen to the expression that will leave you asking, "What have I done to change the world today?" There are countless voices that will participate and impart their knowledge on us. Inevitably, the sights and sounds will hopefully linger with you each morning when you wake up and decide what moves you to make our community great.
When the young man leaves the swamps of Yazoo sometime in the next couple of years, he will walk back into a world that didn't care much for him on the front side of prison, and probably won't care on the back side, either. This young man's voice has never been heard. Had it been heard, maybe he wouldn't be where he is today or made the mistakes he may have made.
The young man has lived a life that Langston Hughes summarized in his brilliant poem, "Kids Who Die," when he notes, "Kids will die in the swamps of Mississippi ... and the sleazy courts/ And the bribe-reaching police/ And the blood-loving generals/ And the money-loving preachers/ Will all raise their hands against the kids who die/ Beating them with laws and clubs and bayonets and bullets ..." Hughes warned us to listen and care long before we were talking about safe spaces, mass incarceration and the school-to-prison pipeline. Now it is up to us to wake up and pay attention.
Please make plans to join us at the fifth Annual Youth Art, Poetry & Justice SLAM Oct.10 from 6 to 10 p.m. at the Bennie Thompson Auditorium at Tougaloo College. It's free to attend and participate with cash prizes for the winners and giveaways for the audience. For more information, call 601-214-3978.