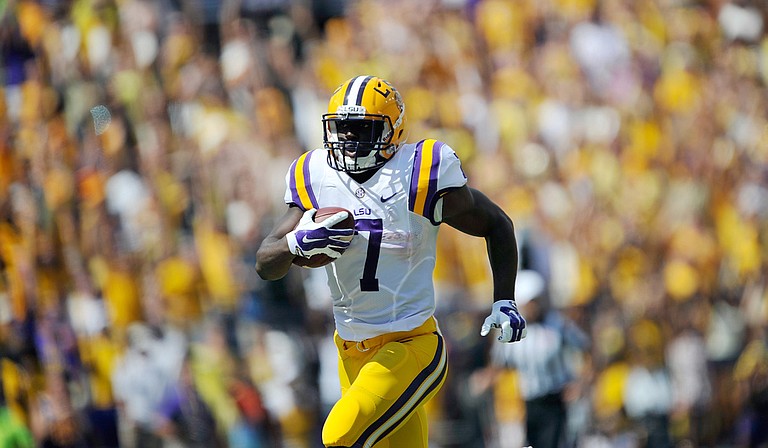 Wednesday, October 7, 2015
Leonard Fournette of Louisiana State University is undoubtedly the Heisman Trophy favorite. The sophomore athlete, who became the first SEC running back to have three straight 200-yard rushing games, has been spectacular to watch early in the season for the Tigers.
While Fournette is starting for the Tigers, the media are debating whether he will soon be bound for the NFL Draft. The current draft rules state that a player has to be three years removed from high school before he is eligible for the draft.
Fournette is only in his second season out of high school and would have to spend one more year in college before he can enter the draft in 2017. The question is: Should the rule change for Fournette, or should the running back sit out for the 2016 season if he can't get in the draft this year? He could go and play in the NFL after this season in college, but he is the anomaly, not the norm.
There are several arguments as to why Fournette should be allowed to play in the NFL already; however, taking a look at every line of reasoning, it's not hard to find where they fall short.
The "but major league baseball and the NBA do it" argument doesn't work. The reason the NFL has the "three-year rule" is because football requires players to reach a higher level of physical preparedness than many other sports. Fournette is physically ready, but that won't be true for most players right out of high school, or even a year or two out of high school.
Letting him in the NFL Draft could open up the door for kids who aren't ready to enter. It would be a disservice to these young players for the NFL to allow them to enter ill-equipped, especially in this day and age when the media screams about player safety.
Football is not baseball or basketball. Football is a different beast when it comes to the physical part of the sport. Baseball and basketball have a minor league system and a chance to play overseas. Football doesn't have either of those things, and it doesn't look like a viable minor-league system or overseas league is coming anytime soon.
What happens to those players who leave early and go undrafted?
Last season, 24 underclassmen went undrafted. Ending the "three-year rule" would instantly raise that number, and without the opportunity to play in the minors or overseas, that would be a second disservice to those players.
Fournette still has the option of sitting out next season. Anyone who would question his love of football should he choose that route would be wrong; however, the running back could get better at his craft by playing. He could learn to be a better pass-catcher out of the backfield and learn to pick up blitzing players in pass protection.
Those are two things rookie running backs normally struggle with at the next level of play. College is the perfect place to work on those holes in his game.
The last major argument for Fournette being able to enter the draft is the potential for injury during a college game that would risk his professional prospects. That might be the weakest argument of all. Gale Sayers, Bo Jackson, Terrell Davis, Ki-Jana Carter, Napoleon McCallum and Billy Sims are just a few running backs to have their careers cut short due to injuries. All were hurt in the NFL.
Injuries are part of the game, and Fournette could get hurt just as easily in a preseason NFL game like Carter, a Monday Night Football game like McCallum or in a playoff game like Jackson. Injuries happen, and they can strike at LSU or in the pros.
Overall, the "three-year rule" is best for players, both those in college and already in the NFL. Fournette just has to play by the same rules that the rest of his college-football colleagues are bound by, as well.
SPORTS HISTORY OF THE WEEK
Oct. 8, 1956—New York Yankees pitcher Don Larsen pitched the first perfect game in World Series history.
Oct. 10, 1920—Second baseman Bill Wambsganss of the Cleveland Indians earned the only triple play 
to occur in a World Series game.
Oct. 12, 1992—Washington Redskins wide receiver Art Monk, second cousin of jazz pianist Thelonius Monk, became the first NFL player to reach 820 career receptions.