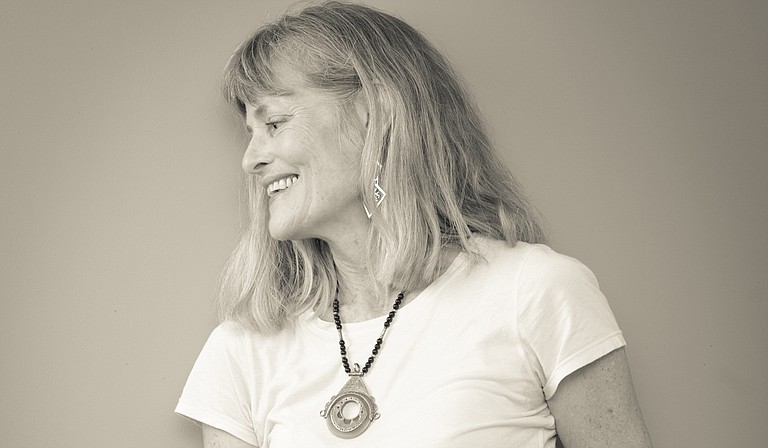 Wednesday, October 7, 2015
Martha Ferris first came to art as one who studies it rather than one who makes it. Originally from Vicksburg, she grew up on her family's farm around crops and cattle. While attending Lake Forest College outside Chicago in the 1970s, she broadened her horizons, majoring in art history.
Ferris says that she always dabbled in making art but pursued other careers before turning to it as her livelihood. She and her husband, Kos Kostmayer, lived in Los Angeles in the late '80s.
A continuing-education course in painting and dying fabric she took through the University of California at Los Angeles in 1989 changed her life's work. Ferris says that her first assignment involved making a tritik, a piece comprised of three panels, using the African technique "discharge," or a method of folding fabric repeatedly, stitching and unstitching it. She was hooked. From there, she took up screen printing on fabric, and then the technique of batik dying, before moving on to silk-screening and, most recently, painting.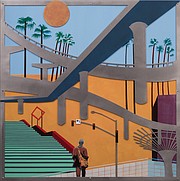 Self-taught in her chosen media, today Ferris considers herself primarily a painter, though she has created some public art as well, such as the children's fountains at the Mississippi Museum of Art's Art Garden. Her upcoming show at Fischer Galleries in the old Dickies Building in downtown Jackson will be her first solo show in that space. Ferris says she is thrilled to hang her work there because its light provides a great showcase.
"It reminds me of a studio in New York where I used to take dance classes, with windows on both sides," she says. The light filtering in through the old warehouse windows highlights the paintings, which she calls cityscapes and are inspired by places she's traveled or that she would like to go to collect images.
The show, called "Foreign and Familiar Places," contains all new work of city and farmscapes painted on wood, steel, paper and aluminum. The farmscapes represent the "familiar" places; she and Kostmayer returned to in 1990 to Vicksburg to live on the family farm where she grew up, and her studio space is in a now-converted playhouse down the hill from her childhood home. The couple leases the farmland for its cattle and trees, but she says it remains a "beautiful, inspiring place to live and work (as an artist)."
The show represents a return to a technique from her past. Ferris recalls that about 10 years ago, she painted on steel, but since had moved on to other media. As she worked on cityscapes of Los Angeles for this show, she also felt like returning to steel, and added aluminum as well, a medium she says is fun because it's lighter than steel.
"Foreign and Familiar Places" opens on Oct. 8 and will hang through the month at Fischer Galleries (736 S. President St.) in Jackson. For more information, visit fischergalleries.com.