Thursday, October 8, 2015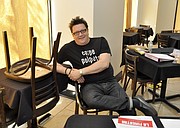 After two years, La Finestra in downtown Jackson will serve its last meal on Sunday, Oct. 18, a post on the restaurant's Facebook page states.
Chef Tom Ramsey, the restaurant's owner, wrote: "We have lived by and still firmly believe in the ideal of providing great food, sourced from local producers and prepared with love. We have been honored to serve you and look forward to the next chapter.
"Our greatest pleasure and our fondest memories are the times we spent with you, our guests.
"Crabs are lucky in a way. When it's time to shed the protection of their shells, they hide until finished. Then they emerge a little bigger and a little stronger. We humans don't enjoy that luxury. We (lose) our shells and have to mend, grow and strengthen right out in the middle of the world. But without that pain, without that change, we cannot grow."
Ramsey invites patrons to visit the restaurant before Oct. 18 to celebrate.