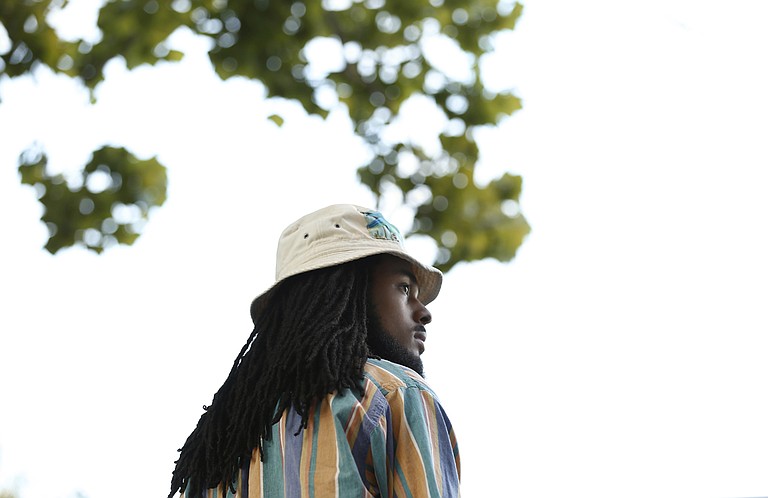 Wednesday, October 14, 2015
Deez Notez
You'll find a solid musical center to Jackson Top 40s cover band Deez Notez. Vocalist Nikki Reed, bassist Anthony Daniels, keyboardist Marvin Curtis and drummer Steve Smith formed the group in May 2015 after first playing together in the Chad Wesley Band, later adding vocalist Kendrick Vivians. 
 In a short time, Deez Notez has already created a solid fan base with its ever-adapting set list.
Crowd-favorite tracks include Ginuwine's "Pony," Awolnation's "Sail" and Tina Turner's classic "Proud Mary," but don't expect to hear beat-for-beat imitations. For the musicians of Deez Notez, part of the fun is providing a new angle on familiar songs. Reed says that variety also helps the band cater to its mixed audience, which includes everyone from energetic college kids to veteran blues-heads.
"My job is to keep the crowd interested and keep them on their toes," Reed says. "We have a thing where we don't really like to play two slow songs close together, and we may play a hip-hop song like (Trey Songz's) 'Bottoms Up' and then go into a country song. Whenever I make a set list, I don't ever want the crowd's ears to get used to what's going on. It always needs to shock them."
Even with all those variables in play, Reed says listeners can anticipate one constant.
"They should expect one hell of a show," she says. "They should bring their dancing shoes, they should bring their booties, and they should bring their grooves. It's an experience. You never know what you're going to get on any given night."
For more information, find Deez Notez on Facebook and Instagram.
—Micah Smith
Tlo da Champ
Growing up, music was a constant for Jackson-based hip-hop artist Tony Lofton, known to fans as Tlo da Champ. When family members would babysit him, they would listen to Tupac, Biggie Smalls and Do or Die, and other times, Lofton's dad would play one of his favorites, R. Kelly. That soon translated to Lofton making music himself.
After becoming fascinated with the wordplay on Lil Wayne's 2004 album, "The Carter," Lofton graduated from freestyling with friends to pursuing a hip-hop career. Elements of that early influence have become part of his foundation as Tlo da Champ, with rhetorical devices such as double entendres being a regular occurrence.
"I think it makes it more interesting when you can use words like that and paint a whole picture, paint portraits because it's all art," he says. "... I want people to hear my music and be listening to it for a minute, and every time they hear it, they catch something new."
Despite releasing a handful of successful singles, opening for Afroman in 2011 and working with up-and-coming hip-hop names like Joey Bada$$ and producer Chuck Strangers, Lofton hadn't released a full-length record until recently.
After working on two debut albums for about four years and recording more than 200 tracks, Lofton released the first, "Lucid Dreamzzz's," on Spinrilla and Soundcloud on Friday, Sept. 11. He plans to release the second record, "Originality," before the end of the year.
"I feel like I definitely gained a lot from building attention because I performed a lot of places around here," he says. "I met a lot of different people and let them hear my music, and everybody's been waiting. But I also had the time to grow, to develop and feel comfortable enough to put it out."
For more information, find Tlo da Champ on Facebook, Twitter and Instagram.
—Micah Smith
Rafiki Grove
Indie-rock outfit Rafiki Grove may be new to the Jackson area, but guitarist and vocalist Daniel Norris and guitarist Cody Warren have been writing together for nearly six years. They first formed as The Collared Shirts in 2012 but didn't seriously pursue the project until drummer Steven Tadlock joined after graduating from the University of Southern Mississippi in December 2014.
They brought in bassist Van Doren Lee soon after, completing the current line-up. The band just began booking its first shows last February, but it has already opened for local favorites including Light Beam Rider, Fides, Living Together and Dream Cult.
"It's been pretty amazing," Norris says. "Everything's blown up really fast. We didn't expect that we'd be playing so many shows this soon and being asked to come in and join bands. It's encouraging."
The band's style ranges from pop-infused surf-rock to grungy alternative. While most Rafiki Grove songs are new compositions, others are a result of Norris and Warren reworking earlier tracks, which can be challenging.
"It's a long process—a lot of stress," Norris says. "It's hard to pick apart a song, and you know, most of these were written on an acoustic guitar, but we're trying to turn them into electric songs. It takes a lot of sitting down, tinkering and thinking about ... how we're going to basically reshape it for an electric world."
Although Rafiki Grove has demos and several videos of live performances available online, the group is currently in the process of raising money for its first studio project, which the musicians hope to release before the end of 2015.
For more information, visit rafikigrove.com or find the band on Facebook.
—Micah Smith
Stevie Cain
Baton Rouge native Stevie Cain is well acquainted with music. She learned to play violin at age 5, around the same time that her family relocated to Jackson, and at age 12, she taught herself to play guitar, which helped to develop her songwriting. Cain has an intimate relationship with her music and prefers not to let elaborate bands or over-production interrupt that link.
"I like to create raw and real music, just me and my guitar, which makes it easy for people to connect to, and I like to tell stories," Cain says.
In pursuit of a career as a fitness instructor, she set her music aside in 2013 to focus her attention on physical training. After a workout injury landed her in a wheelchair for about four months, though, Cain decided to reevaluate her decision.
"While in the wheelchair, I picked my music back up, and we've been together ever since," she says.
Since then, Cain has released a number of popular song covers and is currently working on a full-length album, scheduled for release in early 2016, which she says is a result of her experiences and self-realization.
"I've learned that time doesn't last forever, so if there's something you need to do in life, start today," she says. "Don't let anything stop you and get in your way, but try to help as many people as you can along the way."
While she's a regular around the Jackson scene, the 25-year-old singer-songwriter says she hopes to tour overseas one day, sharing her passion with an international audience.
"It would be nice to be able to tour in other countries," she says. "I want people to be touched by my music and spark a positive change, where they can listen to it and be helped with something ... in their lives."
For more information, find her on Facebook or visit steviecain.com.
—Fallon Brewster
The CUT
When Lan Tolleson, vocalist of pop trio Brick City Gentlemen, wanted an opening act for a show in May 2013, he asked keyboardist Vincent McMurtery to throw one together. Vincent approached his friend, guitarist Ben Atkinson, and the other two members of Brick City—his twin brother, drummer Vinson McMurtery, and saxophonist Judson Wright—about collaborating. A few short weeks later, The CUT made its debut.
Since then, the Madison-based group has performed in cities across the state, including in Oxford, where Atkinson attends the University of Mississippi, and Hattiesburg, where the other band members study at the University of Southern Mississippi. Even for the musicians themselves, The CUT can be difficult to describe. Every band member provides vocals at different times, and the songs often incorporate their affinity for a variety of genres.
"Depending on what song you listen to, we incorporate funk, jazz elements, rock ... and even more mainstream or poppy contemporary music," Wright says. "We like to think of it as full circle. All these different types of music that were born out of blues and old, classic rock, I think we're Mississippi artists trying now to bring that music back and mix it all together. It's a big mixture of a lot of different genres."
The CUT is in the process of recording its first record, which is yet to be titled.
"It's very satisfying, but you know, at this point, we're really just excited to give something to the people who appreciate what we're doing," Wright says. "At live shows, there's such a great reaction, so it pains us to tell people that we have some demos on SoundCloud but don't have a professional album they can listen to. But just knowing that's on the horizon is exciting."
For more information, find the band on Facebook, Instagram and SoundCloud.
—Adria Walker