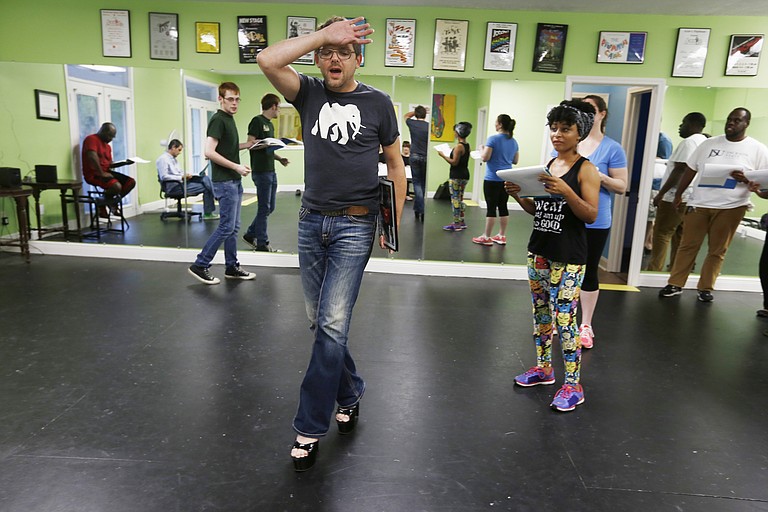 Wednesday, October 14, 2015
For the Oct. 1 Fondren's First Thursday, you may have noticed Fondren Theatre Workshop players dressed in black 50s-style clothes, singing and dancing on Salsa Mississippi's portable dance floor. They were promoting the company's production of "The Rocky Horror Show."
The original play tells the story of Janet and Brad (played by Jessica Rahaim and Josh Harris, respectively, in FTW's current production), a newly engaged couple, who find themselves mixed up with mad transsexual scientist Frank N. Furter (Chad King), his creation, Rocky Horror (Chris Mason), who is a Frankenstein-esque man, and a horde of other quirky characters.
Written by Richard O'Brien in the early 1970s, "The Rocky Horror Show" initially premiered in 1973 at the Royal Court Theatre in London. On Aug. 14, 1975, the film adaptation of the play, called "The Rocky Horror Picture Show," premiered in London.
Thirty-three years after the play's premier in England, FTW put on its initial production of it in 2006. J.C. Patterson, who is directing this year's play, also directed the first one. The troupe did the play every other year until 2014, when interests in other works took precedence. It was then decided that "The Rocky Horror Show" would be performed in odd years. "It's been a three-year hiatus this time, but it's just something we like to do," Howell says.
Locations have moved from the Pix/Capri Theatre in Fondren to Hal & Mal's, and this year, it's at the Alamo Theater on Farish Street.
FTW was founded in 2003. Howell says that year, a group of theater friends got together and decided they wanted to do some theater in their own backyard. The group hosted an organizational meeting to see who would be interested in participating. About 40 people attended, and FTW was born.
"Our very first show was 'Through the Looking Glass,'" Howell says. "We did it in the old Duling School before it was renovated. It sort of took off from there."
While some actors in the FTW production of "The Rocky Horror Show" have had years of experience, others are novices.
"Every show, every cast that we do is usually a good mix of people who have done a lot of done a lot of things locally with people who have never done anything," Howell says. "Some of the best performances come out of people that have never done a single show."
Fondren Theatre Workshops' production of "The Rocky Horror Show" tends to draw larger audiences, about 100 to 200 attendees. The venue itself seats 535 people and has a stage the size of the one at New Stage Theatre.
Those familiar with the play's experience will be used to seeing audience members dressed up like characters from the original play and film. "We encourage audience members to dress up, but not act out," Howell says. "It's a live performance that's actually structured a little differently from the film, and people memorize the film. There's certain lines in the film that aren't even in the play. ... We discourage bringing props and stuff like that, and the callbacks too, because you have live actors, and it's a distraction."
Patterson encourages audience and cast members alike to have fun.
"It's Halloween season and we're doing it very close to Halloween," he says. "That's what it's all about. When you think about 'Rocky Horror' and Halloween, it's time to dress up and ... have a good time."
Fondren Theatre Workshop's production of "The Rocky Horror Show" is Oct. 15-18 at the Alamo Theater (333 N. Farish St., 601-352-3365). Performances begin at 7:30 p.m. Tickets are $20 to $35, and all seating is reserved. For more information, visit fondrentheatreworkshop.org.