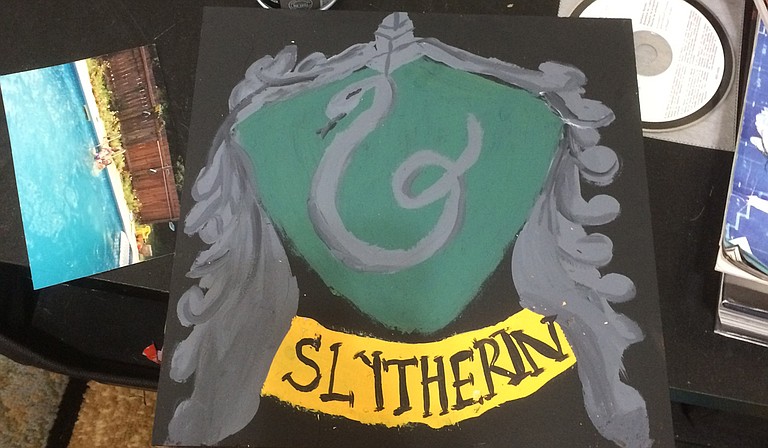 Wednesday, October 14, 2015
In recent weeks, it's occurred to me that since I now live on my own, I can decorate for every holiday I want. For me, that means Halloween.
I was going to buy a door decoration, but I decided to turn some old shelving into decor of my own. It's more personalized, and chances are, you probably already have most of the materials.
What You Need
Square piece of book shelving
Sandpaper
Electric drill
Small screws
Acrylic paint—black or white and whatever other colors you need
Hemp or other kind of rope-like string
Directions
Using a piece of sandpaper, sand down the side of your shelving you want to paint. Make sure all the finish is off the wood before you do anything else to it. If it's not, the paint will bead up.
Once the piece is sanded down, paint it black or white, depending on the design you want. Once that layer is dry, give it another coat.
Then, once that's dry, paint your design. I did the Slytherin house crest for mine.
When the paint is dry, flip the shelving over. Starting about an inch and a half below the top, measure the width. Divide that measurement in half. Make a mark in the middle. Go out an inch on each side and make a mark. Drill small holes where you made those marks and then put the screws in, leaving them a little bit out to have a place for your string.
Measure the space between the holes and then triple the number. This is the measurement for the string.
Wrap the string around the screws three times and then tie it at each end. Hang it on your door.