Wednesday, October 14, 2015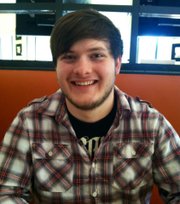 Every once in a long while, a great performer appears from the rock 'n' roll ether who can command the stage like he or she was born to it, whether it's the signature movements of Michael Jackson or unmatched energy of Freddie Mercury. These musicians make their natural-born and painstakingly honed stage presence a separate instrument unto itself and cause fans to rethink the way we've cast music culture.
Then, for everyone else, there are YouTube tutorials.
Call me nerdy—because I certainly am—but I love to read articles and watch videos on how to improve my live musical performances. Less often than I would like, I get to play with a band called Empty Atlas at some of the great venues around the metro Jackson area, and with each set, I try to apply some of the stage-presence proverbs that I've collected over the past few years. For instance, keep your set-up time short, keep your preface before each song shorter, and for goodness sake, don't let your bassist dedicate every song in memory of Tony Clifton.
Most recently, though, one idea has stuck out for me more than any other. I follow a blog that Portland-based music-selling platform CD Baby operates called "DIY Musician," and a few weeks ago, I came across an old entry about common stage-presence problems for young bands and realized that the Jackson music scene often commits one in particular: We don't pause for applause.
As a listener, there are a few ways in which you can show your appreciation for something you enjoy. You can walk up to a merch table and buy a shirt or CD, or you can even pat the performers on the back and throw out a quick, "Great show," before slipping out. But that's all after the fact. In the immediacy of music, the only thing you can do is applaud, and trust me, that makes a world of difference.
It sounds weird to suggest, especially in the current creative culture where it's decidedly "un-hip" to admit that one would want his or her work to appeal to others. I saw a fantastic band from North Carolina play at Big Sleepy's on West Capitol Street a few months ago that took a strong stance against this idea. During the show, the vocalist even took a few minutes to apologize for his "self-aggrandizing need to pervert our art" by wanting the audience to applaud the group's performance. The bitter irony: That statement, for whatever reason, elicited an even louder ovation.
While working on the cover story for this issue, "The Recording Conundrum" (pp. 15-18), I had the opportunity to speak to a few producers, engineers and studio owners in the area who work with local musicians most days of the week, and interestingly enough, each industry professional had an identical need—more clients—and an identical solution to that need: a Jackson act to explode on the national music scene and draw business back home.
The good news is that I think we're incredibly close to both. Nearly every local show I attend, I find another new pairing of musicians that is creating something with a wide audience appeal, something that could stretch far beyond Mississippi. Sadly, that's often where the danger lies. Once the national fan base begins to flourish and pockets of the record industry begin to take notice, it starts looking more viable for bands or solo artists to ditch their hometowns and try their luck in one of the predetermined music capitals of America, instead of pushing against that urge.
What's odd is that we've seen that standing your ground can work. People often credit the success of independent record labels, such as Jagjaguwar of Bloomington, Ind., or Fat Possum Records of Oxford, Miss., for single-handedly bringing better scenes to their surrounding areas, but in nearly every instance, a roster of game-changing local artists led the way. But each time, things change when either drops the other in search of bigger game.
It's easy to see the surface appeal of moving to a music hub for an on-the-rise artist. By definition, a larger city means a larger potential audience. Then, there's the added bonus of automatically having one's stage name coupled with the successful acts that came before. The obvious problem is that when all musicians move to one of those major cities, that hype they benefited from in their hometown doesn't move with them. It vaporizes the instant they unpack their bags.
Getting noticed in a setting like Jackson with a population of about 173,000 is infinitely easier than getting noticed somewhere like Nashville, with its population of 659,000, a great portion of which is made up of music hopefuls.
More often than not, artists will discover that fact too late, and with the amount of stress already weighing on anyone launching a music career, it can be incredibly difficult to recover after dragging yourself back home in defeat. Salvation lies with local fans, who only need to give their favorite acts enough reason to stay.
Now, that blog entry I mentioned above didn't resonate with me because our band could use a breather between songs. Truthfully, the takeaway wasn't about me as a musician but as a lover of local music. Our city is a rarity, in some ways. Seattle has its grunge, Memphis has its blues, and Nashville has its country, but Jackson has yet to meet its "sound."
However, a signature sound is more a product of its surroundings than the artists that fill them, and whether we like to admit that or not, an audience's reaction has an extraordinary impact on those surroundings. It's as simple as this: Give your support to the art that reaches you, and you'll get more. All that you're required to do is to ask yourself what you want to see in Jackson and, once you've found it, respond.
The next time you find yourself watching a local act, up-and-coming or entirely unknown, take the time to listen. If you hear something you like, don't forget to pause for applause.
Music Editor Micah Smith is a graduate of Mississippi College. When not writing or editing music stories, he performs with the band Empty Atlas. Email him music and books story ideas at micah@jacksonfreepress.com.