Wednesday, October 14, 2015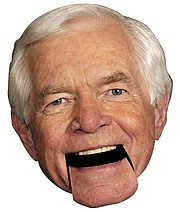 "Medgar Evers was a pivotal civil-rights leader, who fought for justice and helped change Mississippi and the nation for the better. The study authorized by our legislation would direct the National Park Service to help determine how best to preserve his legacy."
— Mississippi U.S. Sen. Thad Cochran on a bill he co-authored with fellow Sen. Roger Wicker that could make the Medgar Evers home part of the National Park Service.
Why it Stinks: With Sen. Cochran's checkered history on civil rights, it's a good move for the Senate Appropriations Chairman to place the landmark under federal stewardship and, hopefully, provide a steadier stream of funding support than it's received in the past. If Cochran is truly a student of Evers' contributions, he should also understand that Medgar, like his widow, Myrlie, would not have tolerated Mississippi's offensive state flag. We know, we know—Cochran has expressed support for changing the flag. But couldn't he just as easily push for legislation that wouldn't send federal dollars to any states still using Confederate symbols? Shouldn't he? Do that, and you'll convince us that you believe in Medgar Evers' true legacy.