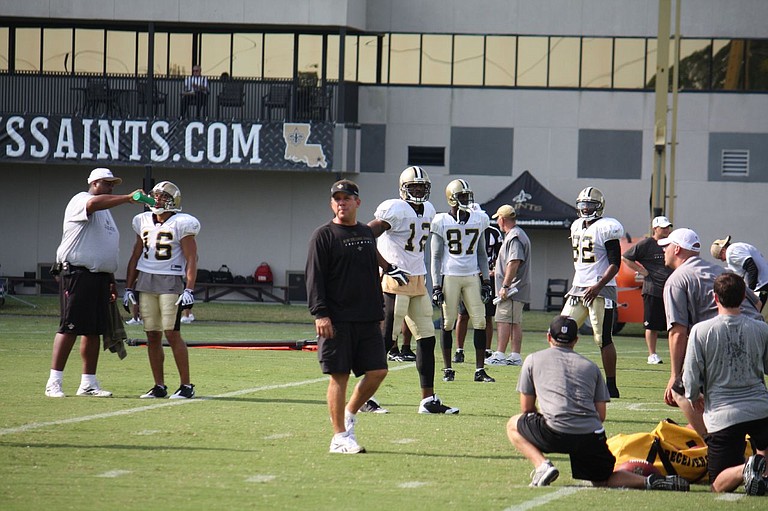 Thursday, October 15, 2015
Unless you're the New England Patriots, the window for winning a Super Bowl or multiple Super Bowls is small in a league that values parity. After this season, it looks like that window is closing for the New Orleans Saints.
The team's issues include cap problems due to bad contracts (see Junior Galette), quarterback Drew Brees' massive salary for 2016 (now up to $30 million) and a defense that needs to be reworked (or maybe even needs a new defensive coordinator), unless the team climbs from last place out of 32 teams.
It seems as though other NFL teams are waiting to pick the remaining pieces of the Saints' carcass like vultures after this season. A report that surfaced this past Sunday said that after this season, teams such as the Miami Dolphins, who have already fired their head coach, and possibly the Indianapolis Colts would inquire about a deal for Saints head coach Sean Payton.
Payton is in his 10th season in New Orleans after joining the club in 2006 and quickly making an impact by signing free-agent quarterback Brees. In just four years, he brought something to the city that many fans thought they would never see: a Super Bowl victory.
Football has been part of Payton's life since he was growing up Naperville, Ill. He played quarterback at Naperville Central High School. After graduating in 1982, he went on to play quarterback at Eastern Illinois University and led the school to the quarterfinals of the 1986 NCAA Division I-AA Playoffs.
A career in professional football as a player never seemed to be in the cards as Payton bounced around for a few year years in the Arena Football League and Canadian Football League. He did reach the NFL in 1987 as part of the strike-season Chicago Bears team.
In 1988, Payton started coaching at San Diego State University as an offensive assistant. He then went to Indiana State University to coach the quarterback and wide receiver positions in 1990 before returning to San Diego State in 1992 as a running back coach.
In 1994, Payton became offensive coordinator for Miami University in Ohio. He became the University of Illinois quarterback coach in 1996. In 1997, he became the quarterback coach for the Philadelphia Eagles.
After getting fired from the Eagles, Payton quickly rebounded as quarterback coach for the New York Giants in 1999 and became the team's offensive coordinator in 2000. He left the Giants in 2003 to become assistant head coach and quarterback coach for the Dallas Cowboys.
Payton stayed with the Cowboys until 2006, one year after Hurricane Katrina, when he was named the next head coach of the New Orleans Saints. During his first season, he quickly turned the Saints around with a 10-6 record. That year, the team got its first trip to the NFC Championship Game, where it lost the Chicago Bears.
The Saints took a step back in Payton's next two years with a 7-9 record in 2007 and an 8-8 record in 2008.
In 2009, Payton put together the most magical season in Saints franchise history, which led to the only Super Bowl the organization has won, Super Bowl XLIV. The Saints weren't able to repeat as champions in 2010, as they finished 11-5 and lost in the Wild Card round of the NFL playoffs.
Payton published a book in June 2010, "Home Team: Coaching the Saints and New Orleans Back to Life" (NAL Trade, $15), which ended up a New York Times bestseller. In 2011, he broke his leg in a game at Tampa Bay but got the Saints in the playoffs with a 13-3 record before falling to the San Francisco 49ers in the divisional round of the NFL Playoffs.
The bounty scandal (when members of the New Orleans Saints franchise were accused of paying out bonuses for injuring opposing teams' players) cost Payton the entire 2012 season, as the league suspended him. He used the time away from the Saints to be offensive coordinator for his son Connor's sixth-grade football team.
Payton returned to the Saints in 2013 and got the team back into the playoffs with an 11-5 record. The team lost in the divisional round of the playoffs to the Seattle Seahawks. Last season, the Saints finished with 7-9 record, just the second losing season in Payton's tenure with New Orleans.
This season has started devastating with 1-4 record and a porous defense and an offense that can't seem to find that high gear that Payton's Saints teams are known for.
Payton's 10 years is more time than his mentor, Bill Parcells, spent with one team. Parcells' longest tenure was eight years with the New York Giants.
His 81-51 record is only behind Jim Mora's 93 wins as the franchise's most winning head coach. It is a record that Payton could reach next season in New Orleans.
Now, the question is, does Payton want to rebuild in New Orleans after this season or would he like to go to a team that has more of the pieces to win right away in place? If a team badly wants him, it could make a deal, even though he would still be under contract with the Saints.
It could be a good change for both Payton and New Orleans. If, by some miracle, the Saints do turn things around and make the playoffs, it would be a long shot that Payton would leave. But another losing season might make both sides reconsider the situation.
The New Orleans Saints face archrival the Atlanta Falcons tonight, Oct. 15, on primetime television at 7:25 p.m., on CBS and the NFL Network. Upsetting the undefeated Falcons might be what this team needs to turn things around.