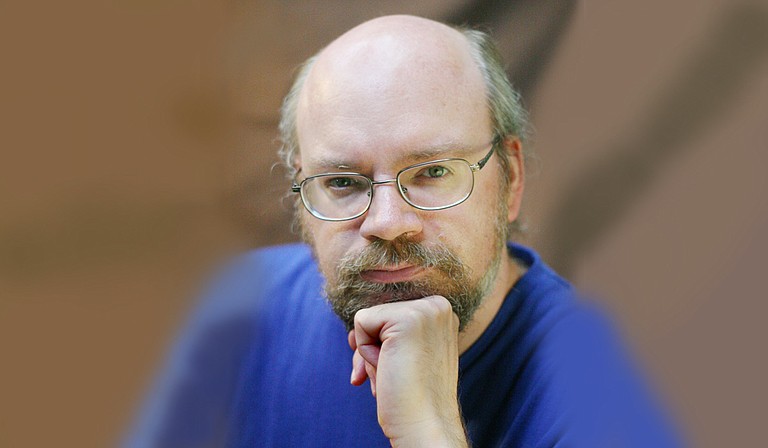 Bill Wilson was studying to go into ministry at Belhaven College, now Belhaven University, when he realized that art was his life's calling. He changed majors and graduated with a bachelor's degree in art in 1984, and he hasn't looked back since.
"Some of it is real esoteric, and it's hard to explain," Wilson says of his reasons for pursuing art. "The easiest part is I love storytelling, and I love visual storytelling."
Wilson looks at everything he does as an opportunity to tell stories, including the portrait painting that has been the bulk of his career for 25 years.
"Even with the portraits, it was telling a story about somebody," he says. "... Very often, people would want to incorporate certain items about themselves."
Once, he was doing a lawyer's portrait and kept noticing that no matter how he posed him, the man would keep moving a brass duck head close to him. The lawyer told Wilson that a friend had given it to him when he graduated from law school.
"What was funny was after I did the portrait, several people came up and went, 'Oh, you did the duck,'" Wilson says. "They didn't know anything about what had happened between (us), but anybody who knew this lawyer knew how much that little duck head meant to him."
While he still paints portraits, he also writes and illustrates children's books, such as "Pippin & Maxx Presents Tales of Sleepy Dragons A to Z" (CreateSpace Independent Publishing, 2012, $9.95), the artwork of which is part of his "Flights of Fantasy" exhibit at the Arts Center of Mississippi (201 E. Pascagoula St., 601-960-1500).
Along with children's books, Wilson is creating a mural for the Mississippi Opera. He also occasionally does court-reporting art for local stations such as WLBT and WJTV if there's a federal trial. He makes art in all manner of mediums, including oils, acrylic, pastel, casein and charcoal, and his subjects vary from whimsical illustrations of dragons and fairies to nudes against colorful backdrops.
"It depends on how you look at it," he says. "Most artists aren't able to do that many diverse things, but ... some people make a better living doing one thing than I do. I've found, very thankfully, that when one thing would slow down, other things would pick up. ... It means you have to know a lot. You have to be able to do a lot of different things."
"Flights of Fantasy" opened Oct. 1, though its opening reception is Oct. 22. Wilson's work occupies three rooms at the Arts Center. The middle room features about 28 paintings from "Tales of Sleepy Dragons," along with dragons from sculptor Sam Clark. The remaining two rooms have Wilson's other works, including fairies, landscapes and various fan art. For the reception, the Kinetic Etchings Dance Project created three original pieces and will perform them throughout the night. The event is from 5 p.m. to 7:30 p.m. and is free to the public. For more information, call 601-960-1500.