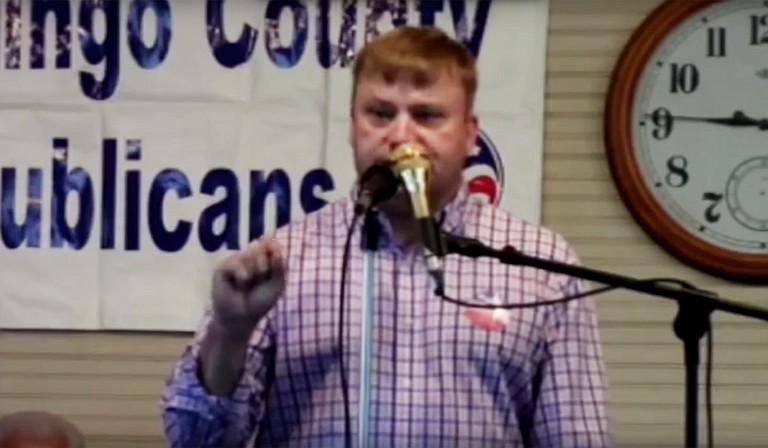 State Rep. Lester "Bubba" Carpenter, a Burnsville Republican, this morning walked back racially charged statements made public over the weekend about the Initiative 42 schools-funding referendum.
Speaking at a recent Midway Republican Rally, Carpenter, a second-term Republican who chairs the House Fees and Salaries of Public Officers Committee, told a crowd: "If 42 passes in its form, a judge in Hinds County, Mississippi (which is) predominantly black—it's going to be a black judge—they're going to tell us where the state of education money goes."
A WRMG-TV journalist filmed the event and Matt Eichelberger's Cottonmouth blog posted it over the weekend.
Since advocates for Initiative 42 succeeded in adding the measure to the 2015 ballot, a groundswell of opposition, mainly from conservative Republicans, has emerged because the provision could be enforced by a chancery court judge if the Legislature fails to adequately fund public education.
Supporters of 42 have said detractors' mantra that "one Hinds County judge" would supersede the Legislature's authority is tantamount of racist scare tactics. As Carpenter noted, Hinds County is majority black although only half of the county's chancery court judges are black. Carpenter's comments affirmed that for many people and has high-profile legislative leaders distancing themselves from Carpenter, a paramedic.
"The comments of Rep. Carpenter were completely inappropriate," said Speaker Philip Gunn, R-Clinton, who also opposes Initiative 42. "His comments do not reflect the attitude of the Republican Party or the leadership of the House."
Through a spokeswoman for the Mississippi House of Representatives, Carpenter also apologized and asked for forgiveness.
"I am deeply sorry for the comments I recently made," Rep. Carpenter said. "They were inappropriate, and I was completely out of line. There is no excuse for what I said. Please forgive me."
Carpenter also got in trouble three years ago when women's advocates accused him of being insensitive to what would happen if Mississippi restricted abortion access for women.
"[Y]ou have the other side. They're like, 'Well, the poor pitiful women that can't afford to go out of state are just going to start doing them at home with a coat hanger.' That's what we've heard over and over and over," Carpenter told an Alcorn County GOP meeting. "But hey, you have to have moral values. You have to start somewhere, and that's what we've decided to do."