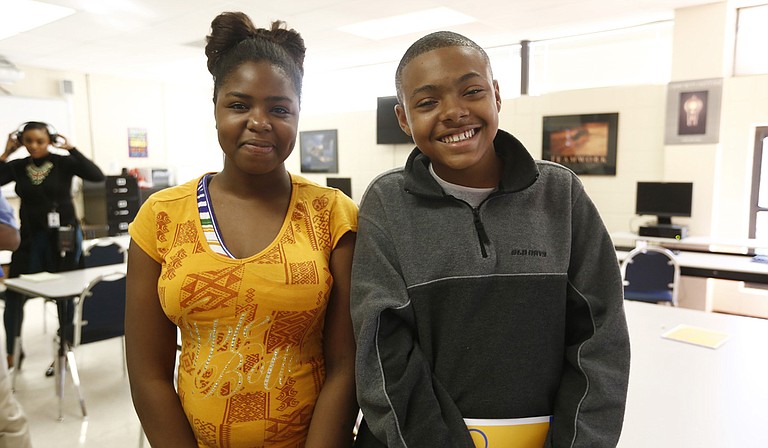 Wednesday, October 21, 2015
"I love my work," Houston Sherrod told a classroom full of high-school students. "It takes care of me and my family."
Sherrod spoke to students Oct. 14 at the Jackson Public Schools Career and Development Center about his work as a senior service technician at Atmos Energy during Careers in Energy Week. Sherrod shared not only his job duties but also his life story, revealing how work and job opportunities are both things students should start thinking about early.
The class asked several questions like, "What is the most difficult part of the job?" and "What do you like to do after work?"
CDC serves students from all seven Jackson Public Schools high schools, and they hear presentations from various employers throughout the year as a part of the program. CDC is a vocational education program that serves 1,000 juniors and seniors in the district in 20 skill-focused programs.
Students come to the center for two class periods every day and receive certificates at the end of the two-year program. Some of the courses offer national certifications upon completion as well. Programs include automotive technology, cosmetology, engineering, law and public safety, and several other vocational training areas.
Trevian Strong, a Murrah High School junior, is in the engineering program at CDC. He said he has looked into engineering internships, and his time at the center has made him want to continue to pursue a career in mechanical engineering after high school. He has researched potential scholarships at Jackson State University and Mississippi State University that he will apply for next year. Strong said he grew up enjoying math and science. "I knew I wanted to do engineering in second grade, so I've had some time to think about it," he said.
Carson Crump, a junior at Murrah High School, and Jameeka Smith, a junior at Callaway High School, are good friends. They get to see each other every day in their TV/Radio courses at CDC. Crump said he would like to be a radio personality, and he has already done a job shadow at a radio station. He wants to get an internship soon and plans to go to college.
Smith's first choice for CDC was cosmetology, but she got into the TV/Radio track instead. Smith wants to be an actress, and she is excited to be in the CDC program so far due, in part, to the interaction.
"This is more fun than real school," Smith said. "I can't wait until 8 a.m. to come back because it's very educational."
Despite the temptation to move to Los Angeles or New York City to pursue an acting career, Smith said she plans to stay close to home after she graduates.
"I am staying in Jackson because I know the places I need to go to audition," Smith said. "All I have to do is get a camera set, and send it off to a person, and wait for them to call me back."
CDC's principal, Dr. Brenda Jackson, said partnerships with businesses like Atmos Energy that promoted Careers in Energy week are important to expose students to job opportunities in Jackson and Mississippi.
Some of the programs enable students to go into the workforce directly after graduating from high school if they do not want to attend college right away.
Jackson said only a few hands went up when students were asked, "How many of you feel that you can find a job in Mississippi?"—and she wants to fix this perception.
"We're going to have to work a little bit harder to let you know what's available to you—there are wonderful opportunities right here in the state of Mississippi," she told them.
JPS students can apply for the CDC program in their sophomore year of high school when they are making their schedules for their junior year, ranking potential programs based on their preference. Not all students get their first choice, but often the students still participate in the alternative offered anyway.
The application process for most programs is on a first-come, first-served basis. Each high school has a set allotment of spots based on their enrollment. A few programs do have prerequisites and requirements, however, and students have to have completed certain classes to get into those programs. CDC cannot accept all students who apply, Jackson said.
"Because JPS is so large, we can't accommodate all students who want to come here and take courses," Jackson said. "There are state requirements we have to meet, with so many students per block."
For more information about CDC, call 601-960-5322. Email reporter Arielle Dreher at arielle@jacksonfreepress.com.