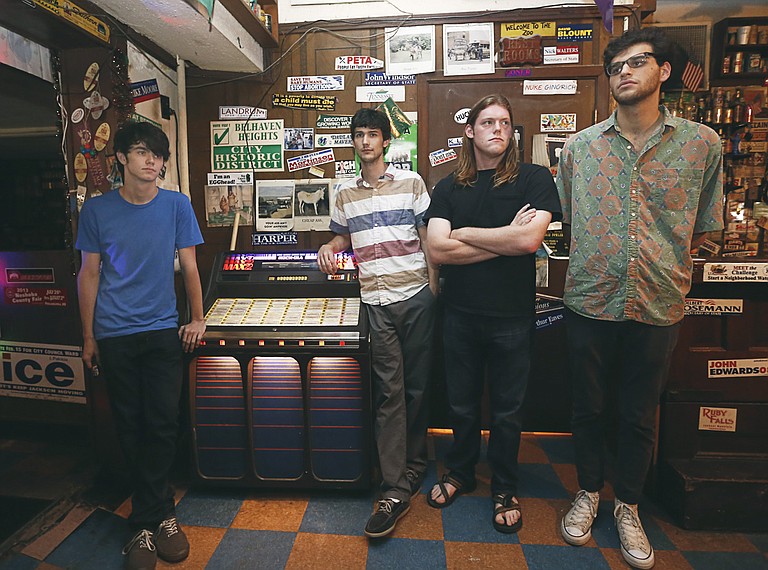 Wednesday, October 21, 2015
In only two years, Hattiesburg-based four-piece band Nossiens already has proved to be complex.
While one could categorize the band as either post-punk or indie rock, vocalist and guitarist Nicholaus Panella, who co-fronts the band with brother, bassist and vocalist Tony Panella, prefers to think of it as a "Frankenstein musical anomaly." Like many bands in the indie-rock realm since the turn of the new millennium, Nossiens tackles two major questions: What new ground is there to be explored, and what new sounds can be produced with a guitar?
Beacons of originality such as Wilco and Radiohead soared, as many others crashed into obscurity. The Panella brothers, drummer Quinn Mackey and guitarist Hal Kolodney are looking to survive this Darwinian effect. In fact, evolution is in their name. Nossiens is taken from the "Gnossiennes," a series of highly experimental piano compositions from late 19th-century French composer Erik Satie.
Nicholaus says the group has reinvented its sound a number of times since forming under the name Dinner Guest in December 2013, though the music still has structure.
"First, it was very much straight-up indie rock. That was kind of safe ground," he says. "We found bands we wanted to model ourselves after. Sonic Youth and Radiohead are two major ones. We are now working on noise-rock elements and experimental noise."
At the same time, the members of Nossiens have been exposed to all types of music. Their influences include a variety of jazz, blues, rock, electronic and punk groups.
The musicians even flex some of those while skills playing with other bands. Nicholaus regularly plays for the Sunday Jazz Brunch at T-Bone's Records & Cafe in Hattiesburg, and Kolodney also plays guitar with Jackson indie act The Empty Handed Painters.
In February 2015, the band released its first single, "Out of State," on a compilation album titled "Borderlines: Hub City Goes Global," which the University of Southern Mississippi's student-run label, South City Records, organized. Nossiens has yet to record a multi-track release, but the band started pre-production on a new project on Aug. 19.
"A lot of people say you should make your first album as soon as you can, get in there and create, and get a feel for yourself," Nicholaus says. "But we really want to come together first. ... My brother and I are just so A.D.D. about what we want it to sound like. We just want to wait for the point where we aren't struggling too much to play and write, and to make sure we're having fun."
Whatever Nossiens' first full recording project may be, Nicholaus ensures that fans can expect one thing: unpredictability.
"Music is going to change regardless of who it is that's doing the changing," he says. "The main thing is the relationship between pop music and music that isn't pop. You can't really have one without the other because what drives people towards pop music is that music that they don't get, and what drives people away is the fact that it's too predictable."
Nossiens performs at 8 p.m. on Friday, Oct. 23, at Big Sleepy's (208 W. Capitol St., 601-863-9516). For more information, find the band on Facebook.