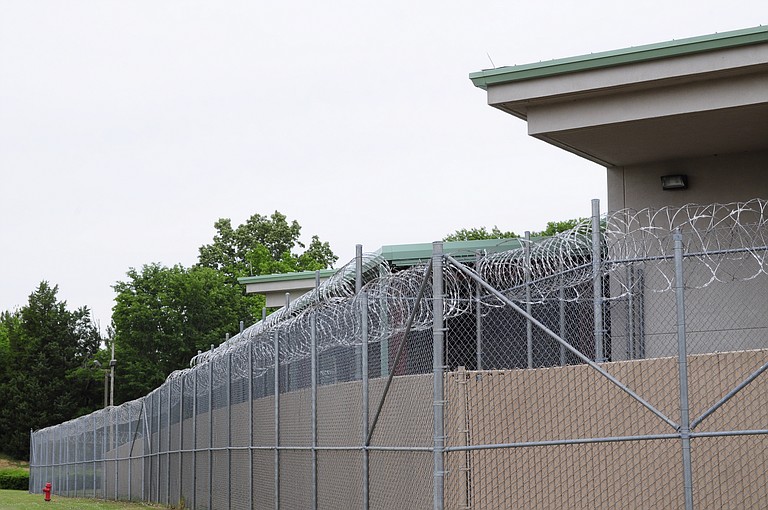 Wednesday, October 21, 2015
Michael Davis had two choices: Write a check to the City of Jackson for $19,403.81 for fines and court costs or spend 335 days at the Raymond Detention Center.
In April 2015, Davis, 34, started working off the debt at the county penal farm at a rate of $58 per day. Eventually, attorneys got him out, arguing that he was too poor to pay and that the City was obligated to offer community service.
On Oct. 13, those attorneys, from Equal Justice Under Law, a public-interest law firm in Washington, D.C., and the MacArthur Justice Center at the University of Mississippi School of Law, announced a federal class-action lawsuit in Jackson that, according to a news release, "challenges the City's incarceration of hundreds of impoverished Jacksonians for failure to pay court debts from old traffic and misdemeanor cases, without conducting any meaningful inquiry into their ability to pay."
City hall spokeswoman Shelia Byrd, said through a statement that the City had not yet been served, but "does not operate a 'debtor's prison,' and aims to treat all of its citizens fairly under the law." She continued: "The City of Jackson does not imprison any citizen without statutory authority and the weighing of all factors, unlike surrounding municipalities who make it a practice to imprison individuals who cannot pay immediately."
Byrd said attorneys for the MacArthur Justice Center have been in direct contact with Jackson's Municipal Court and Office of the City Attorney. Byrd continued: "The City of Jackson has acted in good faith to try and work with this entity to resolve any concerns that any citizen would have. Nevertheless, the MacArthur Justice Center filed suit amidst the ongoing negotiations. The City of Jackson will vigorously defend against these unfounded claims. Again, it should be reaffirmed that the City of Jackson is committed to treating all of its citizens fairly and within the protection offered under the law."
The suit lists seven named plaintiffs, including Michael Davis: Jerome Bell, 58; James Sheppard, 61; Marteze Harris, 25; Domonic Butler, 27, Ricky Lambert, 41; and Jarmale Walker, 26. The complaint states that the other plaintiffs faced circumstances similar to those of Davis. Prosecutors said Bell owed $4,759.00; Sheppard, $2,882.50; Harris, $5,650; Butler, $6,775.01; Lambert, $2,800.03; and Walker, $1,199.65.
Cliff Johnson, director of the MacArthur Justice Center at the University of Mississippi School of Law, said both the U.S. and the Mississippi Supreme Courts have already ruled that incarcerating people on their inability to pay fines is unlawful.
"As Mississippians, we understand the devastating reality of poverty," Johnson said. "We should not tolerate a system in which those with money pay their court debts and return to their comfortable homes while those who are poor and unable to pay are thrown into what essentially are debtors' prisons. It is our sincere hope that the City of Jackson will cease this practice immediately and thereby set an example for the many other Mississippi cities engaged in the same or similar conduct."
Alec Karakatsanis, co-founder of Equal Justice Under Law, said in a statement that his group has filed similar lawsuits against several other cities, including Montgomery, Ala., and New Orleans, La.
"The 'pay or stay' system in Jackson, Miss., is as egregious as any system we have seen. Rather than taking seriously its obligation to determine the ability of its citizens to pay unpaid court debts and to use human caging only as a last resort, the City of Jackson locks up its poorest citizens for weeks and months at a time in a jail that is the subject of a Department of Justice investigation," he wrote.
Karakatsanis said people incarcerated under the "pay or stay" system either "sit out" their debts to the City at the rate of $25 per day or "work off" their debts at the rate of $58 per day.
According to Karakatsanis, the City typically receives no funds from those imprisoned other than the money extorted from desperate families of impoverished people, and the cost of incarceration is borne by Hinds County.
In 2014, after 18-year-old Michael Brown was shot and killed in Ferguson, Mo., a U.S. Justice Department investigation found a pattern of racial discrimination in the assessing of fines and jailing between whites and African Americans.
Comment at www.jfp.ms. Email R.L. Nave at rlnave@jacksonfreepress.com.