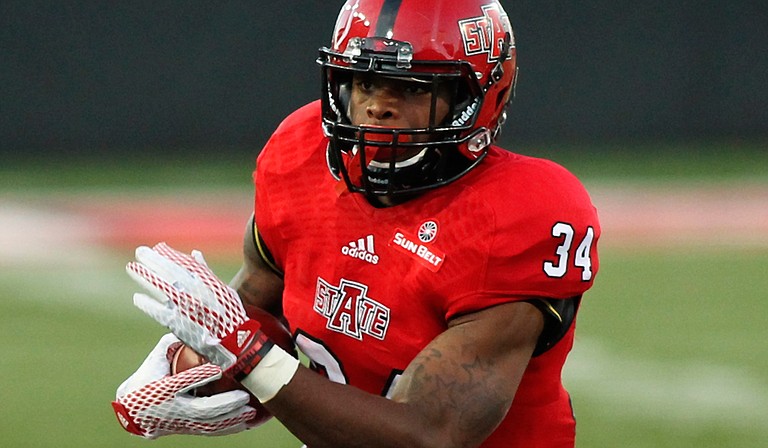 Thursday, October 22, 2015
Mississippi might not be a recruiting hotbed like Texas, Florida or some other states, but we have plenty of football talent. And while the state's colleges and universities try to sign the best athletes, some of our players do end up playing out of state.
One of those players is Michael Gordon, a running back who signed with Arkansas State University after finishing his career at Velma Jackson High School. The Camden, Miss., native is currently playing his senior year for the Red Wolves.
However, he almost didn't play college football for any school after getting kicked off the football team during his ninth-grade year. Velma Jackson head coach Cedrick Wilder dismissed the 5-feet 9-inch 187-pound running back, whose nickname is "Flash," for having a poor attitude and not wanting to work hard.
It was a wake-up call for Gordon, who Rivals.com and ESPN eventually named a three-star recruit. He eventually became the 13th-best player in Mississippi and the 44th-best running back in the nation. Gordon had a sensational senior season in 2011, when he racked up 2,400 all-purpose yards with 38 touchdowns.
He was named 3-A All-State as a senior and MVP for Region 4-3A and took part in the Mississippi North-South All-Star Game. The speedy running back was also a state power-lifting champion while at Velma Jackson.
Mississippi State University, University of Memphis, University of Alabama at Birmingham and the University of Southern Mississippi were among the several schools to offer Gordon a scholarship. He decided to take his talents Arkansas State in the spring of 2012.
Gordon saw action in his freshman season, though mostly as a backup and on special teams, playing in nine games. The highlight during that year might have been at the GoDaddy.com Bowl, where he returned a kickoff 33 yards against Kent State University.
In his sophomore season, Gordon became more important to the Red Wolves offense. He rushed for 754 yards and 10 touchdowns, leading the team in both categories, as he earned second-team All-Sun Belt Conference honors. The running back also added another 206 receiving yards on 16 catches with a touchdown.
Gordon earned several preseason honors heading into his junior season, and he didn't disappoint. He rushed for 1,100 yards and 13 touchdowns and caught 25 passes for 191 yards and a touchdown. The running back finished the season, again being named second team All-Sun Belt Conference.
Before the start of his senior season, Gordon was named second team Preseason All-Sun Belt by Athlon, Lindy's and Phil Steele. He entered the season with 23 career-rushing touchdowns, which places him seventh in school history.
In Arkansas State's last game, Tuesday, Oct. 20, against University of Louisiana at Lafayette, Gordon got the scoring started in the Red Wolves 37-27 win with a seven-yard touchdown run. He finished the game with 73 yards on 14 carries with the touchdown in Arkansas State's running back by committee backfield.
Through seven games this season, Gordon has rushed for 563 yards on 89 carries with six touchdowns. He also has five catches for 26 yards and one touchdown, and is second on the team with 653 all-purpose yards and seven total touchdowns.
Gordon ranks in the top five in rushing in the Sun Belt Conference this season and is in the top 10 of all-purpose yards for the conference, as well. He is also in the top five in scoring in the Sun Belt Conference.
Arkansas State is currently 4-3 overall and tied for first place in the conference at 3-0 in league play. The Red Wolves are next in action on Halloween against Georgia State University.