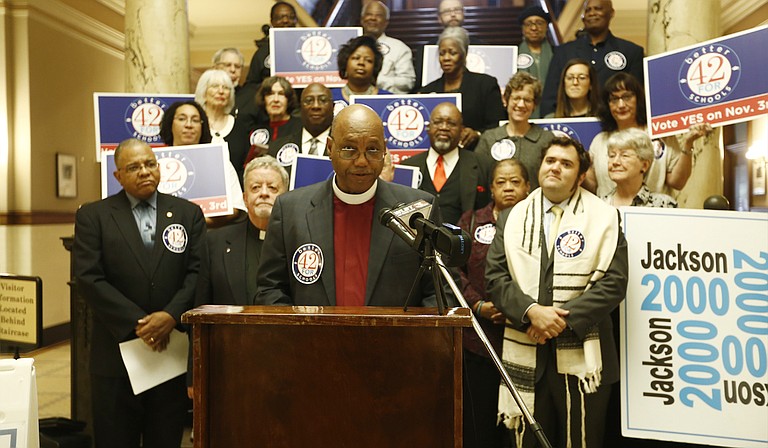 As Election Day draws near, supporters of the education funding referendum known as Initiative 42 are drawing wide support from organizations around the state.
Today, the Mississippi Religious Leadership Conference, Working Together Jackson and Jackson 2000 endorsed Initiative 42.
The three groups held a press conference at the Capitol this morning to encourage voters to vote for Initiative 42 and "approve it, then choose it" on Nov. 3.
Leaders from all three organizations called voting for Initiative 42 a "moral" and "justice" issue. Bishop Joseph Campbell of the Church of Christ U.S.A. told voters to ignore what he characterized as rhetoric surrounding the Initiative 42 debate.
"If we pass Initiative 42, we will not only help to better educate our children," Campbell said. "But we will be able to sever the ties of the school-to-prison pipeline by fully funding the educational process."
All 45 organizations that are a part of Working Together Jackson endorse Initiative 42, said Bishop Ronnie C. Crudup, senior pastor at New Horizon Church International.
"The citizens of this state are saying now is the time," Crudup said. All three organizations unanimously voted to support Initiative 42, and the groups have been working through canvassing, phone banks and knocking on doors to encourage Mississippians to get out and vote.
Dana Larkin, a member of all three organizations, said she is disappointed with the legislative leadership coming out against Initiative 42 because she does not believe it is a partisan issue. Larkin said passing Initiative 42 will be the only thing that pulls Mississippi out of poverty and ensures the next generation's future.
"This is a justice (and) moral issue, we need to fund it, and it's very disappointing that our elected officials don't want to pay for our public schools," she said.
These endorsements come on a wave of support for Initiative 42 supporters
Earlier in the week, 108 Mississippi United Methodist pastors have released an open letter endorsing Initiative 42. The letter states that each signing pastor's position on the upcoming ballot initiative stems from John Wesley's passion for meeting educational needs even in 18th century England and Jesus' command to let the "little children come to me."
Bruce Case, head pastor at Parkway Hills Methodist Church, helped craft the letter and send it out to pastors throughout the state. Pastors were invited to respond and sign their name, and it took Case less than a day to collect more than 100 signatures. Case said they could have collected more signatures, but he wanted to get the letter out due to timing.
In addition, a group of University of Mississippi law professors and attorneys took aim at claims from the anti-42 crowd that a lone judge in Hinds County would determine education funding in the state should the initiative pass.
In a letter, the attorneys called the claim "false and misleading" and said that any legal challenge or judge's decision would be subject to appeal.
"As law professors and attorneys, we could not in good conscience remain silent in the face of gross misstatements of the law regarding a matter of such importance," Desiree Hensley, associate professor at the University of Mississippi School of Law, said in a statement.
"Regardless of how people vote on Initiative 42, it is our hope that this clarification will enable Mississippians to make informed decisions based on an accurate understanding of the role that judges and courts will play in the process."
See the Jackson Free Press' complete coverage at www.jfp.ms/maep.