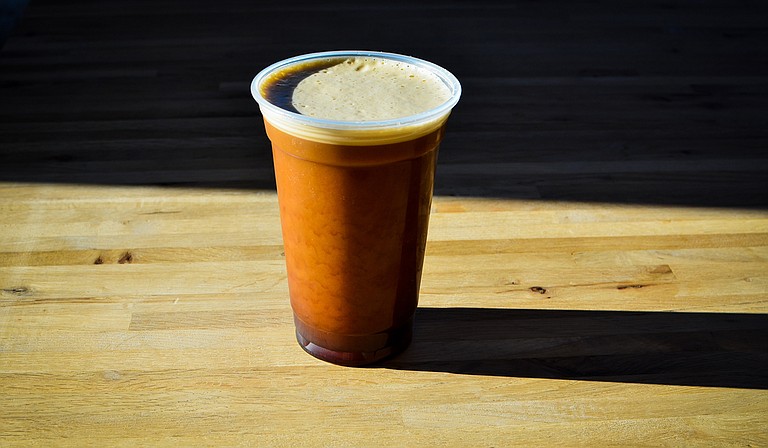 Tuesday, October 27, 2015
Trey Malone is bringing a new kind of cold-brew coffee process to Mississippi Friday, Oct. 30, during the Brewing Bad event at Deep South Pops (1800 N. State St.).
Malone's new brew, called Cascade on Tap, is a cold-brew coffee infused with nitrogen, chilled in a keg and served with a foamy head, similar to a stout beer. The nitrogen-infusion process used to brew Cascade gives it a creamy, smooth, full-bodied and less acidic taste than traditional cold brews. Nitro coffee also has double the caffeine of a traditional cup of coffee.
Cascade on Tap is also applying this special process to more than coffee, offering a nitrogen-infused take on chai tea and a variety of other drinks. Deep South will also start using Malone's nitrogen-infusion process to make infused popsicles when his company, located inside the Deep South Pops building, officially opens after the launch party.
Deep South Pops will be the first to distribute Cascade during Friday's event. Brewing Bad starts at 6 p.m. and will feature eight local craft beers, seven types of popsicles in liquid form and seven different nitrogen-infused coffees and teas available on tap. The event will also feature live music from Gypsy Jude and a screening of the TV show, "Breaking Bad," projected on the side of the building. Attendees can also enter a costume contest for a chance to win prizes from local businesses.
For more information, call Deep South Pops at 601-398-2174.
Johnny T's 540 Lounge Opens
540, a lounge venue located upstairs from Johnny T's Bistro and Blues (538 N. Farish St.), officially opened for business on Saturday, Oct. 24. The 540 lounge features a full bar, a performance stage, VIP seating, wall-to-wall mirrors, modern black and chrome furniture and a large hardwood dance floor.
The newly opened club serves as both a live music destination and a venue for wedding receptions, charity fundraisers, corporate events and other occasions.
Johnny T's Bistro and Blues, 540's host restaurant, offers steak, pasta, seafood, finger foods, shareable items, and more, all made from scratch.
540 is open Friday and Saturday from 9 p.m. to 2 a.m., and is available for private events by reservation on Sundays and Thursdays. Johnny T's Bistro and Blues is open Monday through Wednesday from 6 p.m. to midnight and Thursday through Sunday from 6 p.m. until 2 a.m. For more information on 540 or event hosting, or to make a reservation, call 601-954-1323 or email johnnytsbistro@gmail.com.
Mississippi High Schools Participate in STEM Career Program
The Toyota USA Foundation is awarding a $1.5 million shared grant to high schools in Mississippi, New York and Kentucky.
Saltillo High School, New Albany High School, Pontotoc High School and North Pontotoc High School are the four Mississippi high schools participating in the program, which aims to increase student interest in STEM and manufacturing careers. The long-term goal of the grant is to attain higher graduation rates and a more educated workforce. The National Dropout Prevention Network, WIN Learning and LightSwitch Learning organizations are also supporting the project.
The schools will use an online career-exploration system to develop students' college and career-readiness skills. The content is aligned with the 16 nationally recognized career clusters, consisting of categories such as finance, architecture and construction, health science and information technology.
The project's objective is to introduce freshman and sophomore high-school students to STEM and manufacturing careers through the use of online resources that instructors can use alongside existing individual graduation plans.