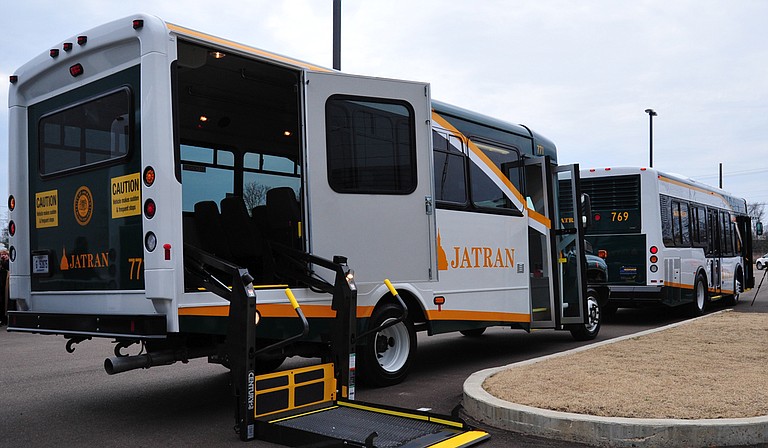 Tuesday, October 27, 2015
The Jackson City Council was poised this week to reconsider an agreement with the new operators of JATRAN, the city's bus system, but held off on discussion amid a threat of litigation.
On Oct. 1, an operations contract between the City of Jackson and U.K.-based National Express Transit Services went to effect. The three-year contract requires the City to pay a monthly fixed fee for National Express to run most JATRAN operations, including salaries, overtime and other cost overruns. Previously, the City had a management contract with Lombard, Ill.-based Transdev North America, which did business locally as PTM of Jackson Inc. Under that agreement, the City was responsible for most costs, including JATRAN salaries.
Some JATRAN employees say the transition has been rough.
"We had people who didn't get paid half their wages last week," Alphonso Burns Jr., a JATRAN operator and president of Amalgamated Transit Union Local 1208, told the city council on Oct. 20.
Burns told the Jackson Free Press that the snafu was the result of employees who were on vacation or had vacation time scheduled during the Oct. 1 switchover and are now caught in a sort of administrative limbo between the old company and the new company. In addition, Burns said many of his union members currently lack health insurance because premiums for the planned National Express offers went up to $135 per month from $35 per month for a single individual.
Eric Jefferson, the City's director of planning said during a brief presentation that his department looked to switch to an operations contract because costs fluctuated greatly under the previous management agreement with PTM.
"There's no real incentive for the contractor to save the city money," Jefferson told the council, referring to management contracts.
Ward 4 Councilman De'Keither Stamps said issues that have come up since National Express came onboard were not fully aired when the council considered the JATRAN operations proposal this summer.
"We need to look at the feasibility of rescinding the whole contract," Stamps said at the meeting. "It might cost us some money, but it's a huge problem."
The council scheduled a special meeting for Oct. 19, but during the special meeting, City Council President Melvin Priester Jr. said that discussion of JATRAN would have to be limited because the city received notice of potential litigation, but did not specify. On Oct. 20, after a brief discussion, the council went into executive session but took no action.
Scott M. Crawford, a rider and frequent attendee of the JATRAN Fixed Route Advisory Committee, urged the City to fix what he called systemic problems with the bus system and to do the right thing with respect to the union's contract
"It is vital to the city that we act honorably by union contract. It's a matter of justice," Crawford said.
Mark Foster, a National Express vice president, said through a statement: "Since we started service three weeks ago, we have decreased breakdowns (road calls) by 50% compared to last September and have decreased the accident frequency by 50% as well. These accomplishments were achieved in spite of the poor condition of the fleet we inherited.

"A third party completed an audit of the bus fleet prior to us taking over the service. This audit identified over 4,100 mechanical deficiencies in the current fleet. The estimated cost to address these defects is $700,000.00. National Express Transit has been working diligently to address the maintenance issues identified and is currently working with the City of Jackson to lease buses for 90 days to expedite the current fleet maintenance program.
"We have also been working with the ATU, who currently represent the transit employees, to complete a labor agreement. We have fully recognized this collective bargaining unit and have started registering employees for health coverage to ensure no lapses in coverage occur.
"As with any start-up, there are challenges to overcome. National Express is committed to serving the City of Jackson in providing safe and reliable transit services. We are proud to be a part of the City and look forward to continuing to provide the high quality service for which we are known.