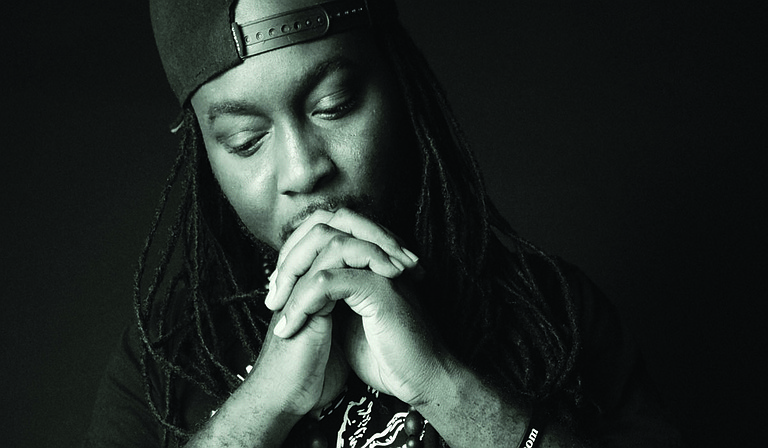 Wednesday, October 28, 2015
From an early age, Stephen Brown—better known to fans as Jackson hip-hop artist 5th Child—found musical inspiration in a plethora of old-school artists, including Curtis Mayfield and Michael Jackson, while listening to his father's record collection. These influences greatly affected Brown's musical style, which he describes as soulful and purposeful. Those two elements come to the forefront on his seventh full-length album, "My Conversations with God," which he released Saturday, Oct. 17.
For about three years, Brown took a break from writing to focus on production for artists such as Slimm Pusha and Dee-1. He also used that time to develop the younger talent of Jackson's hip-hop scene with New Jacks—a showcase and platform to provide mentoring and performance opportunities for new local rappers. This hiatus allowed Brown to sharpen his creative mind and write from a happier headspace when he began working on material for "My Conversations with God."
"My last albums were a lot heavier than this one," he says. "This one is just good music. The content is still there, but the approach is different. I tried to make this album more fun. You don't necessarily have to like the lyrics and the beats, but you will enjoy one of the two."
Brown produced nine of the 12 tracks on the album, which centers on God's divine voice, spoken through different people in his life. Brown credits his faith and spiritually as the inspiration to begin writing the record, saying that both are important for his personal journey and resonate throughout "My Conversations with God."
He wrote the first single of the album, "What You Need," in a satire-like form to shed light on underlying issues and hypocrisies—everything from greed to misinterpretations of Jackson's youth in the media—that people's lack of knowledge has caused.Throughout the track, he leads his audience through his thoughts on those subjects while he paints a vivid picture of his gripes with society.
"What you need?" Brown asks in the song. "A little coke, little pills, little weed? You ain't got it? Let me bring you up to speed. What you need? White flight, knife fights, poverty and greed? You ain't got it? Let me bring you up to speed."
Producer Y. Valentine and director Theca Jones worked with Brown on the accompanying video for "What You Need," which is currently streaming on YouTube. Brown says the idea of the video, which is shot from a drug dealer's viewpoint, is to not only evoke the question, "What is it that we need as a community?" but also to awaken those who struggle with those problems. He hopes that the song will help some listeners acknowledge the social issues surrounding them, even if they don't have the solution yet.
Brown says he often reaches brief points in which he's overly critical of himself and the pace of his career—"Gemini moments," he calls them—but his faith and his fans are a constant source of support.
"I know that sometimes I can think way too much," he says, "but it's encouraging to hear people say, 'Man, don't stop. You cannot stop.'"
5th Child's "My Conversations with God" is available at Offbeat or on iTunes. Local stores interested in stocking the album can email 5thchildmusic@gmail.com. For more information, visit 5thchildmusic.com and follow him on Instagram and Twitter.