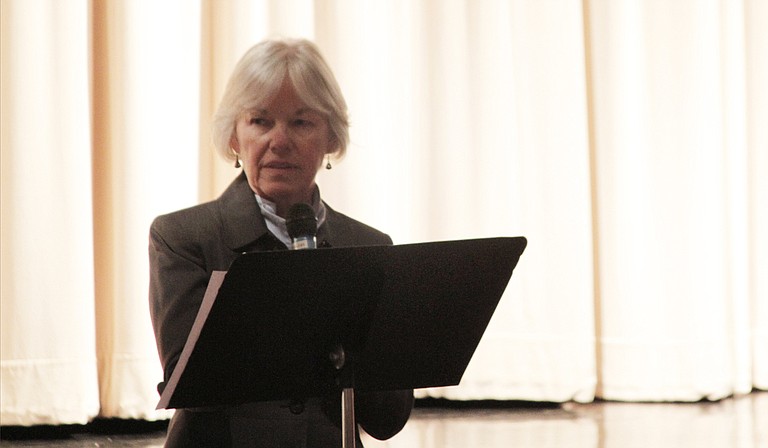 Wednesday, October 28, 2015
Krystin Polk, a 14-year-old who lives in Southaven, has an autism-spectrum disorder. She has an IEP—an Individualized Education Program, for students with special-education needs—which serves as a reference for teachers and explains the extra attention Krystin might need at school.
On Oct. 22, at a public hearing on the Mississippi Department of Education's restraint and seclusion policy, Krystin's mother, Krystal Polk, said Krystin's IEP states that she runs when she gets upset and then often becomes nonverbal and unable to communicate at all.
At school one day, Krystin had a meltdown and ran out of the classroom, and a school resource officer was called to help her. He restrained her, then threw her on the ground and handcuffed her when she failed to comply with the officer's demands. The officer had obviously not read her IEP, Krystal told the crowd at the public hearing.
Krystal said the officer drove her daughter around for an hour, and by the time he took her to the juvenile-detention center, the offices were closed and Krystin had to spend the night. Krystal had to wait until the morning to get her daughter. Officers told Krystal that Krystin was nonverbal at the detention center, and she spent the night with officers at the front desk because she did not understand how to undress herself or go into the cell.
Krystin believes her daughter's story illustrates the necessity of overseeing how a school district uses restraint and seclusion.
"I have given my testimony in hopes that the laws will be changed so things can be done properly in the best interest of all," she said at the public hearing.
In June, the Mississippi Department of Education drafted a restraint and seclusion policy. While most organizations fully support the creation and implementation of a policy, many are not satisfied with the policy as it is written now. Policy 4013, which affects all students regardless of disabilities, is seven pages long and outlines restraint and seclusion procedures, training and documentation requirements, and administrative procedures for school districts to follow.
Several mothers, advocates and leaders of nonprofit organizations gave input about how to strengthen the proposed policy at the second hearing on Oct. 22. They suggested eliminating seclusion, or regulating the practices, as well as standardizing certified training for all schools if restraint is necessary.
In July, several organizations combined efforts to draft their own policy, and with the help of the ACLU were able to delay the policy's progress and enforce the required hearings on the policy. 
The Mississippi Department of Education does not track which school districts have developed their own restraint and seclusion policies, and the department currently has no system to monitor the schools at all—hence the proposed policy.
Restraint and seclusion are controversial and federally regulated in all public-service institutions except public schools. The federal government told states to draft their own policies governing how schools use restraint and seclusion as punishment—if at all. Before this year, Mississippi was one of five states that did not have a statewide policy or voluntary guidelines.
Barb Trader, executive director of the international organization TASH (which used to stand for The Association for the Severely Handicapped), came down from Washington, D.C., to Mississippi for the public hearing. TASH's focus is research and ensuring that evidence-based practices are used for those with complex disabilities. Trader said restraint and seclusion are no longer ethically tolerable for two reasons.
"(Restraint and seclusion) cause pain and are dangerous, and they don't work," she said at the Oct. 22 public hearing.
Hospitals, mental-health facilities, residential treatment centers and juvenile-justice centers all have serious limits on what they can and cannot do for punishment due to federal regulations, Trader said.
"The only publicly funded service system where people are unprotected by federal law from restraint and seclusion use is public school," she said.
Restraint and seclusion should be used only in the case of imminent physical danger to self or others, Trader said, recommending that it should not be included as a practice on any student's IEP.
Heather Rhodes has a 9-year-old son, Cade, who has autism. She has tried two different school districts for her son since a teacher secluded him in a box in one district and put him in a "safe room" during a fire drill at the other. Cade's fight-or-flight response got so severe that he was diagnosed with psychogenic seizures from PTSD this year. 
 Rhodes tried to put Cade back in public school in the Pass Christian School District this year, but after he was suspended for his behavior, she brought him back home. Rhodes urged the Department of Education to add oversight of the districts to its policy.
"The bottom line is if the Mississippi Department of Education does not get something in place, then every school district is going to continue to do what they want to do, how they want to do it," she told the audience at the hearing.
Bill Welch, the director of safe and orderly schools at the Department of Education, and Pat Ross, the chief school-performance officer, helped facilitate the final public hearing. Ross concluded the public hearings by saying he and Dr. Welch would review both hearing transcripts and work to strengthen the current proposed policy. Originally, the final policy was due in November, but Ross said that would be rushing the process and that it could take more time.
"We've heard things we can improve and go through on our part ... ," Ross said. "And (we will) pull that group together and hammer out the best policy we can get to protect our students and school employees."
Comment at www.jfp.ms. Email Arielle Dreher at arielle@jacksonfreepress.com.