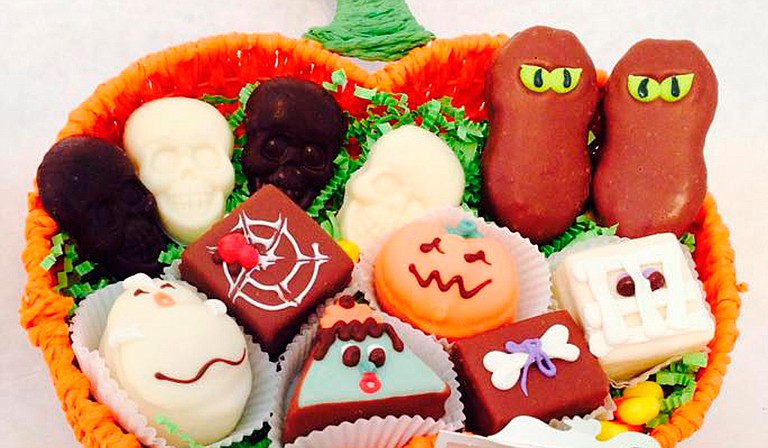 Wednesday, October 28, 2015
La Brioche Patisserie (2906 N. State St., 601-988-2299)
For Halloween, La Brioche will have two special macarons—blood-moon chocolate and almond, and blood-orange chocolate and orange—as well as creepy eyeball vanilla mousse-and-green apple cakes, and raspberry filling on chocolate cookies. For more information, find La Brioche on Facebook.
Campbell's Bakery (3013 N. State St., 601-362-4628)
For scary treats, Campbell's has Halloween-themed iced-tea cakes, candy-corn petit fours, Halloween-sprinkle cupcakes, finger-shaped tea cakes, and spooky-themed whole cakes and cookies. For more information, find Campbell's Bakery on Facebook.
Sweets by CeCe (307A Clinton Blvd., Clinton, 601-906-1583)
Sweets by CeCe will have treats such as Halloween-themed marshmallow pops, Rice Krispie pops, candy apples and chocolate-dipped strawberries.
Broad Street Baking Co. (4465 Interstate 55 N., Suite 101, 601-362-2900)
In a world where King Cakes are king, Broad Street is bringing back its Death by Candy king cake for Halloween. The ring of brioche dough is forged in the fire of Broad Street's ovens, which its website says are powered by Mount Doom, and once it's done baking, the dough is filled with cream cheese and crushed candy bars and topped with chocolate and sprinkles. The cake is available until Oct. 31. Broad Street will also have Halloween treats such as themed sugar cookies.
Just Kaking Custom Cakes & Catering (418 Roberts St., Pearl, 769-226-5253)
This Halloween, Just Kaking will have cake pops, dipped berries, and custom apples and cupcakes.
Primos Cafe (2323 Lakeland Drive, Flowood, 601-936-3398; 515 Lake Harbour Drive, Ridgeland, 601-898-3400)
Primos Cafe has ghost and pumpkin iced cookies and fall-themed petit fours, cookies, cupcakes and other desserts.
Nandy's Candy (1220 E. Northside Drive, Suite 380, 601-362-9553)
This Halloween, Nandy's Candy will have a variety of treats, including caramel apples, Halloween apples (caramel, chocolate and decorated), chocolate pumpkins, milk- and white-chocolate skulls, and Halloween Nutterbutter spooky-eyed ghosts. For more information, find Nandy's Candy on Facebook.
Beagle Bagel (multiple locations, thebeaglebagelcafe.com)
For Halloween, Beagle Bagel will have Halloween-themed cookies and cakes. For more information, find Beagle Bagel on Facebook.
Add more at jfp.ms/food.