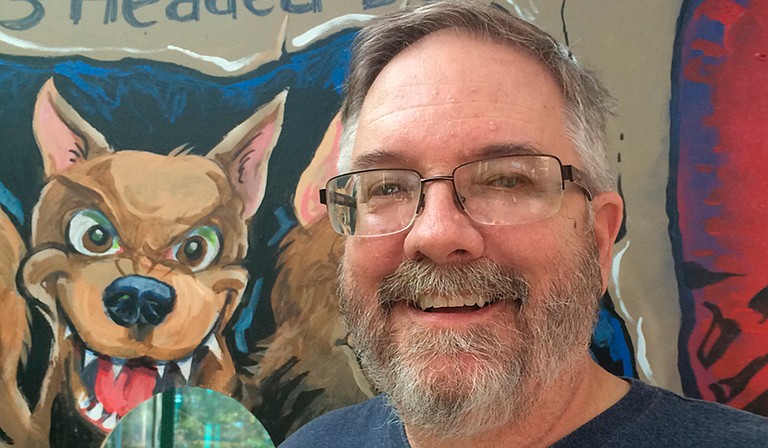 Sam Beibers, the exhibits supervisor at the Mississippi Museum of Natural Science, has had a lifelong love of animals that he loves to share with others through his work in designing new exhibits for the museum. Even before he officially joined MMNS staff two years ago, he had been using his skills as an animal illustrator to do freelance work for the museum for about 20 years, providing art for signs and brochures. Many of the exhibits he has designed are animal related, so naturally he was glad to host and help set up its latest traveling exhibit, "Wolf to Woof: The Story of Dogs," which also ties in to this year's Halloween event, Park After Dark.
Beibers, 58, was born in Memphis, Tenn., and moved to Horn Lake, Miss., at age 7. He attended Northwest Junior College in Oxford, where he started studying wildlife biology before switching his major to art. He then attended Delta State University, graduating with a bachelor's degree in fine arts in 1980. Beibers moved to Clinton in 1982. He later enrolled at Mississippi College, where he graduated with a master's degree in art in 1992.
Before he started working at the museum, Beibers worked at a school-improvement company called the JBHM Education Group from 2001 to 2013 as its creative director. He was in charge of designing marketing products for the company and creating material for communication between teachers and principals.
One permanent exhibit Beibers recently completed for MMNS is a bird wall, an indoor space with a large glass wall that has panels, which hold binoculars guests can use for viewing and identifying birds that come to visit bird feeders set up on the other side of the glass.
"In addition to designing exhibits, I also study biological sciences here at the museum, and one area I didn't think had good representation here was the bird life of Mississippi," Beibers said. "I've been bird watching myself ever since I was a teenager, so I know the bird wall goes a long way to satisfy curious bird watchers and educate them. Some particularly notable species that come to visit our bird wall are the indigo bunting and the goldfinch."
Beibers is currently planning a research-oriented exhibit that's largely still under wraps for now. What he could say, however, is that it concerns endangered species in Mississippi, such as the yellow-blotched sawback turtle, a variety of freshwater mussels, the eastern indigo snake, the Gulf sturgeon and the black bear.
"Wolf to Woof" explores the behavior and anatomy of dogs and the relationship between humans and dogs throughout history. In honor of this exhibit, a large part of the museum's fourth annual Halloween event, Park After Dark, is going to be canine-oriented this year.
Events include "How to Train Your Werewolf," which will feature a dog trainer demonstrating an obedience program with the help of an assistant in a werewolf costume, who will participate in the training alongside actual dogs to entertain the kids. There will also be the "Dog Treat Walk," a cakewalk with a variety of prizes. Representatives of Doggone Fun Doggy Daycare will be there with dogs in costume. The festivities will also include a "Howloween Dog Walk" around the museum. Other planned animal-themed events include a presentation on arachnids from Millsaps College and a bat exhibit from the Mississippi Bat Working Group.
"The main thing for me is making the museum into a great and inspiring place to work that also inspires visitors," Beibers said. "Visitors can always learn something new when they come to the museum, and they'll be able to learn and have a great time at this event, too."
Beibers and his wife of 14 years, Barbara, have four daughters named Alison, Emily, Claire and Maggie, and four grandchildren.
Park After Dark takes place Friday, Oct. 30, from 5:30 to 8:30 p.m. Tickets are $8 per person. For information on Park After Dark, a joint project of the Mississippi Museum of Natural Science (2148 Riverside Dr.) and the Mississippi Children's Museum (2145 Museum Blvd.), visit http://www.mdwfp.com/museum.aspx or http://www.mississippichildrensmuseum.com/, or call 601-576-6000 or 601-981-5469.