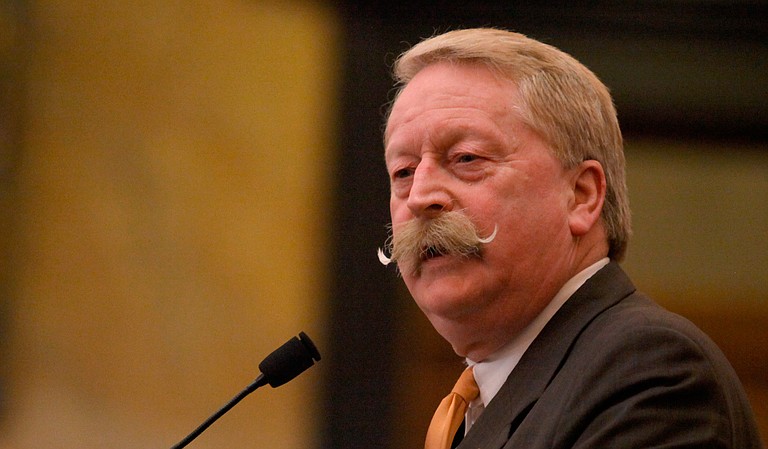 JACKSON, Miss. (AP) — Unable to attract enough support from lawmakers, House leaders are giving up on a plan to increase money for roads through a series of tax changes.
House Transportation Committee Chairman Charles Busby, R-Pascagoula, said Friday that the push is dead for this year.
He said Friday that many representatives instead demanded money-saving efforts at the Mississippi Department of Transportation, which says it needs another $526 million a year to prevent deterioration of state highways and bridges. The House faces a Tuesday deadline to act on a bill allowing possible tax and borrowing for roads that passed the Senate. That placeholder bill had no concrete proposals.
Still alive is some kind of general tax cut, which had become linked to road-revenue plans by Gov. Phil Bryant and others who said they wanted a "tax shift" that didn't increase taxes overall. The measure that passed the Senate would phase out $575 million in state taxes over 15 years. Some of those cuts would start next year, as leaders try to put together a state budget that looks increasingly revenue-starved. House Ways and Means Chairman Jeff Smith, R-Columbus, said Friday by text message that Senate Bill 2858 was "not dead" but that the House would reduce the size of the tax cut and push back its start date.
Through Thursday, Busby met with House members trying to persuade them to support a proposal that included:
— raising sales tax rates from 7 percent to 9 percent while dropping most sales taxes on groceries.
— changing the current 18-cent-per-gallon tax on gasoline and diesel to a 10 percent sales tax, with a floor of at least 20 cents per gallon and a ceiling of no more than 30 cents.
— eliminating the $260-million-a-year corporate franchise tax and the $145 million a year collected by the 3 percent income tax bracket, while considering increases in corporate income taxes.
Busby said House Speaker Philip Gunn, R-Clinton, is likely to appoint a committee to study the issue before the 2017 legislative session, and that such a process might help persuade people who are currently opposed to any tax increase.
"Hopefully we can convince everyone that we've gotten all the efficiencies we can get and that the maintenance of our highway infrastructure is a core function of government," he said.
Some money can be saved, Busby said, but not enough to cover all the agency's needs. "I don't think we're going to drag $400 million in efficiencies out of MDOT," he said.
House leaders had faced reluctance to raise taxes among many Republican members, which was fanned by questions about operational efficiency raised by the anti-tax Americans for Prosperity. That conservative advocacy group had been meeting with legislative opponents of the plan.
The Mississippi Economic Council, which wants lawmakers to increase funding by $375 million, is still pushing lawmakers to act this year, although executive vice president Scott Waller said Friday that's growing more unlikely.
"I know time is short in this legislative session," Waller said. "But as long as I've got an at-bat in the bottom of the ninth inning, I'm going to take the best swings I can."