JACKSON — Gov. Phil Bryant signed House Bill 1523 into law today, which will allow businesses, circuit clerks and medical professionals to recuse themselves from offering services based on a religious belief that marriage is "between one man and one woman."
In a statement on Twitter, Bryant said that bill "merely reinforces the rights which currently exist to the exercise of religious freedom as stated in the First Amendment of the U.S. Constitution."
The Mississippi House of Representatives tabled the motion to reconsider on HB 1523 Monday afternoon, sending the bill to Gov. Bryant's desk. House Democrats used all five minutes of their opposition speaking time against the bill. Longtime Rep. Steven Holland, D-Plantersville, said there was "zero reason" for a bill like this.
"This is the most hateful bill that I've seen in my career in the Legislature," Holland told the House. "If you table (the motion to reconsider on) this bill, you're doing one thing: you are doing nothing but discriminating."
Document
Bryant had five days to sign the bill into law, veto it or do nothing, but he chose to act less than 24 hours later.
Monday evening, organizations, advocates and Mississippians from across the state protested the bill in front of the governor's mansion on Capitol Street.
"No hate in our state, no state in our state! Hospitality—not hostility, hospitality—not hostility!" they chanted.
Chad Griffin, the president of the Human Rights Campaign headquartered in Washington, D.C., watched as the House tabled the motion to reconsider from the gallery. He then addressed the crowd at the rally, saying that hate and discrimination is bad for business.
"The spotlight is now on Governor Bryant, and there's a question before him—it's actually a fairly simple one," Griffin said. "Will he listen to the people of this state, the business leaders across this state, to the CEOs and companies for whom he's trying to convince to bring jobs here to this state?" Griffin said Monday that Bryant's decision on the bill will mark his career as governor.
"This governor will forever be remembered in history for what he does on HB1523," Griffin said. "He can either go down in history along with a line of other southern governors in the Civil Rights Movement in the '50s or '60s who chose to stand on the wrong side of history, or he can do the right thing," he said.
Griffin pointed to two recent examples of Republican governors in conservative states that have chosen to veto anti-LGBT bills. In South Dakota, Gov. Dennis Daugaard vetoed a bill that would have forced transgender students to use bathrooms that matched their birth gender. Griffin told the crowd Monday night that Gov. Daugaard had conversations and met with transgender students and advocates before he decided to veto the bill.
In Georgia, Gov. Nathan Deal vetoed a "religious liberty" bill in March, after big organizations like Coca-Cola and the NFL came out against the bill.
In this state, the Mississippi Manufacturers Association and the Mississippi Economic Council both came out against House Bill 1523. Nissan, Tyson Foods, Levis, GE and other large corporations have released statements that decry legislation that discriminates such as HB 1523.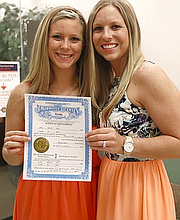 Read the JFP's award-winning coverage of the tough fight for LGBT rights in Mississippi.
House Bill 1523 will not technically become law until July 1. Southern Poverty Law Center attorney Jody Owens said the bill is unconstitutional on several levels.
"You will see several lawsuits filed before it becomes law if the governor signs it," Owens told the Jackson Free Press Monday night.
The bill not only defines a religious belief that marriage should be between "one man and one woman" but it also says "sexual relations are properly reserved to such a marriage."
Owens said the bill allows discrimination by landlords, businesses and doctors—all measures that are unconstitutional.
"A single mother could now be evicted because she has someone stay overnight and the landlord assumes she is having sex or intimacy—she could be evicted," Owens said.
Owens said the bill fits Mississippi's tendency to take things a step further in legislation. Similar bills in other states have already been vetoed, however.
"It's a total infringement on every part of one's life, the body making these judgments can be a school, city, employer or a church," Owens said. "It's promoting discrimination in that there can be no penalty from the state."
Email state reporter Arielle Dreher at arielle@jacksonfreepress.com. For more coverage of HB 1523 visit jfp.ms/lgbt.