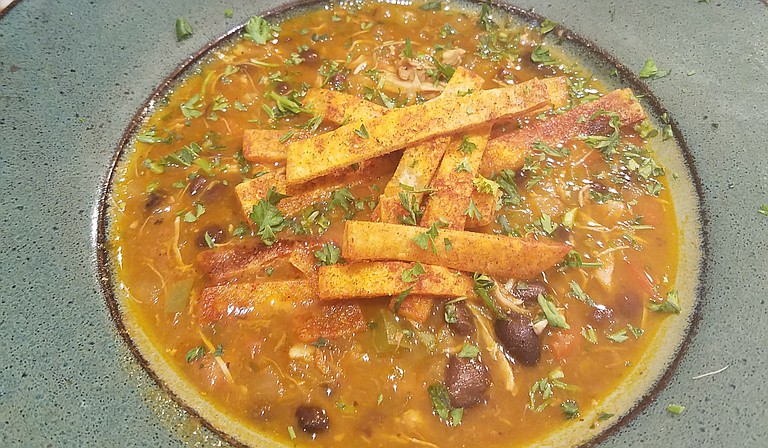 Wednesday, April 13, 2016
The Manship Wood Fired Kitchen sous chef Rashanna Newsome's passion in life is cooking. Recently, she gave us one of her own recipes to share with our readers (it's also The Manship's soup of the day on its spring menu).
1 whole chicken, roasted and shredded
2 cups San Marzano tomatoes, crushed
1/2 cup green diced chiles
3 cups cooked black beans
5 tablespoons tomato paste
1 1/2 cups diced onions
3/4 cup diced green bell pepper
3/4 cup diced red bell pepper
1 teaspoon garlic, chopped
2 1/2 quarts chicken stock
1 bay leaf
1 1/2 tsp onion powder
1 1/2 tsp garlic powder
1 1/2 tsp black pepper
1 1/2 tsp paprika
1 teaspoon dried oregano
2 1/2 teaspoons ground cumin
2 1/2 teaspoons chili powder
1 1/2 tablespoons kosher salt
2 tablespoons Cholula hot sauce
2 tablespoons cilantro, chopped
5 tablespoons curly parsley, chopped
Instructions
Soak one pound of black beans overnight. Cook with chicken stock, spices and aromatics until tender. Do not overcook. Cook the red and green peppers, onions, garlic and green chiles until soft in a 1/2 cup of olive oil. Add the tomato paste and cook over medium heat for about three minutes. Add the chicken stock, crushed tomatoes and bay leaf and let it simmer for 15 minutes. Add the shredded chicken, black beans and all spices. Simmer for another 15 minutes. Add remaining ingredients and then serve.