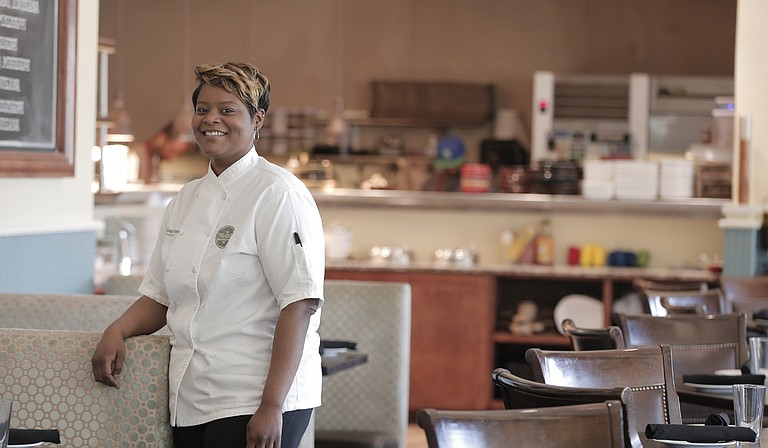 Wednesday, April 13, 2016
As the sous chef at The Manship Wood Fired Kitchen in Belhaven, Rashanna Newsome is a female in a male-dominated profession—a fact that has never stifled her passion for the culinary arts.
When she was younger, Newsome would watch her parents prepare food. She says both liked to cook, and her father, Vincent, even worked in the restaurant industry when they lived in Atlanta. "I just started going into the kitchen ... wandering on my own," Newsome says. "I just started doing stuff, just start cooking, and I asked my mom, 'Mom, can I help you?' And eventually, she was like, 'Yeah, you can help me.' It just got to a point where I pretty much took over."
She says it started out with breakfast, but before long, if her mother, Carolyn, had to leave in the morning, Newsome would make dinner. "Ever since then, it just got better and better and better," she says.
Her parents urged her to attend culinary school, but at first, Newsome shrugged it off, planning to studying computers in college, instead. But during her senior year in high school, her dad continued suggesting culinary school. Before he died in June 2008, she says it was his dream for her to get a culinary education. His death gave Newsome an extra push, though she says both parents inspired her to take that step.
She studied at the Washburne Culinary Institute in Chicago from 2007 to 2008, returning to Jackson in 2009. She took a job as a prep cook at Macaroni Grill and began training to be a line cook before the restaurant closed in 2009. She then worked as banquet and line cook at River Hills Country Club, where management promoted her to junior sous chef.
A few years after starting there, Newsome heard about The Manship and applied. In 2013, she accepted a position there as a pantry chef, working in the cold kitchen and preparing dishes such as salads and cheese plates, but after a while, she returned to Chicago to finish a semester of school. When she came back in 2014, she began training as a sous chef.
"Alex (Eaton, The Manship's head chef) has been teaching me how to manage and do ordering and come up with creative dishes, and stuff like that," she says. "Since I've been here, I've learned a whole lot of stuff."
Newsome's job consists of tasks such as managing staff, checking kitchen stations and making sure everything is ready for service. Her line of work means that she often has to stay from dawn to sundown, but she says that she doesn't mind being on her feet all day.
When not at The Manship, Newsome, 27, likes to travel. Her favorite place to go is Chicago, where most of her friends and some family members live.
"It took moving to another city to come out of my shell," she says. "... I love what I do. I think my personality gets me a long way."