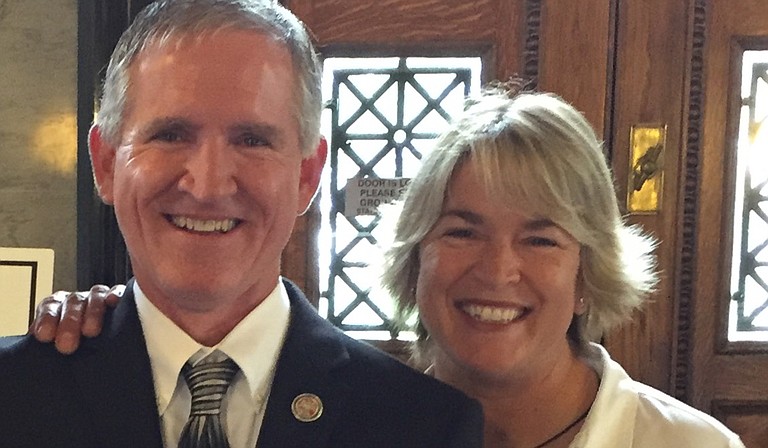 Holly Reichle entered Stephen F. Austin State University in Nacogdoches, Texas, believing she wanted to be a Spanish teacher and a coach. She was looking for an easy elective before graduating, and her track teammates suggested that she take an American Sign Language class for an easy A.
"I went in thinking it would be an easy class and left after the first hour, and my life was changed," Reichle said. "I felt a calling after just one class, and the next day, I called my mother and told her I was changing my major to deaf education."
Reichle graduated from St. Joseph Catholic School in Greenville, Miss., in 1990 before heading to Stephen F. Austin for her bachelor's degree in deaf education. While at the university, Reichle also competed as a heptathlete, which is the name for an athlete that competes in a heptathlon.
After graduating from Stephen F. Austin, Reichle accepted a position with the Texas School for the Deaf from 1994 to 1996. She returned to Mississippi and worked for the Aberdeen School District from 1996 to 1997.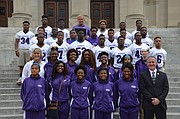 Reichle then taught for the Mississippi School for the Deaf from 1997 to 2001 when she left because she was having her first child. From 2002 to 2009, she worked as a national reading consultant with the company Fairview Learning, which provides teachers with educational and literacy tools for students who are deaf or hard of hearing.
Reichle says she returned to the Mississippi School for the Deaf in 2009 because she missed being in the classroom and wanted to work for Superintendent Sandra Edwards, who had worked her way up through the school. Today, Reichle serves as the boys' track coach, girls' basketball coach, athletic director, director of secondary instruction, and a junior-high reading and English teacher.
All of Reichle's players compete in District 1A, Division 7 in the Mississippi High School Activities Association.
"We compete against hearing kids in MHSAA, and we compete with those schools," Reichle said. "Sometimes we play against teams who think we are going to be a walkover game because our players are deaf. Just because our players are deaf doesn't mean they don't know how to play basketball or run track."
The school's track team also has eight state championships between four of its members, which is the caliber of athletes at the Mississippi School for the Deaf, she said. However, the students' successes aren't limited to their performance on the court or the field.
"Athletics put us in the public eye, but academics mean just as much," Reichle says. "We do amazing things here in the classroom. Our success is academics, but our public persona is athletics."
She says the athletes change people's perception of the students at the Mississippi School for the Deaf each time they take on an opponent.
"No matter if we are playing basketball or at a track meet, we normally have kids come up and ask (our students) to teach them how to say 'good game' or 'great race' in ASL," she says. "... Our kids want contact and want to be a part of the world with both hearing and deaf kids."
Reichle encourages her athletes to talk with the students that they compete against. However, some people have the misconception that students who are deaf or hard of hearing are able to read lips easily. There is also an issue of people using the term "hearing impaired."
"Hearing impaired is a medical term used by doctors—not the deaf community," Reichle says. "The deaf community says 'deaf' and 'hard of hearing' when referencing their community. When people use the term 'hearing impaired,' it implies these kids are broken, and they aren't broken, just deaf."
Reichle is passionate about her students and sees sports as a level playing field. The students get credit when they are good, whether they are deaf or not. She says sports open the eyes of hearing people to show them that the only thing different about her kids is that they are deaf. In fact, their only disadvantage against other teams is that the Mississippi School for the Deaf athletic teams don't have the benefit of Friday practices or weekend games, and the students return home for the major holidays instead of playing in tournaments.
On the court this year, the girls' basketball team proved they could compete with anyone, earning a playoff berth before falling 49-37 to Stringer in the opening round. The MHSAA Girls' Basketball Playoffs isn't the only place where the Mississippi School for the Deaf has shined on the hardwood, though. The team also brought home a championship in the 2016 Mason-Dixon Schools for the Deaf Athletic Association Girls' Basketball Tournament.
The Mason-Dixon Schools for the Deaf Athletic Association is made up of 11 schools around the Southeast. Reichle's team also beat opponents from North and South Carolina, Tennessee, Louisiana, Kentucky, Florida, Alabama, Virginia and Georgia to win the title.
This team had two players make the All-Tournament team: Kylisha Cathey, who was also tournament MVP, and Shanieka Coleman. This was the first tournament win for Reichle, though the Mississippi School for the Death has played in every tournament for the past 35 years.
The Mississippi House of Representatives also recognized the team for its Mason-Dixon Championship. Reichle and her assistant coaches, Victorica Monroe and Laura Beth Rushing, were honored along with the team.
Reichle has continued to work on her education, as well. From 2007 to 2009, she studied in the graduate program at the University of Mississippi, learning to teach English to speakers of other languages. She completed her master's degree in educational leadership and school administration at Jackson State University in 2014. She also earned her national board certification in 2013.
Reichle is a proud mother of daughter Alexandria, a sophomore, and son Eli, an eighth grader, who both attend Jackson Preparatory School.