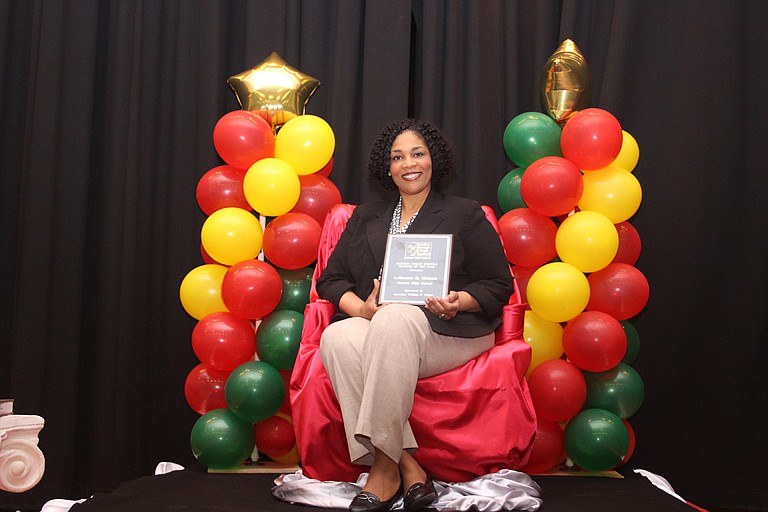 LaShunna McInnis, a 10th-grade English teacher at Provine High School, was recently named Jackson Public Schools' Teacher of the Year for the 2015-2016 school year.
McInnis, a 1989 graduate of Provine High School, studied political science and pre-law with a minor in English at Mississippi Valley State University and graduated in 1993. She is a member of the Rho Lambda Omega Chapter of Alpha Kappa Alpha Sorority, of which she has been an active member since joining in 1995. She is also a doctoral student in administrative leadership at Walden University. She attends Anderson United Methodist Church, where she teaches Bible study and serves as youth choir director.
"I just love children," McInnis says. "I love teaching children. I love what I do. Everything I do, from my job to church, involves children."
McInnis says the best thing about being a teacher in JPS is watching students grow, develop and come into themselves. "I have sophomores that I see matriculate through high school, and watching them evolve into beautiful human beings and seeing their potential and watching them grow is always rewarding," she says.
She believes that every child has the ability to learn if they put in the effort, and because of that, McInnis says, she accepts no excuses.
"They cannot give me excuses about why they didn't perform or why their performance wasn't up to par," she says. "Every child has the capacity to learn something. If you set that bar high, they step up to meet it. "
Sierra Mannie is an education reporting fellow for the Jackson Free Press and the Hechinger Report. Email her at sierra@jacksonfreepress.com. For more education stories visit jfp.ms/education.