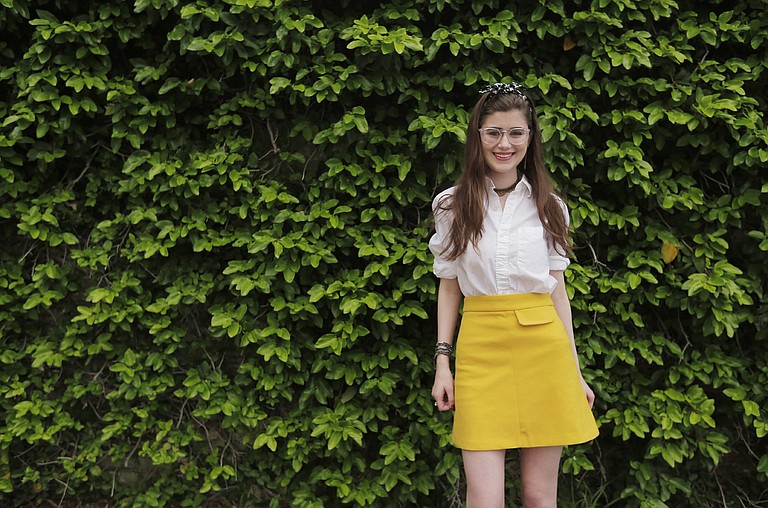 Wednesday, April 27, 2016
A major part of our mission at the Jackson Free Press is to highlight the positives in the metro area. These 14 teens plus this week's Jacksonian are part of how we achieve that. No matter what they do, whether it's art or music or sports or activism, they are part of a generation to watch closely.
Kennedy Williams
Kennedy Williams, a 14-year-old freshman at Lanier High School, has been helping both herself and her fellow students improve their math skills as a participant in the Springboard to Opportunities program since 2013. She first became involved with Springboard, which connects families living in affordable housing with resources and programs that help them advance in school, work and life, while she was attending Brinkley Middle School.
"I started attending Springboard events in middle school and decided I wanted to get involved when I saw how much they helped me improve in math," Williams says. "I like being part of Springboard because it provides something that keeps kids out of trouble and helps improve (their lives) at the same time, and it's something that can be relied on anytime and anywhere it's needed."
Williams also tutors other students as part of a program called Math Rocks, which education organization The Young People's Project sponsors. Williams tutors students in grades six to eight every Tuesday and Thursday, with the goal of helping them prepare to take their state Algebra I test in eighth grade. She is also part of Power Divas, a group of teenage girls who gather and discuss problems they face in their daily lives, and Scientific Research 1, a program that teaches Lanier students about subjects such as robotics and organizes scientific field trips.
"I like volunteering with all these programs because I get to set an example," Williams says. 
 "I can be a mentor to other kids and share stories with them on things like how to overcome your fears. I ... like being able to share my experiences with others. It's inspiring for me."
—Dustin Cardon
Alexander Schott
Seventeen-year-old Jackson Academy junior Alexander Schott is one of 16 Mississippian trombone players to make this year's Mississippi Lions All-State Band. This summer, Schott will travel to Japan and perform in an international contest.
He started playing trombone in his hometown, Woodland, Texas, in the fifth grade as a school requirement, but then, he says, he realized he liked playing the instrument.
Schott moved from Woodland to Jackson in August 2015 because of his father, Matthew James Schott Jr., and his job as vice president of transmissions at the Entergy Transmissions Operations Center.
At JA, Alexander Schott is also a member of the quiz-bowl team. When he graduates in two years, he plans to enroll in the University of Texas to study engineering.
Recently, he gained his confirmation with the Saint Richard Catholic Church in Jackson.
Whether or not the Lions band wins the international contest, making it as a junior in high school is certainly no small accomplishment.
To get into it, he went through two rounds of auditions, the first having around 70 people, then 32, and only 16 were accepted.
"Basically, the auditions were a little sight reading ... scale playing (and prepared etudes)," Schott says. "Then we got called back for the next weekend, and eventually, I had made the cut." Before the contest, which will be in Fukuoka, Japan, Schott and the rest of the band will attend a week-long practice camp at the University of Southern Mississippi.
—Christo Hicks
Leslyn Smith
Leslyn Smith likes to photograph "life's beautiful moments," she says.
The 15-year-old Jackson native is a freshman at Callaway High School.
Her aunt, Stephanie Smith, inspired her to get into photography. Smith works in administration for the U.S. Army, but Leslyn says she does photography on the side. "I just always wanted to follow (in her footsteps), and so I just thought it would be cool to do photography, so I tried, and I'm interested in it," Smith says.
Her favorite photos she has taken are of her mother, Pat Smith, who is a social worker at G.A. Carmichael Family Health Clinic, and her brother, Landyn, who is a sixth grader at Powell Middle School.
Besides photography, Smith says she loves writing. Her favorite subjects to write about are short stories about people's lives such as those of Martin Luther King Jr. and Malcolm X.
When she was at Powell Middle School, she wrote and took photos for the newspaper in her seventh- and eighth-grade years.
Recently, she joined Callaway's powerlifting team. For now, she says the team just works out, but next year, they'll begin doing competitions.
She's also in the school's Junior Reserve Officer Training Corps and says that when she grows up, she wants to go into the criminal-justice field. She is having trouble deciding between going into the U.S. Army, being a police officer or an FBI agent, or even using her photography skills in the criminal-justice field.
When she's not at school, she likes to read, play basketball, cook and bake. At her church, Pheonix Fellowship in Canton, she works with technology, doing things such as recording sermons and editing video.
—Amber Helsel
Landon Hardwick
Landon Hardwick is looking forward to next football season. He recently moved from quarterback to wide receiver at Northwest Rankin High School.
"I didn't get to play much last season, as I was learning to be a receiver, but I expect to be a bigger part of the offense this season," he says. He ran cross-country in seventh, eighth and ninth grade.
The 16-year-old sophomore, who will be 17 in May, has focused on engineering and is in the engineering-design program at the school. But his love of sports has turned his attention to sports medicine, and he hopes to go to the University of Mississippi to study the field. Next year, Hardwick will begin a two-year health science program at the vocational technology program at Hinds Community College.
Hardwick posted a 4.0 GPA last year and has been a member of the Fellowship of Christian Athletes and Beta Club since ninth grade. He is also a member of Youth Leadership Jackson a program the Greater Jackson Chamber Partnership does.
He says being a part of Youth Leadership Jackson has helped him see and learn to talk about racism not only in the U.S., but around the world. The program also taught him the importance of diversity.
During his spare time, Hardwick likes to play sports, hang out with friends and play video games, mainly Madden NFL.
—Bryan Flynn
Kaitlyn Watson
Kaitlyn Watson, a junior at St. Joseph Catholic School in Madison, is on a mission. Whether serving as captain of the school's volleyball team or working as a member of the Altar Society, a type of church government at the Holy Ghost Catholic Church, Watson is constantly engaged in her community.
"I have high expectations for myself," she says. "I know I grew up very privileged, and I am at an age that if I can give back to my community in any way, I want to try and do that."
At her church, she is a member of the Junior Daughter's Auxiliary, which holds a youth group Bible study. She is also a member of Jack and Jill of America, where she gets to work on a variety of community-service projects, including giving out meals for the less fortunate during Thanksgiving. She also won the annual Jack and Jill Oratorical Contest this year and was elected Miss Sweetheart for the organization for 2016 to 2018.
"I have been involved with Jack and Jill since I was very young," she says. "It has given me many opportunities that I wouldn't have had. It also gives me many opportunities to do community service. That is my favorite part about the organization. "
Watson is also a member of the speech and debate team, Service Club and Spanish Club at St. Joseph, and she works for her school paper, The Bruin Buzz. Watson says she wants to attend Spelman College in Atlanta to study English and political science, and she hopes to become a lawyer.
—Alexis Moody
Jayla Mondy
Jayla Mondy likes to try many things in life.
Mony, who is a 16-year-old junior, plays flute in the band at St. Andrew's Episcopal School, and she has played the instrument since sixth grade.
"I always loved it and wanted to play it since I was a little girl," she says.
She is also a member of the track team at St. Andrew's. She started running track as a sophomore to get in shape. "I tried all the sprints and found I like the 200 the best," she says.
This year, she did discus to try something different.
She is in the top 10 percent of her class at St. Andrew's. Mondy is a member of the National Honor Society and of the St. Andrew's Honor Council, a group of students who make sure the honor code of the school is upheld.
Mondy is a member of the Environmental Club, in which she and others put on a environmental fashion show in the spring semester. The club also does programs and coordinates the recycling in the St. Andrew's community.
She is also a member of the Service Learning Committee under the Student Council, helping make sure each student in the school gets their 100 service hours before graduation.
Mondy has a 4.2 cumulative GPA and hopes to attend Vanderbilt University to study biochemistry. When not serving her community or school, she loves to hang out with friends, watch movies, dance and read.
—Bryan Flynn
Darius Nelson
When he is not center stage in Forest Hill High School's largest theater production to date or volunteering on his campus, Darius Nelson is an 18-year-old senior looking forward to graduation.
The Jackson native starred as Sweeney Todd, in Forest Hill's "Sweeney Todd: The Demon Barber of Fleet Street." 
 "Trying to portray these emotions and connect with these characters you really can't relate to is the hardest part," Nelson says about the role. Although he plays a sinister barber who takes the lives of innocent patrons, Nelson says that he has a big heart and always tries to see the good in others.
"I am able to see through a lot of ... negativity, and even if someone has done something bad, (I know) they aren't a bad person," Nelson says.
He wants to be a biomedical engineer and create compatible body parts for amputees and those who need help. "I have a fascination for how the human body works, and I want to help," he says.
He says his mother, Nikita Nelson, inspires him every day. "I look up to my mother first and foremost because she is so strong and always keeps on going," he says.
His aunt, Dionne Young, who is battling lupus, is another role model who has influenced Nelson's outlook on life. "Her positivity is contagious and radiates every time she walks into the room," he says.
When asked what advice he would give incoming students, Nelson says he would tell them what he wishes someone would have told him: "If you want to be different, be different. Don't be afraid, and go into high school not being a part of anything."
—Onelia Hawa
Dorothy Gault
Dorothy Gault has wanted to be a lawyer since she was 10.
"I've always really liked politics ... and I've watched political debates on the TV since I was (12), I think, so it was just something that I was always very interested in doing," she says.
Gault, 18, is a senior at Madison Central High School. She moved here from Greenwood, Miss., during her sophomore year of high school because of her mother LeAnne's job. Her mom is currently the senior vice president for marketing at local social media-management company Edge Theory. "I went to a really small school before," Gault says. "There were 40 kids in my entire grade, and then I moved to Madison ... where there were almost 400, which is really different, but I like it a lot."
She says that at her old school in Greenwood, she tried for three years to get a speech and debate team started, whereas MCHS already had a team.
Gault says that she wanted to be on the team, of which she now serves as the vice president, because of her desire to be an attorney.
In addition to her speech and debate duties, Gault is a member of the MCHS mock-trial team and has competed with her fellow students in the Mississippi Bar's High School Mock Trial Competition for the last two years. She is currently ranked as the No. 2 youth 
attorney in the state.
When she's not at school or in extracurricular activities, Gault likes to paint, and loves movies and slam poetry. In 2016, MCHS faculty nominated her as Most Talented Writer. She wants to go to the University of Southern Mississippi to study international business law.
—Amber Helsel
Jamari Huggins
Since he was in the fourth grade, Jackson native Jamari Huggins has always had his hands busy with artwork, drawing and painting portraits.
The Ridgeland High School senior says that he loves to paint. He says he draws influences from musicians such as Kendrick Lamar, SZA and ScHoolboy Q to create his art pieces.
Huggins, 19, transferred to Ridgeland High from Murrah High School when he was a junior, and since then, he has worked to develop his art skills by practicing drawing portraits and still-lifes. His painting of a sunflower won first place at a state art competition called Pollinators at Clinton High School in 2015. Huggins also earned a Silver Key at the 2016 Scholastic Awards for his artwork, which was on display at the Mississippi Museum of Art from Feb. 6 to March 13 this year.
Huggins says he tries to only use bright colors in his artwork, and his preferred medium is acrylic paint.
In the fall, he plans on pursuing a degree in art at Hinds Community College. After that, he hopes to transfer to an art school.
Even though he's young, he's already looking to the future, traveling around the world and creating artwork. On day, he says, he would like to open up an art studio to train other students like him.
"I just want to make my mom proud and better myself, not just say that I'm going to college just to go to college," Huggins says. "I just want to have a purpose that makes my life better, and one day, if I have kids, make their lives better."
—Maya Miller
Robert Williams
Sometimes the quietest voice in the room speaks the loudest. Robert Williams is no exception to this.
Williams, a 15-year-old sophomore at Wingfield High School, is a former lineman for the Jim Hill High School Tigers football team. He graduated from Blackburn Middle School in the top five of his class and was named one of the school's Outstanding Students. He was on the Challenge Bowl team, is the youth leader at Fairfield Missionary Baptist Church and is a former page for Sen. John Horhn. He is also a member of the 2015-2016 Youth Leadership Greater Jackson class.
"In Youth Leadership, we are discussing our personal future plans, as well as the future of our generation," he says.
The group recently took a trip to a police department and to the Capitol to see how the government and judicial systems work. As a page for Sen. Horhn, Williams says he was able to be in the room as laws and legislations were discussed and passed.
His Youth Leadership mentor, Shirley Tucker, applauds Robert's personality, motivation and willingness to help.
"He doesn't say a lot in the class, granted that this is a group of leaders, but when he does speak, it's pretty profound," she says. "He doesn't mind contributing his talents. If one were not careful, they would overlook how talented he is."
Williams has participated in the Youth Leadership Greater Jackson "Shark Tank," where youth present a product or service to a group. He also participates in Vector Jiu Jitsu and says that he likes to collect recipes and try cooking them whenever possible. The grandson of former Jackson State University football coach Robert Hughes, he plans to follow in his family's footsteps and attend Jackson State University, possibly majoring in psychology.
—Shameka Hayes
Johvon Crowell
Johvon Crowell, a Provine High School senior, is a teenager who has conquered adversity. Despite witnessing the tragic death of her best friend, she has been able to transform her grief into motivation by rechanneling her focus both athletically and academically.
"I was involved in an incident at the end of my 11th-grade year where my car was shot into, and I lost one of my best friends," she says. "... It was kind of hard for me to regain focus, but instead of letting that hinder me, I used it to motivate me and push me forward."
This past basketball season, the 5-foot, 4-inch Lady Rams point guard managed to average 15.4 points per game, 3.6 steals and 5.3 assists on the court. She helped lead her team to the state 5A semifinals and earned the titles of Best Defensive Player of the Year and Most Valuable Player.
In addition to her athleticism, Crowell also has done well in school and participates in the Robotics Club.
With plans to attend Jackson State University and major in computer engineering, she is determined to make even greater strides towards becoming successful and purpose-driven.
"My friend's death showed me that life is too short not to set goals and accomplish things," Crowell says. "At first, I had no clue what I was going to major in. I was just going to school. But I really had to sit down and take a look at my life and the way I was living. It made me change."
To her fellow peers, she says: "Remain positive and try to keep all of the negative away from you."
And to her late best friend, she says: "I'm doing this for you."
—Fallon Brewster
Raven Jackson
Eighteen-year-old Raven Jackson says she's really good in English and writing—her Black History Month program poem was a knockout among the staff at Canton High School, where she is a senior. However, science is her true passion. Jackson says her aunt's struggle with sickle cell anemia has moved her to study genetics after graduating high school. She has been accepted into Spelman College in Atlanta, her dream school, where she says she plans to study genetics.
"I know that I wanted to go to an HBCU, and I wanted to surround myself with people like me and positive influences," she says. "They're one of the most prestigious HBCUs, and I felt like that's where I was supposed to be. It called into my heart. I feel like it'll give me life skills that I haven't already developed and help me grow."
At Canton High, she is a member of the volleyball team and is a majorette in the school band. She plays tennis and is in the Beta Club, Mu Alpha Theta and the drama club. She's also a member of Foundations, a club at Canton High School that focuses on community engagement.
"I want to develop more leadership roles and become more independent," Jackson says.
—Sierra Mannie
Robert Wasson
Like many teens, Robert Wasson, 17, occasionally feels a sense of ennui about his home state, but he says a program last summer focused on the study of athletic concussions at the University of Mississippi helped change his mind.
People from all over Mississippi came and spent a month of their lives there, he says, which made him feel proud of his home state.
"They were experiencing Mississippi and this whole southern culture. And it's cool to say that I live here, this is where I'm from. This is my thing," Wasson says.
Wasson is a junior at Jackson Preparatory School. He serves on the student council as class representative and is on Jackson Prep's Academic Competition team. He is a member of the National Honor Society, Mu Alpha Theta and the cross-country team, and is also an Eagle Scout and a member of First Presbyterian Church in Jackson.
Through his involvement with the Eagle Scouts, Wasson volunteers at the Mississippi Museum of Natural Science, where, as a Youth Ambassador, he says he's always learning something new, and there's always something for him to do.
He likes math, but he says his favorite subject is science, and he enjoys the way that math informs subjects like physics and chemistry. Although he is just a junior, Wasson is already thinking about college and maybe working in medicine one day.
—Sierra Mannie
Karley Nichols
The Brandon High School Lady Bulldogs softball team is ranked No. 1 in the state, and although she won't tell you so, Karley Nichols is a big part of that success. Her numbers are impressive, yet the humble teen doesn't take the credit.
"I wouldn't have the stats I have if it weren't for my teammates and coaches," she says.
Nichols has pitched nine wins and zero losses, and has a .623 batting average this season, despite coming off an ankle reconstruction surgery. Last year, she was selected to the All-State First Team and was recognized as a Best of MS Preps honoree. This summer, she will play in the Mississippi Association of Coaches All-Star Game.
Still, Nichols is a standout in more ways than what people see on the softball field. Last school year, she joined a group of students supporting the Gay-Straight Alliance at her school. Their support wasn't always well received, but Nichols says that didn't deter her. She credits her mom, Kelli Nichols, for her spirit.
"I don't think I'd be who I am without my mom," she says. "She is the reason why I'm so open-minded."
Karley is inspired through the memories of those who knew her father, Nicky Nichols, who died when she was 3 years old.
"People always talk about how great my dad was," she says. "I want to be the kid he'd want me to be."
Despite being a junior, Nichols has already committed to the University of Southern Mississippi, where she plans to study polymer science. Through dual-enrollment courses, she hopes to have earned most of her freshman-year credits before heading she makes the move to attend USM.
—Torsheta Bowens
Xavier Heard
Xavier Heard sits in his psychology class and soaks up information about biological and cognitive levels of analysis with his peers in the Pysch Club. A junior at Jim Hill High School, Heard is passionate about learning. "In school, everything is curriculum-based, but I like going out and searching for things that other people don't know in order to share it," 
Heard says.
The 17-year-old was previously a member of the College Bowl Team, and he currently plays soccer for Jim Hill and the Central Jackson Soccer Organization. He admits that he attempted other sports, but he found himself uninterested until he picked up a soccer ball. Soccer has since helped him build character, which he credits to his coaches.
"I have learned that it's OK to be a leader, but it's also OK to be a follower," Heard says. "We've learned key building skills, and this has taught me accountability. When you keep practicing, it teaches you to be the best that you can be."
Some of Heard's other hobbies include singing, teaching others, and writing poetry and music. He says he would love to share his poetry with the world if one day given the opportunity.
Although he hasn't quite decided on a college major, he plans to attend Belhaven University and get a medical-related degree. Heard believes Jim Hill has thoroughly prepared him for these future endeavors, even though some may portray his school in a negative light.
"I don't look at it how other people do," he says. "Everyone has issues at their school. You may have people that complain, but if you don't put in the work, you will never gain the results that hard work yields."
—Danie Matthews