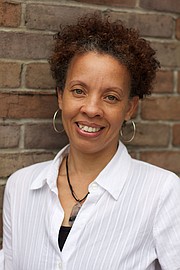 JACKSON — Growing up in Washington, D.C., Monique Davis grew to love art early on. Her mother regularly took her to local art museums since admission was free. During the summer, her family took the subway and went downtown to walk around, visit the museums and discuss artwork.
"I always liked to create something out of nothing," she says. "I was inspired by Frida Kahlo and Georgia O'Keeffe from a really young age, and just could get lost in art museums."
Davis describes herself as a "hippie born a generation too late." When she creates art, she says, many of her pieces are goddess-divinity-inspired, though she also does cartoons that talk about family dialogues or the "crazy sh*t kids say." She also says her work takes inspiration from the environment and conversations with people in Jackson.
She graduated from Howard University in 1989 with a bachelor's degree in business and public administration with a focus on accounting. She moved to Jackson in 2007 because her husband, Melvin, had 40-acres of family land. The pace of life is slower here, and with six kids, that's exactly what they needed, she says.
Davis began working as the visitor services and volunteer director at the Mississippi Museum of Art on April 4. Through her job, she manages memberships and deals with members to resolve issues, helps organize volunteers, does community outreach for MMA and aids in diversifying its membership base.
Before accepting her position at MMA, Davis worked as a program manager for Parents for Public Schools of Jackson, doing parent-advocacy training and community outreach for the organization. Before that, she was as a division director for Catholic Charities, overseeing five programs, including disaster response when tornados tore through Mississippi in 2014. She even worked as a sales representative for the Jackson Free Press. She and her husband also owned Lumpkin's BBQ until it closed in 2011.
Recently, the United States Department of Arts and Culture, a non-governmental network of artists and cultural workers who mobilize creativity to combat social- and environmental-justice issues, selected her as one of its cultural agents. Davis says it was an open-call process that began in October. One hundred cultural organizers and artists interested in blending social activism with creativity submitted proposals, but the organization only chose 18 individuals.
She says the organization chose its name because the U.S. does not currently have a true department to promote and support arts and culture, and USDAC believes there should be one. Part of the goal for the group is for that to eventually manifest into reality.
Davis says a cultural agent's job is to create a "cultural imagining event," which frames an ideal culture in the context of art and creativity, between May and June this year and also to open a USDAC field office and figure out how to stay engaged in the process.
For Davis' scene for her imagining, she chose the title "All Are Welcome! All Belong!"
"A lot of that is driven by conversations with community members and also as a counterpoint to the current political environment we're living in, that we're experiencing right now," she says. "I wanted to give people a pathway into conversation without being against something, so I wanted to state something in the affirmative, and positively instead of saying what we're against or protesting current specific legislation."
Davis says she wants to give people a safe space to air their opinions, no matter what they are. The imagining will be at the Chokwe Lumumba Center for Economic Democracy and Development (939 W. Capitol St.), Saturday, June 4, from 10 a.m. to 1 p.m. At the event, participants will sit in story circles, where they'll talk about instances in which they felt like they belonged in Jackson and instances in which they didn't. After that, they will create mixed-media pieces that celebrate those moments of feeling welcome.
"We'll talk about those pieces and hopefully create some broad-based strategies about how we can make Jackson more welcoming to everybody," she says.
For more information, email Monique Davis at moniquedavis648@gmail.com or find "All Are Welcome! All Belong!" on Facebook.