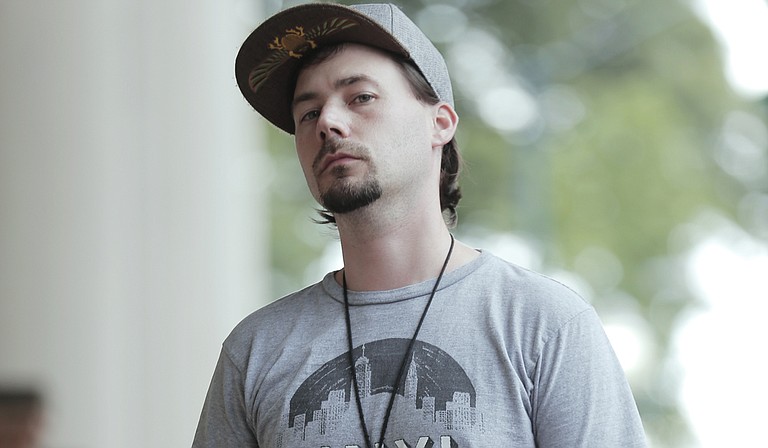 Wednesday, August 3, 2016
Hip-hop artist Michael Norris, better known by his stage name, Mr. Fluid, has been honing his creative mind since he was a child growing up in Braxton, Miss. His father, Anthony Norris, was a musician and would often tinker with guitars in their home, which influenced Michael to pick up the six-string himself at 13 years old.
Norris spent his early teenage years playing with metal bands and began writing poetry. Then, at age 18, he came to consider Jackson his second home and became a mainstay at the now-closed Seven Studios, then based in midtown, which has a legacy of being a nexus for the creative minds of Jackson. There he found a new form for his artistic expression in freestyle rap.
"Freestyling helped me to express myself in a way that was more natural than writing poems," Norris says. "It allowed greater freedom, similar to the (stream) of consciousness writing form."
He went on to form a group called the Just Us League with other freestyle rappers, including Spitlogic and Roc, and the drum-and-bass genre became a major influence on his sound. Then, in 2004, Norris moved to Fort Collins, Colo., and joined the rap group Company of Strangaz under DJ Chaotic, releasing two albums with them. He says his time with the group helped him realize where he wanted to take his style in the future. He returned to Jackson in 2011 and started to put the bricks in place for his solo career as Mr. Fluid, while also starting his own label, Reagan Baby Records, and releasing his first solo record in 2012.
"I was still experimenting and starting to work on combining genres in an attempt find my style," Norris says of his debut. "I named it 'Magnolia Magnificent' because I wanted to celebrate coming back home and also show how I had progressed as an artist since leaving for Colorado."
In May 2016, Norris released his sophomore album, "The Sowing," which he conceptualized as a blending of genres such as boom bap and drum-and-bass that people would be able to vibe to regardless of tastes.
"I just want to make good music and put out real hip-hop," he says. "This may be my most complete and realized project because I was able to craft the sound myself without the input of a group."
The official record-release party takes place Saturday, Aug. 6, at Offbeat. Norris chose to delay the event to invest more time in getting higher-quality merchandise, including physical copies of the album, which are currently available for purchase at Offbeat and feature artwork from Jackson visual artist Kira Cummings.
In addition to showcasing Norris' skill set, "The Sowing" features several other Jackson acts including 360 Degrees, who serves as Mr. Fluid's live-show deejay, and James Crow. On the track "Race in America," Norris and Crow tackle the complexities of society's obsession with skin color.
"I've always felt that I needed to speak my mind and tell the truth in my music," Norris says. "I strive to make music that has a message but doesn't come across as preachy."
While plenty of fans will get their hands on "The Sowing" at the release party, Norris says his next project as Mr. Fluid is well underway, although he hasn't decided when he will release it.
"I like to wait for inspiration to come to me naturally, rather than try to force it," he says. "I might make 30 different instrumentals before I actually choose one to write to. I'm all about creating good music, and I don't rush the process."
Mr. Fluid's "The Sowing" album-release party is at 9 p.m. Saturday, Aug. 6, at Offbeat (151 Wesley Ave.). For more information, find Mr. Fluid on Facebook, Instagram and Twitter.