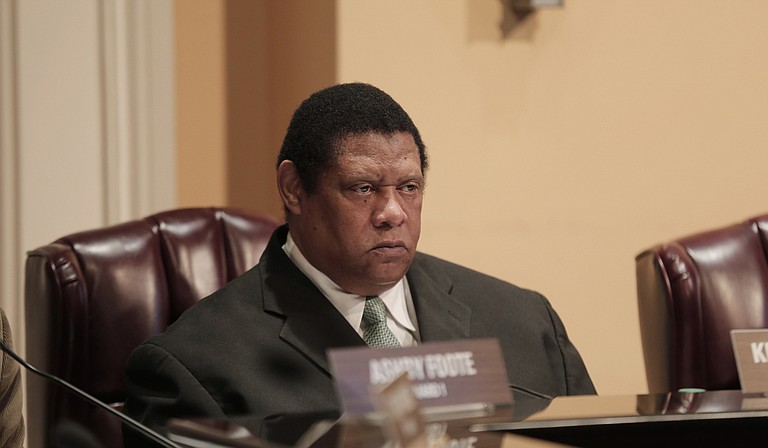 JACKSON — Ward 3 Councilman Kenneth Stokes has placed an order "authorizing legal action against Siemens Industry Inc. (Building Technologies Division) for violations of its performance contractual agreement with the City of Jackson" into the council agenda for tomorrow's 6 p.m. meeting.
The status of the performance-based contract, which Siemens promised would pay for the $90-million contract through more accurate water-meter reads and overall savings from improvements, has become a hot topic of discussion for the council as it tries to deal with a budget crisis resulting, in part, from consistently poor water-sewer revenue numbers.
The city council has ruminated over facing down Siemens in a court of law since early 2015, when Stokes told a television station that the contract was "a never-ending nightmare."
The Siemens contract allotted for the installation of 65,000 small residential meters and several hundred large commercial meters. Siemens sent a representative to address the council on May 2 about difficulties that the City faced with the company's billing system that pairs with the automatic water meters. The system would shoot out an automatic hold on accounts that required human attention, Siemens representative Frank D. Gagliardi told the council, adding that Siemens had provided five temporary full-time workers to help take care of these "TO-DO's" that the system pushed out instead of water bills.
"The system is doing what it is supposed to do," Gagliardi, the director of operations for building performance and sustainability for Siemens, said then. "The system wants human interaction to say, 'is this OK?'"
Former Public Works Director Kishia Powell stated in an April 18 meeting with the council that the delay in bringing all the automatic water meters into proper working order "severely impacted revenues."
In a June 15 interview with the Jackson Free Press, Mayor Tony Yarber said Powell had always had problems with the contract, even from her first days in office.
"She walked in screaming bloody murder," Yarber said, "... [S]he didn't bite her tongue, she walked in saying the contract is horrible." Behind closed doors, Yarber said, Powell said that of whoever negotiated it, 'I don't know whose side they were on.'"
"Because a contract that doesn't give you a lot of recourse in the client isn't a good contract," Yarber said.
The City would not be the first to sue the large, multinational corporation as a result of the contract. Local contractor MAC And Associates, LLC, sued Siemens in May for $37 million, alleging that the company broke a contract to partner with another company for the installation of the water meters.
"Siemens has consistently worked in good faith with the City of Jackson and all of its partners and subcontractors involved in the City's Water Infrastructure Improvement project. Siemens understands the value of the City's Equal Business Opportunity Plan and takes MAC's allegations seriously. Siemens looks forward to continuing to work with the City and all involved parties to bring the project to successful completion," Siemens said in a May 31 statement soon after the lawsuit was filed.
The City of Monticello, Ark., entered into a legal tussle over the last year and a half with Siemens over a $10-million contract to replace all the water meters and some of that city's water infrastructure, very similar to the deal Jackson entered into.
Some of the claims against Siemens by that city include "defective performance of work," "breach of warranty of good workmanship under the contract" "and even "failure to provide water meters specified by the contract," The Pine Bluff Commercial reported.
1 Percent Sales Tax Commission Appointees, Contracts
Two appointees for the 1 percent sales-tax commission are set to appear before the city council tomorrow.
Carrie Johnson, currently a deputy city attorney with the Transactional Division, is set to replace special assistant to the city attorney and former municipal judge Gail Lowery on the panel.
Replacing former Public Works Director Kishia Powell is current Hinds County Justice Court Judge Frank L. Sutton Sr. Powell left Jackson to take a similar position in Atlanta, Ga., in late May.
All appointments depend on city-council approval.
The council also will vote on an engineering-services agreement with Waggoner Engineering Inc. for the Riverside Drive road-improvements project, one of two 1-percent-funded city initiatives to address infrastructure issues on that particular street. This block of work, from Peachtree Street to the Interstate 55 bridge, is set to cost $1.05 million.
Email city reporter Tim Summers Jr. at tim@jacksonfreepress.com. See more local news at jfp.ms/localnews.